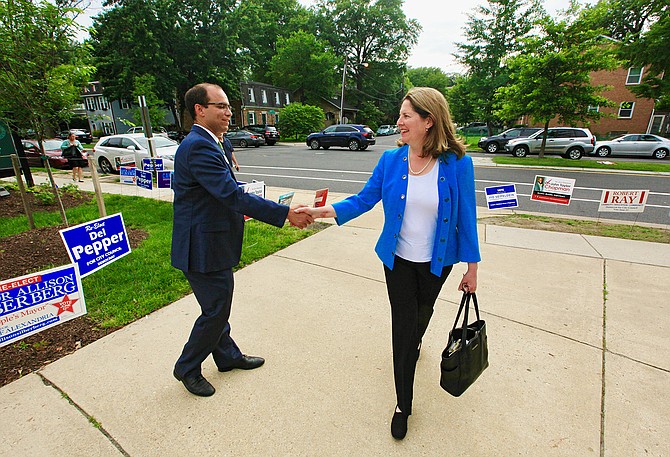 Vice Mayor Justin Wilson won the Democratic primary for mayor Tuesday night, defeating single term incumbent Mayor Allison Silberberg. Election night was also full of surprises in the race for City Council, as five-term City Council member Paul Smedberg and single-term Council member Willie Bailey lost their seats, and political newcomers Elizabeth Bennett-Parker, Amy Jackson, Canek Aguirre and Mo Seifeldein joined veterans John Chapman and Del Pepper to head into the general election in November. That means that all of the Democratic hopefuls for council are women and minorities.

"Thank you Alexandria," Wilson shouted in a packed Pork Barrel BBQ, with his wife and two children standing next to him. "While we clearly had very real differences in this race, differences on important issues before our community, I never doubted Allison's commitment to our city, her commitment to serve and we will work together over the next several months to ensure we have a good transition."
Wilson won by 1,259 votes, and received 11, 442 votes, or 52.91 percent, to Silberberg's 10,183 votes, or 47.09 percent with nearly 23 percent of registered Democrats casting a ballot. Wilson's win is tantamount to a general election win in November for the 39-year-old, who watched the results come in with his family and staff at home before being welcomed by supporters chanting his name at Pork Barrel BBQ in Del Ray.
Wilson said that while Silberberg was "extremely generous" when she conceded to him over the phone, "a great victory tonight does not erase the challenges in our community."
Just down the street, Silberberg, 55, watched the returns come in at Los Tios in Del Ray. The mood at the restaurant had started celebratory as early returns from Old Town showed Silberberg in the lead, but as more precincts reported in from across Alexandria the tide turned against the incumbent mayor.
"Serving as your mayor has been the greatest honor," said Silberberg. "For the sake of the city, I wish we for all of us to pull together and find a way forward."
Silberberg will continue to serve as mayor until early January. Afterwards, Silberberg says she plans to continue her public service in some capacity.
"We made our voices heard on important issues and those voices will continue to matter," Silberberg said the morning after the election. "I'm proud of what we've achieved in the last two and a half years. I'm proud of the fact that we ran a very positive campaign that was factually accurate. I've always taken the high road in such situations."
Silberberg defeated two former mayors, Kerry Donley and then-incumbent Mayor Bill Euille, to win the Democratic primary in 2015. There was immediate tension between Silberberg and Wilson, whose clashes on everything from speaking procedure to broad infrastructure and affordable housing investments dominated council discussions since Silberberg's election.
"I was very disappointed," said Carol O'Shaughnessy, attending Silberberg's election party. "She ran a strong campaign. She was energetic and forceful. It's been a very hot election."
Clarence Tong, the chair of the Alexandria Democratic Committee, said that it was a highly competitive election with high turnout, including 2,000 absentee ballots — nearly twice as many as the 2015 primary.
"It was a really exciting Democratic primary election," he said. "We had two great candidates for mayor as well as 12 for council, and we ended up having high turnout."
Wilson's wife, Alex, said she was relieved and glad the primary was over.
"We're very excited, and this is Justin's passion," she said. "I think he'll do great things for the city."
Euille was pleased with Wilson's win, and was surprised by the results of the council race.
"Justin, I'm very proud of him. He was my candidate and I'm pleased he won and he won big. Now we have to win in November," Euille said. "But we're losing folks like Paul Smedberg, who is very smart on the budget and transportation, and I'm sure someone else will step up to the plate, but elections are about change and opportunities and I'm pleased that the council has an opportunity to represent Alexandria's values and diversity."
T.C. Williams High School junior Hannah Miller, 17, and senior Jay Falk, 18, supported Wilson by door-knocking and organizing a voter registration drive that enlisted 432 seniors into the voting ranks.
"I care a lot about the City of Alexandria in general, especially education, since I'm a student, and Justin has two kids in the school system and he knows a lot about what it needs. Also, I see him talking to his constituents a lot, and the first thing I did was check out his Facebook page and he's always responding to his constituents and cares about what they think and that's really important to me," Miller said.

INCUMBENTS OUT, NEWCOMERS IN
City Council candidate Elizabeth Bennett-Parker, the co-director for the Together We Bake nonprofit, received the most support with 13,879 votes, or 13.30 percent. She called it "historic" that all of the Democratic hopefuls for City Council are minorities and women.
"It's really historic," Bennett-Parker said. "I'm really proud of the campaign that we ran, and we knocked on the doors of 22,000 voters. I was truly humbled by the support and I'm excited for the opportunity to serve the city."
There were 12 Democrats running for six at-large council seats — two of which were vacated by Wilson's candidacy and Council member Tim Lovain's political retirement.
Two-term Council member John Chapman came in second with 12,176 votes, or 11.67 percent; attorney Mo Seifeldein received 9,476 votes, or 9.08 percent; Council member Del Pepper, who has been a member of the body since 1985, won with 9,009 votes, or 8.63 percent; Canek Aguirre, who would be the first Hispanic member on council, got 9,047 votes, or 8.67 percent and Amy Jackson received 8,901 votes, or 8.53 percent.
"I'm still trying to figure out what happened, what didn't happen," Chapman said. "I think voters want to see something different. We'll figure out what that means over the coming months."
Chapman and Pepper would be the veterans of the City Council.
Pepper was hesitant to reveal her recipe for success.
"A girl never tells her secrets," she joked. "I worked very hard. This was a competitive field and I worked continuously to make sure that I did everything that I could to win. It was important to me and I also spend a lot of time on the grassroots level, and I like to think that I relate to people."
Amy Jackson said she was filled with joy and sorrow at the prospect of moving on to November without the other six candidates.
"We heard it loud and clear. People want change and they voted it in," she said. "We're all on the same team in the end and we had one big group hug, and now it's on to the next stage."
Canek Aguirre visited 22 of the city's 29 polling precincts on Tuesday, and, if elected in November, would be the first Hispanic member of the City Council.
"People want to be more inclusive, people want to see more ideas and it's like I said at the beginning of all of this — competition is good for democracy," he said. "I think it goes to the entire blue wave that we've been seeing since the presidential election, honestly."
Mo Seifeldein, who fasted for Ramadan during the campaign, was born in Sudan and would be the first immigrant on council. His campaign operated with a budget under $10,000.
"It was door knocking seven days a week, while fasting and not eating or drinking water," he said. "I think Alexandria voted for its values and for new ideas. But we're also new and humble and know that we will need guidance from those members who are leaving. I'm excited for these candidates and I think we'll do great things, but we've got a lot of work cut out for us."
Those who didn't make the cut: single-term Council member WIllie Bailey received 8,384 votes, or 8.03 percent; Dak Hardwick got 8,025 votes, or 7.69 percent; Matt Feely got 7,818 votes, or 7.49 percent; Smedberg got 7,767, or 7.44 percent; Robert Ray IV got 5,830, or 5.59 percent and Chris Hubbard got 4,036 votes, or 3.87 percent.
Smedberg said that recent negative news over Freedom of Information Act disclosures regarding a cancelled southern entrance at the Potomac Yard Metro Station hurt his candidacy.
"I think Potomac Yard had something to do with it (the loss)," he said. "I'm feeling fine. We still have six months to accomplish things, so that's what we're going to focus on."
VOTERS' PERSPECTIVE
Among voters supporting incumbents, many said they valued their experience on issues the newcomers seemed to lack.
"During the debate hosted by Michael Lee Pope, there was a question about the interpretation of sensible growth or bad growth and candidates were asked to give examples," said Ron Rigby. "It was a good question and it seemed incumbents could be more specific [than non-incumbents]."
But not all of Alexandrian voters were so impressed with the incumbents. Some Alexandria voters, like Sue Heiler-Brown, waited until she was in the voting booth to decide on six council candidates.
"I voted for some new people," said Heiler-Brown. "I'm happy to see new blood. I want to change it up a little."
"I want an all new City Council," said Barry Kessel, voting at City Hall. "Throw them all out."
Kessel said one of his top issues was fiscal responsibility and the fact that incumbents seemed to favor developers over residents. Kessel wasn't alone, with many voters saying they were concerned about development issues. Voter Stephanie Booth, shortly after voting at Mount Vernon Recreation Center, said that council needed to be changed up.
"I think this election Is about transparency, like the Potomac yard Metro, for instance," she said. "I'd like to see City Council more engaged with staff and constituents instead of council and staff existing in their own bubble."

"I've lived in Old Town for 58 years and I'm seeing so many high rise buildings instead of ones like this," said Peter Dixon, pointing up to City Hall.
Voters were brought to the polls for a variety of reasons.
"My husband and I are newcomers, so the most important thing for me was that I voted," said Anne Julian. "I'm just getting my feet wet trying to understand what the issues are here. It seems like the sewage issue, affordable housing, parking and education were the some of the big things from this election."
In addition to local issues, like safer sidewalks and better transportation, many voters said topics of national importance were also weighing heavily. Mary Myers said at a local level early education was one of the most important issues, but that she was also strongly about candidate's stance on immigration issues.
"I believe the voters recognized that in Alexandria, Justin Wilson devoted the hard time to mold majorities on issues: the hardest part about governing, especially in a non-strong mayor city (unlike Washington, D.C., New York, Denver, etc. where the mayor has executive power like a governor or president)," said Frank Shafroth, director of the Center for State and Local Leadership at George Mason University, in an email. "Governing in Alexandria requires molding coalitions. His extraordinary grasp of issues and efforts to provide the city's taxpayers with exhaustive information about issues before the mayor and council provides confidence in his leadership ability — and respect for the dedication he brings to the job. His constant efforts to work with his colleagues on council, essential to garnering outcomes which had majority support could only earn respect."
Tong said he believed that Trump had a trickle down effect to energizing the local elections.
"What we've seen as a general trend is a much more highly engaged and active Democratic electorate," said Tong. "I think there was a mood for change, but it came in pretty specific ways. Three out of three women candidates for City Council were successful. [We will have our] first Latino and first Muslim Immigrant on the council. Chapman, an incumbent, is African-American. It represents a repudiation of President Trump. A lot of Democrats who are frustrated with the current state of things wanted to see something different in their city government."
Shafroth said he believed Trump also had the effect of local voters looking for candidates they saw as more stable and level-headed.
"For a Trump effect, when I think back to former mayors Euille and Donley, I think of mayors who were inclusive," said Shafroth. "They wanted to help the city into this new century with its significant changes — in a sense, the very obverse of President Trump. I have a hard time imagining Mayor-elect Wilson tweeting abusive language and bragging about himself. So that, too, played a part. In all my meetings with Mr. Wilson, he was seeking perspectives on what mattered, why, and what options there might be: the very obverse of President Trump. So, yes, I think Alexandrians rallied to someone who was more interested in learning their views than in tweeting braggadocio. Alexandria voters respect commitment to our community, honesty, and a desire to listen rather than speechify. They value hard work."
In the City Council race, Shafroth said Chapman was able to hold onto his position by demonstrating humility and a willingness to listen to voters. For Pepper, Shafroth said her experience on the council has made her indispensable.
"Councilmember Pepper seems like an institution," said Shafroth. "In our historic city she is a link to our governmental history, from which there will always be valuable lessons to learn."
For voters, concerns about even-keeled leadership were very present.
"When I thought about the mayoral race, I appreciated concerns about development," said Melinda Pagliarello, "But I also think we needed professionalism [in our leadership]."
Tong said local Democrats are already shifting their gaze towards November. No Republicans filed candidacies for the mayoral race, but the Democratic City Council candidates will face two Republican candidates and one Independent.
"Last night was the Virginia primaries statewide, so our top priority is electing Democrats from top to bottom," said Tong. "[We have] Tim Kaine and Don Beyer to reelect as well as mayor and council, so we'll be pretty busy in the months ahead."