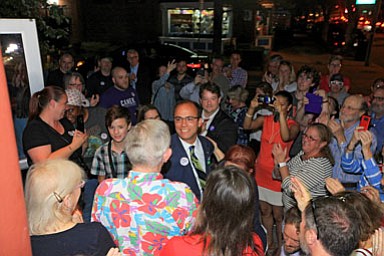 Meet the next Mayor of Alexandria: Vice Mayor Justin Wilson, photographed here greeting supporters at Pork Barrel BBQ in Del Ray after officially being declared the Democratic primary winner over his opponent, incumbent Mayor Allison Silberberg, June 12. The mayorship has been held by a Democrat for decades, and the primary win is tantamount to a general election win in November.
Stories this photo appears in:

Wilson wins mayoral nomination; newcomers Bennett-Parker, Aguirre, Seifeldein, Jackson make history.