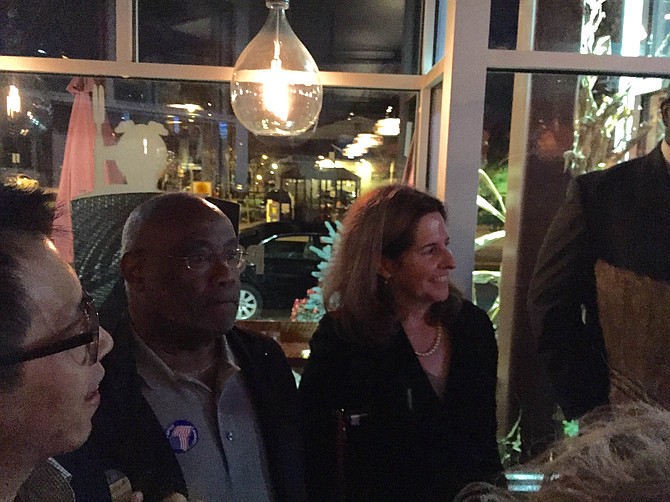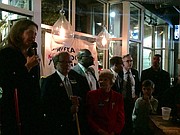 While Democrats weren't able to secure a hold on the state legislature, in Alexandria, the embattled incumbent Democrats were able to hold their ground in every election. In the mayoral race, Vice Mayor and Democratic candidate Allison Silberberg unseated incumbent Mayor William "Bill" Euille, who after his loss in the Democratic primary, waged a write-in campaign.
"It is a new day," said Silberberg. "It is time for change, and I think that's what the voters have said overwhelmingly across this city… "
But what didn't change was the Democrats' unanimous hold on the City Council. In the council election, all six seats went to Democrats, from Councilwoman Redella "Del" Pepper celebrating her 11th campaign victory to new City Council member Willie Bailey celebrating his first.
"I think we do need a shared sense of purpose in this city," said Silberberg. "That is what I will stand for going forward in terms of pursuing thoughtful, appropriate development that fits in and is to scale, and will protect our neighborhoods and quality of life. I think that that message has resonated. We must preserve and protect our historic districts all across the city. It is an honor, not a burden, to have these historic districts, and you can count on me to always speak up for [the neighborhoods] and do everything I can to protect them."
The Silberberg vs Euille battle for mayorship, even since the Democratic primary, has centered around the question of development. The question of new development exceeding the scale and character of neighborhoods has come up throughout the city. In the West End, the question came in the form of BRAC 133 in the Braddock neighborhood. Along King Street, it was the expansion of Woodbine with a memory care facility. The most vocal clash between the two candidates was over the Robinson Terminal South and other new developments along Alexandria's waterfront. Euille fought for the projects as part of the city's goals of transforming the waterfront while Silberberg attacked them as dwarfing the nearby historic homes.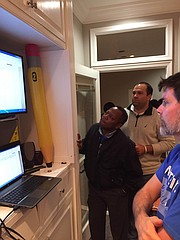 In her victory speech Tuesday night, Silberberg also said the city needed to focus on its swelling debt. The question of debt is one that had been brought up before during the City Council debates, usually with Republicans attacking the incumbent council for allowing it to swell to more than $500 million, with an additional $200 million anticipated for the construction of the Potomac Yard Metro Station.
Another major topic of the Silberberg campaign was "restoring public trust" which resulted in the announcement of one of the mayor-elect's first policy initiatives the night of the election.
"In January … I will establish an ethics commission," said Silberberg. "We must do that. We need citizens to take a look, for a couple months, at what we're doing, how we're doing it, best practices across the country, and see how they handle their financial disclosure rules and financial conflicts of interest. If I know that a person is bringing business before the City Council as a developer, I return their checks. My opponent did not … I hope that the ethics commission can take a look at all these issues and bring recommendations to the City Council. We'll take action from there."
The announcement was timely given Euille's disclosure at an Oct. 17 City Council public hearing that his campaign had received donations from a developer at Robinson Terminal North but that he would not be recusing himself from the vote.
"It takes money to run campaigns," said Euille in a previous interview with the Gazette Packet. "When I make decisions, it has nothing to do with whether or how much a developer contributed."
But Frank Shafroth, director of the Center for State and Local Leadership at George Mason University, said it may have come down to something more basic than an issue like development or debt.
"[Among] the voters with whom I spoke during the vote ... nary a one spoke about a different policy or policy differences they discerned between the mayor-elect and Mayor Euille," said Shafroth. "The comments were almost always 'he's served for a long time' [or] 'it's time for someone new.' No supporter of either candidate with whom I spoke described yesterday's election as a referendum on policy. Therefore what I found interesting was the interest [is] in a new face on a Democratic slate rather than some change in policy direction for Alexandria. The party, indeed, was handing out a slate … that was more a 'stay-the-course' rather than the kinds of changes proposed by other slates and candidates."
Shafroth also noted that the mayoral position is just one of seven votes on the City Council.
"Finally, it is valuable to remember that Alexandria is not a "strong mayor" city; so the mayor can set the tone and preside at council sessions, but has no more votes or authority than any other member of the council — unlike, say, Washington, D.C., New York, Indianapolis, etc."
But while the position of mayor may be a largely symbolic face of the city, for the last 12 years, that face has been Euille.
The Silberberg event at Los Tios Grill in Del Ray was packed to standing-room only with supporters. Across town, the Euille campaign headquarters on North Fairfax Street was a much quieter scene. The mayor appeared intermittently throughout the evening as, he went around town thanking voters and supporters.
There were two types of supporters present. The majority were pro-Euille, but several were mostly anti-Silberberg. Early in the evening the latter shared videos of over-zealous Silberberg campaign workers and already began theorizing about ways to challenge the results, but when the votes started coming in, it was the supporters who had been with Euille since his early days who stayed around to see things through.
Nearly 50 years ago, James Henson voted Euille for the outstanding student award at T.C. Williams High School. At the time, Henson said he saw a young man who was able to be many places and do many things for his community, and 50 years later, he said that hasn't changed.
"He's a local boy who made good," said Henson. "You definitely can't say that Bill Euille wasted his life pursuing false hopes … he's held his head high."
For Henson, a 79-year-old retired attorney and one of the authors of "African-Americans of Alexandria," there was a sense of historic importance for the night. Euille, who wrote the foreword to the book, is the first African-American mayor of Alexandria. Win or lose, Henson said that Euille has always been a role model for many people in the city.
Dennis Auld, who sat next to Henson at the campaign headquarters, had campaigned for Euille at the polls during the day and said that he saw a lot of confusion firsthand.
"People go to the poll with the intent to write-in," said Auld, "but for many, is was more complicated than they had initially expected."
Auld, who had been volunteering at the Braddock precinct, said that the elections officials had sent some voters back outside to get more information when they had expressed surprise that the City Council candidates were not marked with their party designations.
The first results from City Hall came in early in the evening, showing roughly 60 percent support for Silberberg and 30 percent write-ins. Exactly how many write-ins were for Euille, or some close variation of that name, would take days to sort through, but the total number of write-ins had to exceed the volume of votes for Silberberg for Euille's write-in campaign to have a chance.
But that didn't happen.
"It doesn't look good," Auld remarked, "but it is what it is."
There was still some traces of optimism in the crowd of volunteers early in the night.
"He has to win tonight," said Marrett Ceo. "He's done so much for this city. He's got spirit … even if you hate him, you have to respect him."
But as the results approached 70 percent of the precincts reporting in, and Silberberg with 65 percent of the vote, the mood began to turn. Among the supporters, there were murmurs of "we put up a good fight" and "write-in campaigns are hard." Once it was all over, Silberberg won with 63 percent of the vote.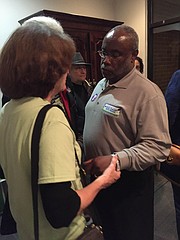 Hardly anyone spoke as Euille entered the room full of volunteers. He shook each of their hands and quietly thanked them individually.
"We ran a professional and visible campaign," said Euille. "We drew out a lot of votes, and as a Democrat, I'm happy we kept the slate intact."
Euille noted that he's still young enough to do other things, but didn't specify his plans beyond continuing to work in advocating for affordable housing.
In contrast, the mood at the Democratic victory party at Pork Barrel Barbecue was one of unmitigated celebration. Silberberg stood at the head of the row of triumphant Democratic candidates for City Council. She thanked Euille for his service to the city and asked for his help and advice during the transition.
"We have to come together to work across all lines to fix these challenges that face our city," said Silberberg.
Despite Euille's formal departure from the Democratic Party of Alexandria, Silberberg invited Euille to speak and he was greeting with cheers.
"I'm not going anywhere," Euille said. "After 21 years, I can now attend public hearings and say what I want to say."
Councilman Justin Wilson became vice mayor with 11.68 percent of the City Council votes, barely edging out Councilman John Chapman at 11.37 percent of the votes, the two men only 413 votes apart. It was a topic of mock-contention between the two, with Chapman ultimately saying there's no one he'd rather lose the position to.
"We heard mistruths … and we responded with clear eyed vision," Wilson shouted to the crowd. "I'd say tomorrow, but really tonight, we're getting to work."
Perhaps the loudest cheer of the night, though, was for Willie Bailey. Bailey prevailed over lead Republican John "Bob" Wood by less than 2,000 votes. For Bailey, the celebration at Pork Barrel Barbecue was a return to neighborhood he grew up in.
"Growing up here in Del Ray, back when it wasn't the nicest place, I never knew one day I would be able to run for City Council," said Bailey. "I wondered a lot if I was ready for the job. But every time I heard the Republicans talking about the city going to hell in a handbasket, I'd look over at the NSA and TSA headquarters coming in, and they wouldn't be here if Alexandria were going to hell."
Bailey thanked Sheriff Dana Lawhorne and his wife Linda Lawhorne for their support and encouragement to run for City Council. Bailey said the first campaign meeting that he held was in Dana Lawhorne's living room. Bailey also thanked the Alexandria Democratic Committee and Zak Sabil, his campaign manager.
"It's a double edged sword, not being an established candidate," said Sabil. "We had to send out a lot of emails and knock on a lot of doors. I kept telling Bailey there's no secret, you just have to go one door at time."
Dana Lawhorne said he was proud of Bailey and the other Democratic candidates, but also made special note of Euille. "I'm grateful to Euille for his service," said Dana Lawhorne. "I want to congratulate him on all he's done for us. Tomorrow, it's a new day for Alexandria."