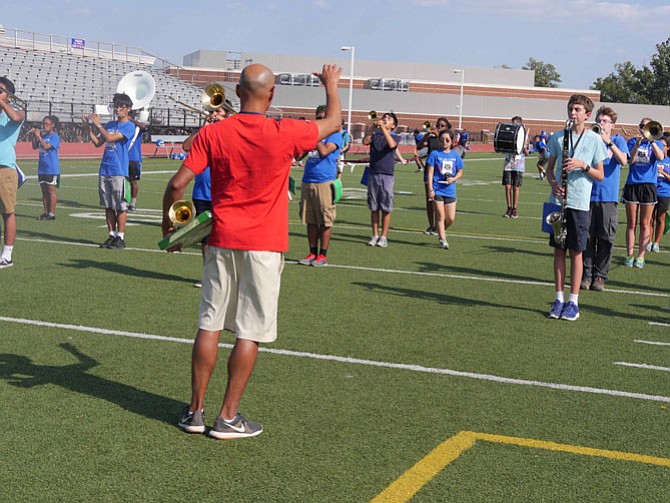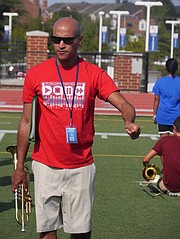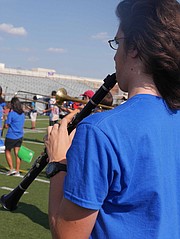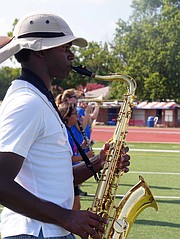 "O.K. everyone, out on the field." Arms grab trumpets, clarinets, with a shoulder harness for the drum. Band members head out the door, down the steps and onto the end of the football field at T. C. Williams High School on a hot first school day of the year.
Carlos Gonzalez, head band director, says, "The football coach agreed to share the football field today during their practice so we can practice with the band, too." A football pass comes sailing down the field and is caught at the edge of the band.
Forty-three band members take their place in rows of four. "Back. One, two, three, four, five, six. On your toes." Gonzalez adds, " Get your head in it. It's the first day of school." Gonzalez walks up and down between the rows inspecting for instrument position and exact place in their row. "I want to hear a concert F. A somber sound drifts across the field.
Gonzalez says they started practicing for this year when Band Camp began on Aug. 15. "So, we spent four hours outside every morning practicing marching fundamentals so we can make appealing shapes and play an instrument at the same time." He adds that part of the routine is to include running, jumping jacks, stretching, arm circles so they can be strong and don't sound tired when they play. "Everything is memorized from the movement to the music."
"I look for a consistent step size, hat on the forehead the same for each band member. We need heels off the ground and toes up as high as possible for balance, the "roll step." After lunch, there are three hours of music playing with the full band and breaking up into sections to practice with other trombones or flutes.
During the school year Gonzalez co-teaches three different band classes including concert band for less advanced, philharmonic band for more advanced 9th graders and some sophomores and juniors and wind ensemble which is an audition group. Marching band practices after school. He also teaches AP theory.
The marching band performs shows at football game halftimes beginning Saturday, Sept. 10 and also participates in several competitions. "We won six trophies last year at the Woodbridge competition." Gonzalez added, "One cool thing — we have been invited to perform downtown on Sept. 10 for the send-off ceremony for the U.S. Secretary of Education."
Gonzalez says that the marching band has a different composition every year depending on which instruments the band members play that year. As a result, they seldom have the optimal mix of instruments for a band "although we are pretty close right now." Currently the band has seven each of flutes, clarinets, trumpets and trombones, some drums, mallet players, a few others and a mellophone which is like a French horn but carries better sound on the field. "But this year no bassoons." Gonzalez says, "our mix in any year means we have to be creative in the kind of music we perform."
Gonzalez says he always wanted to be a teacher. "There are teachers in my family." Then when he was a senior in high school, "my band director taught me my clarinet was a small part of something larger. I wanted to convey that and to teach it to others, to create art as a team." He graduated in music education from James Madison University. Gonzalez admits it can be tough to play and march in formation at the same time while performing complicated patterns. "But it definitely gets better the longer I am here." He says there are a lot of unspoken things in a band. "We are united even though there is a variety of talent. A lot is due to their student leaders. I try to provide a challenge and opportunities, and they take pride in their community."
"O.K. We are ready to take your sections to different corners of the field and practice marching fundamentals."