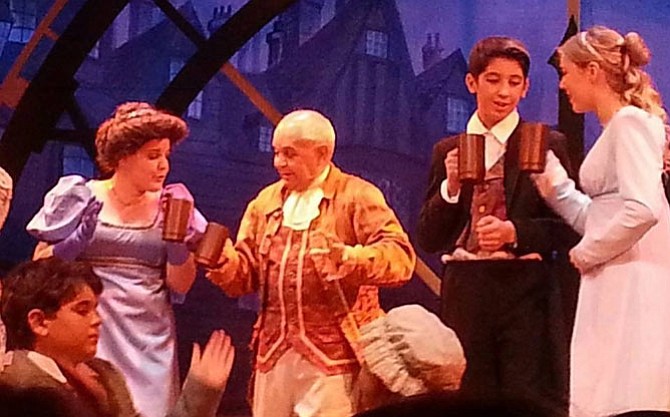 It may have been Shakespeare who said "all the world's a stage" but it was Roland Branford Gomez who lived it. A child actor since his first role on the New York radio program Coast to Coast at the age of 6, Gomez was a tour de force in the Washington theater scene from the minute he arrived in Northern Virginia in 1968.
"Roland was the most fascinating man who touched thousands of lives," said Mike Baker, a TV producer, actor and longtime friend of Gomez. "He had so much charisma and was so full of life. If anybody was going to live forever, this was the man."
Gomez directed more than 100 productions, including over 30 musicals, winning Best Director awards eight times with numerous more nominations to his credit. He was simultaneously directing two shows, including the upcoming Little Theatre of Alexandria production "A Party to Murder," when he died Aug. 11 after a recent diagnosis of acute leukemia. He was 86.
"Roland always believed 'the show must go on,'" said David McCallum, a friend and colleague of Gomez at Weichert Realtors. "He was the most incredibly alive person and certainly had a life well lived."
Born Dec. 2, 1929, in Lynbrook, N.Y., Gomez was the only child of Cuban refugees Celia Campos Gomez and Armand Gomez. He earned a degree in speech and drama at Adelphi University and a master's in radio and television at American University. He studied at the Actors Studio in New York with Lee Strasberg and Uta Hagen.
"Roland did commercials, movies, national TV — the man could really, really act," Baker said. "But he was not a promoter when it came to himself. He took his greatest joy in seeing other people succeed."
Gomez was drafted into the U.S. Army in 1952 and served in Korea. He returned to the U.S. in the late '50s, opening his own advertising agency in New York City. After moving to Northern Virginia, he opened London Casuals, a chain of women's clothing stores, and dressed future First Lady Betty Ford.
Gomez sold his retail stores in 1983 and went into real estate, joining Mount Vernon Realty, which was later acquired by Weichert Realtors.
Throughout it all, his first love was the theater.
"Roland directed his first show at LTA in 1975," McCallum said. "It was 'The Women,' which had a cast of 40. He always chuckled that it was one hell of a way to start to his directing career."
Gomez served on the LTA board and was the director of educational programs at the time of his death.
"When Roland first founded the educational programs at LTA, there were only two classes — one for children and one for adults," McCallum added. "Today there are 16 teachers and dozens of classes. He was very proud of how the program has grown."
Gomez is survived by his son Chris Gomez of Alexandria, granddaughter Dara Rose Gomez, and nephews Joseph Campos and Charles Campos of Long Island.
Funeral arrangements are still pending with a celebration of life planned for later this fall at The Little Theatre of Alexandria. Memorial contributions may be made to The Little Theatre of Alexandria, 600 Wolfe St., Alexandria, VA 22314, or the Rotary International Foundation, P.O. Box 32066, Alexandria, VA 22320.
"Roland was the heart and soul of LTA," Baker said. "Thousands of actors got their start because of him and for 34 years, in everything I ever did Roland was there. It's a real blessing to have someone in your life that long. He truly was an unbelievable man."