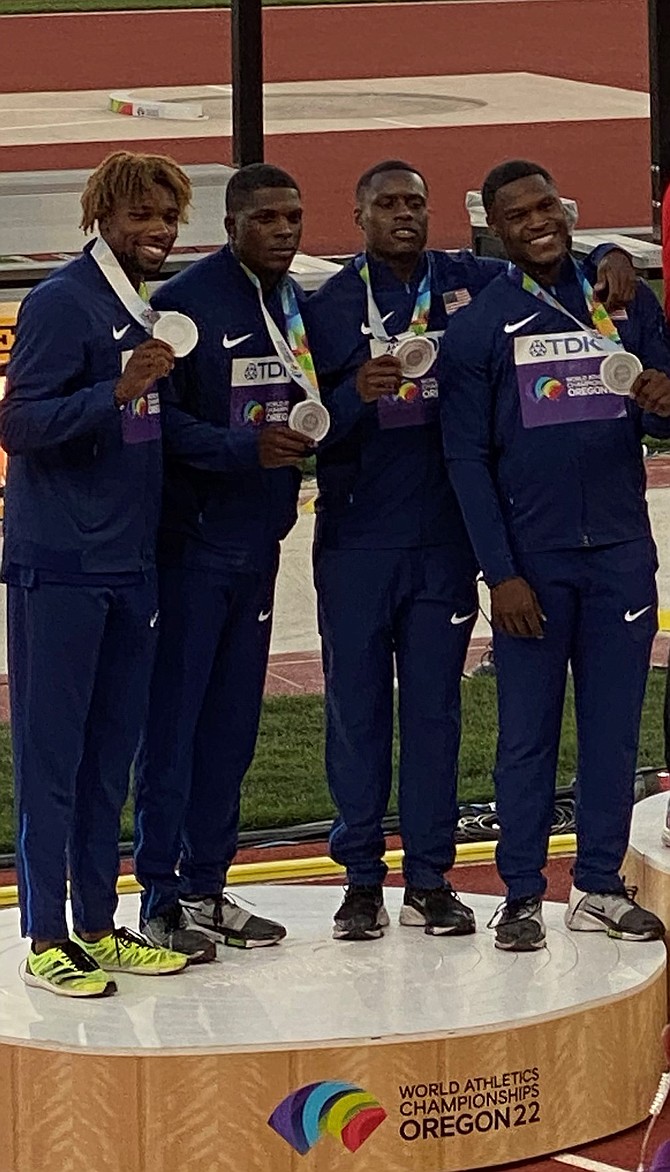 Ever since he starred in track at what is now Alexandria City High School, the 200-meter race was a specialty for Noah Lyles. On July 21, Lyles claimed his place in history with a new American men's record of 19.31 seconds, beating the decades old mark by 0.01 seconds set in 1996 by Olympian Michael Johnson.
Competing for Team USA at the World Athletics Championships in Eugene, Ore., Lyles easily won his race, leading a sweep for American runners with Kenneth Bednarek and Erriyon Knighton taking second and third with times of 19.77 and 19.80, respectively.
Lyles' 200m time is now the third-fastest in history, behind only Usain Bolt's 19.19 in 2009 and a 19.26 run two years later by Jamaican Yohan Blake.
Johnson, who was at the event as a commentator for the BBC, went down on the field to congratulate Lyles, who wasn't even born until a year after Johnson's run at the 1996 Atlanta Olympics.
"When Michael congratulated me, I was shocked," said Lyles after the event. "We have chatted on Twitter but I have never interacted. I felt like it was one generation meeting another generation."
The record-breaking run was redemption for Lyles, who was expected to take gold at last summer's Tokyo Olympics but took bronze instead. He credited the difference to having his family and friends in Eugene cheering him on.
Due to pandemic restrictions, Lyles' mother and brother Josephus Lyles, who also represented Team USA in the 100m relay at the championships, had to watch the sprinter compete in Tokyo at a watch-party at Alexandria City High School.
Lyles went on to collect a silver medal as part of Team USA men's 4x100m relay.
"Nothing wrong with a silver especially when you give 100 percent," Lyles said on Twitter. "I'm proud of these guys and we will only get better with time."
Just days earlier, Lyles celebrated his 25th birthday on July 18, saying on Twitter, "I made it to 25 years old today! A mark that for African Americans is a big milestone. By this time in a Black man's life we are either put in jail for life, killed in gang related events, or killed just for the color of our skin. So when I say glad I made it to 25 I mean it!"
Lyles' run puts him only behind Bolt in the number of sub-20.00 clockings in 200m history. Bolt leads with 34 times followed by Lyles with 29. Johnson is fourth with 23 and Carl Lewis in ninth place with 10.