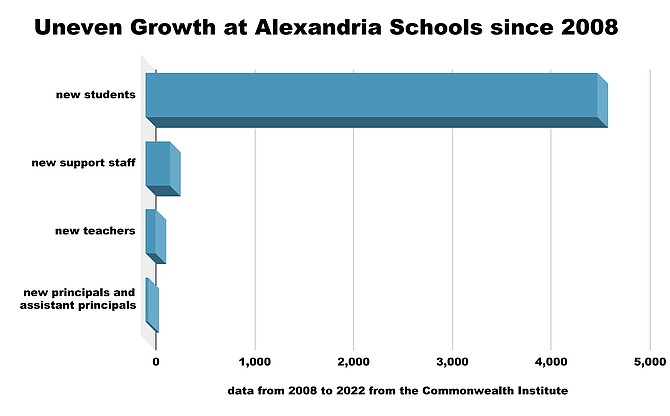 Since 2008, Alexandria schools have added more than 4,000 new students. But a new report from the Commonwealth Institute shows staffing has not kept pace. City schools have added only 100 new teachers during that time, and the number of teacher aides has actually declined by 10 positions. The staffing imbalance comes at a time when the public school system is trying to emerge from the pandemic, although the roots of the problem go back to the global financial meltdown 15 years ago.
"During the Great Recession over a decade ago, the state made a number of cuts to its support for public schools and that has had long-term consequences for our students because we never fully refunded our schools," said Laura Goren, research director at the Commonwealth Institute. "As a result, the state is providing support for far fewer staff than it used to."
Teacher vacancies and staff vacancies are causing school officials across Virginia to figure out ways to do more with less. That's leaving many parents to feel an increasing sense of frustration as students struggle through the learning loss experienced during the pandemic. Here in Alexandria, parents of minority students worry that the burden will be heavier in schools that have higher rates of poverty.
"When you have fewer teachers and fewer support staff, the outcome will be lower academic achievement — particularly for our students of color and English-language learners," said Ingris Moran, an organizer with Tenants and Workers United. "Those students are not getting enough support, and that leads to students dropping out or not graduating on time."
SCHOOL OFFICIALS are reluctant to talk about the numbers. School Board Chairwoman Meagan Alderton denied a request to be interviewed about the report from the Commonwealth Institute, referring questions to the staff at Alexandria City Public Schools. Kathy Mimberg, executive director of communications for the division, denied multiple requests to set up an interview with administrators for this story. Instead, she sent a written statement she said should be attributed to Julia Burgos, chief of school and community relations.
"We can confirm that staffing has kept pace with increases in our student enrollment over the past 10 years. Overall student enrollment growth and staffing growth is not a one-to-one relationship, but is based on the needs of students." said Burgos in the written statement. "For example, Kindergarten class sizes require more teachers per student than classes in grades five and above, therefore, our budget reflects the staffing levels that serve the needs of individual school enrollment."
The lack of transparency at Alexandria City Public Schools is a shift in communications strategy for the division, which once made administrators available for interviews. Now requests for interviews are met with written statements, and elected members of the School Board are not available for interviews either. School Board member Abdel-Rahman Elnoubi also denied a request to be interviewed for this story, asking instead for questions in advance so he could respond in writing.
"They've obviously circled the wagons because that's what they've been directed to do," said former School Board member Bill Campbell. "I've never been supportive of trying to hide stuff and trying to hold stuff back or trying to have some kind of canned message to the press but I guess different people have different thoughts on it. Certainly, we should not see the press as an enemy."
FUNDING SOURCES have also shifted since the Great Recession, reflecting an increase in support from the state in Alexandria. Since 2008, direct state aid per student has increased 2 percent and the state's share of total funding has increased from 15 percent of the budget to 18 percent of the budget. Meanwhile the local government's share of school funding has declined from 80 percent of the budget to 74 percent of the budget. Across Virginia, the state spends more on school divisions that meet standards and less on divisions that don't meet standards, an upside down approach that is alarming to many advocates.
"The ultimate solution would be to fix the funding formula, but there's a low likelihood of that in the near term in the General Assembly," said Shane Riddle, director of government relations for the Virginia Education Association. "We believe concentrating on the at-risk add on is one of the best prospects."
The "at-risk add-on" is a budget approach to provide supplemental funding for school divisions with high concentrations of poverty. Here in Alexandria, 60 percent of students qualify for free or reduced-price lunch. That's an indication that most public school students in city schools live in poverty, so increasing the at-risk add on would provide increased state funding for Alexandria.
"The variation in ability of Virginia localities to raise revenue leads to differing educational experiences across the state," said Riddle.
AFFORDABLE HOUSING might also play a role in the ability of teachers and support staff to work in Alexandria, where housing costs soar much higher than other parts of the region. During her time on the School Board, Ronnie Campbell pushed the city to set aside affordable housing units for teachers so the school system could retain teachers instead of having them move out to places where they can afford to live.
"Why would they be spending a lot of money for gas to commute here?" she asked. "If they've got the experience, they're going to stay near where they live. And you can't blame them."