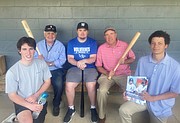 Summer baseball is back as the Alexandria Aces return for their 13th season as part of the Cal Ripken Collegiate Baseball League. Following a COVID-canceled 2020 season, the team returns with Chris Berset of the Cincinnati Reds organization as head coach and new owner Frank Fannon taking the reins from team founder Donald Dinan.
"I'm very excited about this opportunity," said Fannon following team practice at Frank Mann Field May 15. "I grew up a big baseball fan. As a kid 40 years ago, I came here to watch the Alexandria Dukes, a member of the Carolina League, play their games."
As part of the Cal Ripken League, the Aces are an affiliate of Major League Baseball and professional scouts regularly attend games to recruit players for the MLB draft. Eight Cal Ripken League alumni, including Gio Diaz of the Washington Nationals, signed free agent contracts with MLB teams in 2020.
"We formed the team in 2006 with our first season in 2008," said team founder Donald Dinan. "Frank has been on the board since day one and due to a lot of reasons, I decided it was time for me to step back and let the next group take over and that's Frank."
Aidan Lansburgh, a senior at West Potomac High School, is part of the front office staff.
"I'll be overlooking ticketing, concessions, the broadcast team and social media team," Lansburgh said. "I plan to go into sports management in college and thought this would be a good launching pad."
The Aces team is comprised of college baseball players from around the country that live with host families in Alexandria and play a 40-game season in June and July. All games are played at Frank Mann Field behind Cora Kelly Elementary School. Admission is $5 and tickets are available at the gate. Local restaurants will cater food for concessions.
Mitch Wasserman, a sports and recreation junior at James Madison University, is also part of the front office staff.
"I do whatever needs to be done, whether it is game day marketing or sponsorships," Wasserman said. "This is the field I would like to go into but it's hard to get some experience."
Zach Miller, the Aces Director of Marketing, agreed with Wasserman.
"It's not easy getting experience working for a sports organization," said the recent Mary Washington graduate. "I'll be concentrating on getting sponsorships from different businesses and restaurants around the city."
Internships with the team are available.
The Aces are still seeking host families to house players. Contact Siobhan Casey at 703-966-5172 for details. For sponsorship information, contact Zach Miller at 571-278-6745. Team owner Frank Fannon can be reached at 703-861-1864.
"I have been involved with the Aces since 2008 and am excited about all the good things that are going to happen here in Alexandria," Fannon said.
The first two home games are June 8 and 9 at Frank Mann Field at 6:30 p.m. The season runs through July 21. http://www.alexandriaaces.org/