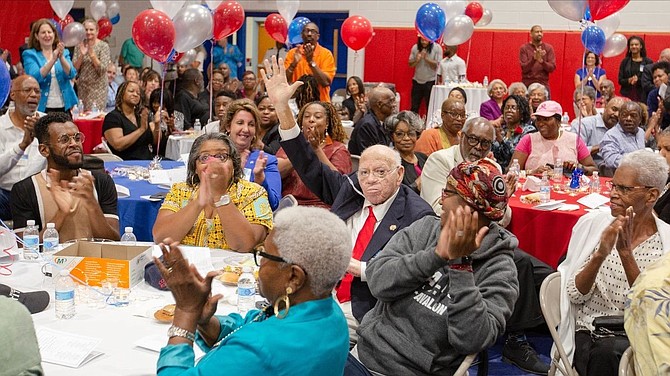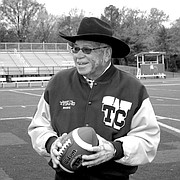 Herman Boone, the high school football coach portrayed by Denzel Washington in the 2000 Disney movie "Remember The Titans," died Dec. 18, 2019, ending a year of loss for the 1971 T.C. Williams state championship football team.
Boone had battled lung cancer in recent years and was 84 years old at the time of his death.
Earlier in the year, the Titans mourned the loss of players Julius Campbell on Jan. 25 at the age of 65, and Petey Jones on July 1, also at the age of 65. Boone's assistant coach, Bill Yoast, died May 23 at the age of 94.
Boone was born Oct. 28, 1935, in Rocky Mount, N.C. He attended Abraham Lincoln Elementary School, then the now-closed Booker T. Washington High School. While attending North Carolina Central University, Boone joined the Tau Psi chapter of the Omega Psi Phi fraternity. He graduated with Bachelor of Arts and Master of Science degrees.
In 1958, Boone accepted his first teaching and coaching position at the Luther H. Foster High School in Blackstone, Va., where he coached football, basketball and baseball.
In 1961, Boone moved to E.J. Hayes High School in Williamston, N.C., where he served as head football and basketball coach, biology and physical education teacher and janitor. While there, Boone led his teams to 13 state championships.
Boone came to Alexandria as an assistant football coach at T.C. Williams High School in 1969. When the city consolidated students from three high schools into one in 1971, Boone was named head coach of the combined team and led the Titans to a 13-0 undefeated season and state championship title.
In 1979, Boone left coaching and retired to work as a public speaker focusing on his time as coach.
Following his retirement, Boone remained in Alexandria volunteering with Alexandria Civil Rights organizations, including the NAACP and the Urban League of Northern Virginia. Upon his selection as a Living Legend of Alexandria in 2016, Boone said that "my goal has always been to be an agent of change for all people."
Boone, a member of the T.C. Williams High School Hall of Fame, was inducted into the North Carolina Central University Hall of Fame in 2004. In March of 2019, the school's new basketball media room was named in his honor.
Boone was married to Carol Boone and together they had three daughters: Sharon Henderson, Monica Merritt and Donna Dulany, who died in November of 2014.
A memorial service was held for Boone on Dec. 28. In lieu of flowers, the family has requested donations be made to the Scholarship Fund of Alexandria, attention: '71 Titans Scholarship.