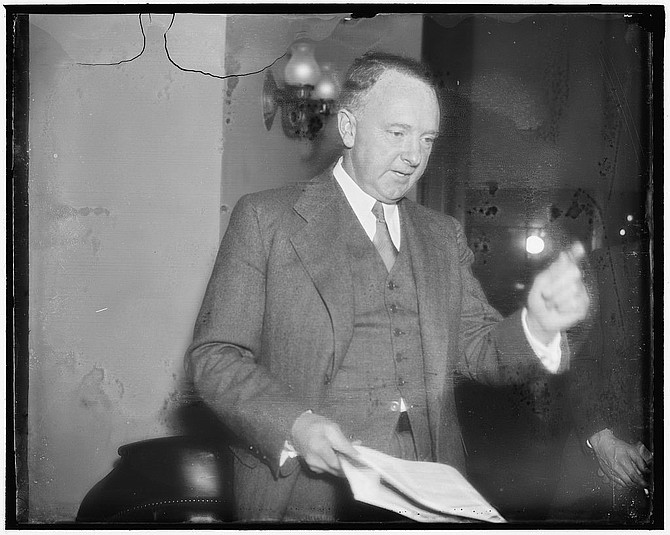 The statue of Harry Byrd stands in a prominent spot in Capitol Square, watching lawmakers as they scurry from their offices to committee meetings and closed-door caucus meetings. It was erected in 1976, a time when memories of the segregationist governor and U.S. senator were still fresh among the Democratic majority. Now times have changed, and many people would like to see it removed and tucked away in a museum with a note explaining his plan to close public schools rather than integrate them.
Enter Wendell Walker. That's the freshman Republican delegate from Lynchburg, a Republican operative turned elected official. A few days before the General Assembly session began, he introduced House Bill 1305, a bill to direct the Department of General Services to remove the statue of Byrd from Capitol Square. Walker says he had no intention of actually supporting the bill or even removing the statue. It was, essentially, an effort to troll Gov. Ralph Northam.
"When the governor came out and was talking about removing some of the historic statues around here — referencing to Robert E. Lee — that was just unacceptable to me," said Walker in an interview. "I wanted to get the governor to come around and say we are not removing any statues."
The effort failed spectacularly. Northam did not back down, and a spokeswoman for the governor confirmed that he still supports a bill to remove the Lee statue from the U.S. Capitol and another bill that would give local governments the ability to remove Confederate statues. Those bills are still working their way through the committee process. Meanwhile, Walker has decided to withdraw his bill. But only if the Democrats let him. During a contentious Rules Committee meeting last week, Majority Leader Charniele Herring pulled Walker's bill out of a block of bills lawmakers wanted to strike.
"I would like to hear from the delegate about why he wants to strike the bill," explained Herring.
"We've had several people strike bills, and I don't think, candidly this session, I haven't heard anyone ask someone why they were striking their bill," protested former Republican Speaker Kirk Cox, now a member of the minority leadership team. "I'm a little disturbed by the inconsistency of that."
When Republicans were in power, they would frequently bring bills to the floor to kill them in public — making a public spectacle of their opposition and maybe even scoring a few soundbites in the process. Last year, for example, Republicans made sure a bill by Del. Lee Carter (D-50) to overturn Virginia's anti-labor "right-to-work" law was debated on the floor. Even though the bill had zero Republican support, they worked the system to make sure it got to the floor so they could orchestrate an election-year spectacle.
It was a strategy that ultimately failed because Carter was reelected, and Republicans lost the majority.
"When it comes to the Harry Byrd statue," says Carter, when asked about Walker's bill. "Hell, rip that one out too."
Walker may have wanted to troll the governor but he ended up sparking a debate about the legacy of Harry Byrd and the politics of statues. The freshman delegate from Lynchburg doesn't support his bill, but a number of Democrats say they'd love a chance to vote in favor of it. One of those is Del. Mark Levine (D-45), who says Byrd was a racist and his statute should be removed from Capitol Square.
"There are some Republicans who think that Democrats love all Democrats, no matter how racist or awful they are. They're wrong," said Levine, when asked about the statue. "The Democratic Party today is nothing like the Democratic Party of Harry Byrd. We have completely changed, and I would argue that the Republican Party is nothing like the party of Abraham Lincoln anymore."
Harry Byrd was not just a Democrat. He was the head of a political machine that ran Virginia politics for half a century. Born into a blue-blood family that traced its history back to colonial days, Byrd made a name for himself as a state senator opposing an effort to take on debt to improve Virginia's roads. By the time he campaigned for governor in 1925, he was pushing a program called "pay as you go."
"That approach has endured," says Frank Shafroth, director of the Center for State and Local Leadership at George Mason University. "Virginia excels in its bond rating and has held its AAA bond rating since 1938, longer than any other state."
Byrd may have made a name for himself with "pay as you go." But his legacy will forever be tarnished by another line on his resume, the one that declares "massive resistance." That was the name of his 1956 plan to resist integration by closing public schools. Like Wendell Walker's bill, it was a spectacular failure. Virginia's schools integrated, and now Byrd is remembered as a racist U.S. senator who ran a political machine that embraced the Lost Cause of segregation.
"The Democratic majorities that Harry Byrd built long ago are no more, as almost none of the Democratic lawmakers in the current majorities represent the rural districts that powered the Byrd organization," says Stephen Farnsworth, political science professor at the University of Mary Washington. "The days of Byrd's ghost hunting Virginia politics and of his statue gracing Capitol Square are numbered."