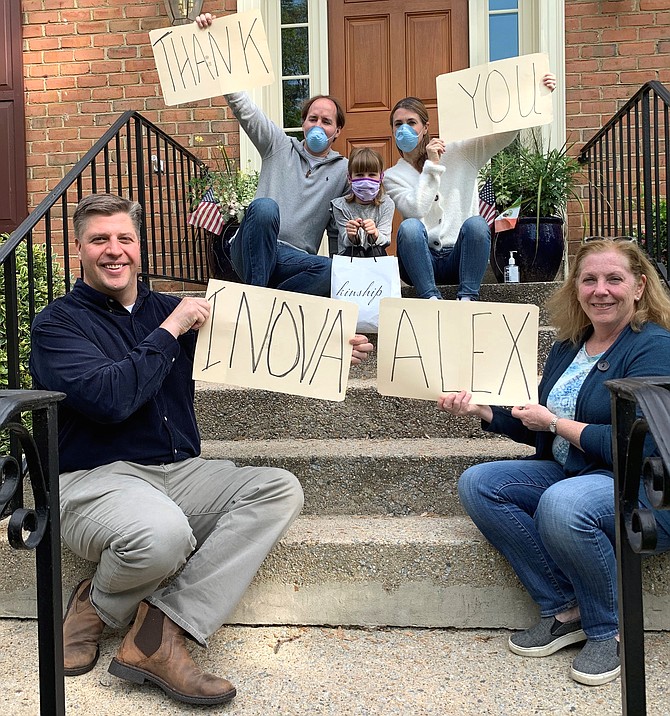 Residents of the Vauxcleuse neighborhood surrounding Inova Alexandria Hospital wanted to show their support for the health care providers and staff during the COVID-19 crisis. With one resident serving on the board of the hospital's foundation and another a chef and restaurant owner, a plan was quickly put into action.
"The hospital is one of our neighbors and an email went out asking what we can do to support them," said Eric Ziebold, chef and owner of D.C.'s Kinship Restaurant. "The decision was made to raise some money to put together a grocery basket for them. Since the hospital has stipulated that any prepared food has to come from a restaurant and not a home kitchen, we are able to use Kinship and wholesale pricing to buy supplies and make some prepared meals."
Another neighbor, Janet Hawkins, serves on the hospital's foundation board and was able to relay any hospital needs to the residents.
"Janet and Dave [Wormser] really spearheaded this," said Laurie Drysdale. "They let us know that in addition to monetary support, hospital staff and line members could use break food – something easy to grab and easy to eat."
In addition to the snack bags, neighbors put up signs outside the hospital to let staff and passersby know how much those working there are appreciated.
"The doctors, nurses, aides, support staff, cleaning crews and everyone else at Inova are on the frontlines during this difficult time," said Hawkins, who provided the signs of appreciation along with Wormser. "We don't have the opportunity to thank them in person, so this seemed like a small way to express our appreciation for all they do."