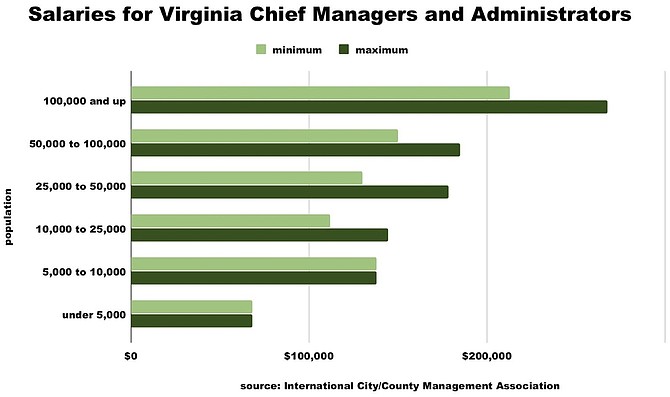 Alexandria does not have the top-paid government officials in the region. But it certainly doesn't have the poorest, either. According to information received in a Freedom of Information Act request, Alexandria's City Manager, Mark Jinks, pulls in a cool $288,000 a year. That's at the top end of the range for local government chief appointed managers and administrators who oversee governments with a population of 100,000 or more, according to an annual survey conducted by the International City/County Management Association.
"When you're looking at the compensation for city managers and county managers, you're taking into account the same kind of factors as you would when you're looking at the CEO of any business," says Martha Perego, director of membership and ethics for the association. "What is the complexity of the work for which they've been hired? You're also looking at the experience of the person you've hired."
Most of Alexandria's top-paid employees are deputy city managers or department heads, although that's not always the case. The second highest paid city employee is the internal medicine practitioner who runs the opioid treatment program and administer physicals in the detox program. Also in the top ten list are three clinical psychiatrists who see patients referred through Alexandria's human services programs.
"There is a national shortage of physicians, especially psychiatrists," says Communications Director Craig Fifer, who makes more than $170,000 a year. "Although the City has established a separate medical salary scale to allow more flexibility in recruiting and retaining these positions, we continue to face significant competition for these positions from higher-paying jobs in the private sector."
In the Washington region, the top-paid government executives are usually in D.C. Montgomery County and Fairfax County also pull in salaries larger than Alexandria, whereas Prince George's County and Loudoun County usually appear at the bottom end of the list. For a city of 144,000, Alexandria's top salary of $288,000 is generous without being extreme by comparison.
"That does seem high," says former Mayor Allison Silberberg, who was vice mayor when Jinks was hired in the spring of 2015. "But city managers and chief administrators get paid well in our country now, and that's just the reality of the economics."
Alexandria's Top-Paid Employees
$287,504: Mark Jinks, city manager
$260,000: Uzma Mian, medical supervisor
$243,812: Joanna Anderson, city attorney
$220,002: Ana Lince, senior clinical psychiatrist
$220,000: Elia Valladares Juarez, senior clinical psychiatrist
$208,291: Bryan Porter, commonwealth's attorney
$203,085: Dana Lawhorne, sheriff
$202,144: Dean Inouye, clinical psychiatrist
$199,130: Emily Baker, deputy city manager
$199,130: Debra Collins, deputy city manager
$199,130: Laura Triggs, deputy city manager
$198,840: Wendel Wu, clinical psychiatrist
$195,881: Michael Brown, police chief
$190,000, Terry Suehr, director of project implementation
$189,648: Catherine Garvey, director of human services
$182,062: James Spengler, director of recreation
$179,496: Shawnda Howard, chief HR officer
$177,230 Rose Dawson, library director
$175,248: Morgan Routt, budget director
$175,248: Kendel Taylor, finance director
$175,247: Yon Lambert, transportation director
$175,247: Karl Moritz, planning director
$174,057: Vanetta Pledger: chief IT officer
$173,430: Jill Schaub, deputy city attorney
$170,552: Craig Fifer, communications director
$170,522: Thomas Canfield, special city architect
$169,754: Gregg Fields, director code administration
$169,754: Helen McIlvaine, housing director
$168,622: Renee Gordon, emergency comms director
$168,448: Jeremy McPike, general services director