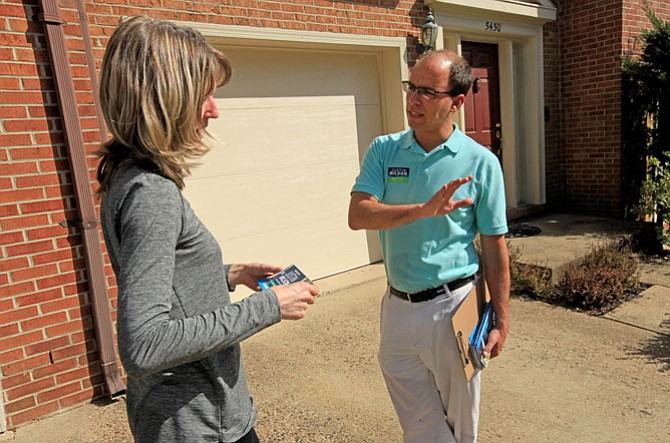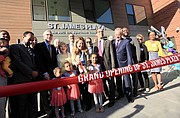 Vice Mayor Justin Wilson doesn't get much sleep. When he's not raising a family, working as the senior director of vendor and contract management at Amtrak, attending public events, running 25 miles a week or running for mayor, he's attending council meetings and answering emails. The 39-year-old is a self-admitted social media addict, primarily on Facebook and Twitter, he's outraised and outspent funds against his incumbent opponent Mayor Allison Silberberg and usually gets to bed by 2 a.m. before waking up between 5:15 a.m. and 7 a.m. for a morning run and/or to take his daughter to school.
"I operate under very little sleep and I have for 15 years, if not longer," Wilson said. "I've been multitasking for years… The campaign adds basically a third full-time job. I'm out every night, usually two or three things. I used to try to go to a million different things every night, and I learned that that is not a good idea, because you're just showing up for 10 minutes. What is that about? It's about waving. I go for quality and not quantity now."
Saturday, April 14 was a busy day for Wilson, though no busier than average, starting off at an early morning ribbon cutting for the St. James Plaza affordable housing development in the city's Beauregard neighborhood, running a few errands, a five-hour City Council meeting, door knocking for hours on the city's West End and ending the day eating dinner at home with his family in Del Ray. He drinks too much Coca-Cola, he says, and his thinning hair is contrasted by youthful looks without the appearance of an ounce of fat.
"Why do I do what I do? You know, I think part of it is I see it in my kids. Every day I walk my daughter to school, and it's to make sure the community they grow up in is a better one than I found it," he said. "I would say that the job of the mayor is to build coalitions on the council to move policy, and that is what I have always worked to do on the council — identify an approach that makes sense and work to build a coalition of at least four members … to do things. That's what I enjoy. If you don't have relationships with your colleagues, you can't make that happen, you can't move policy."
Wilson drove his dark blue Prius over to St. James Plaza in a grayish-brown suit, white shirt and red checkered tie at 7:45 in the morning, and was greeted by affordable housing advocates, city staff and his colleagues on council, including Silberberg, who spoke at the event. After the speakers were finished, the ribbon was cut and photos taken, Wilson took a tour of the upstairs living accommodations with a crowd of other guests, and then took an individual tour of an early childhood space on the bottom floor complete with low sinks for children.
"I really enjoy this. Today's a perfect example. This project was something that we worked on, it was a divided vote, I'll have you know, and seeing the results of that project and families that are living there, seeing that early childhood space that will soon have 50 young kids, it gives me an enormous sense of satisfaction," he said. "Right now we're leaving a lot of money on the table. The state's early preschool initiative matches city funding, and right now we're not getting our full share of that, which is terribly frustrating."
After the event was a City Council meeting. Beforehand, Wilson walked to his cubby in City Hall, which is just around the corner from the mayor's office with its windows that look out on Market Square.
"It's very sexy," he joked. "I finally have at my day job a bigger office than here. It took me a while."
There were no sparks during the meeting, unlike on April 10, when Wilson proposed merging the Parker-Gray Historic District Board of Architectural Review and the Old Town BAR, igniting a bickering contest with the mayor that was broken up by Councilor Paul Smedberg. In one hour-long stretch during the Saturday meeting, Wilson jumped on and off Facebook Messenger over a dozen times, left the dais briefly and said that he can still pay attention to the proceedings.
"That's how I communicate with the pubic," he said. "I've learned that this community is busy. People don't pay attention to every little thing we do on council, and you have to get out and tell that story. That's the reason why I do my newsletter that goes out to 8,500 people every month, that's the reason why I answer every email personally and go back and forth with residents on Facebook and Twitter and email, and I try to engage with the community so that even if they don't agree with me they know what I stand for, what I do and how I'm working for them."
Wilson was born in Cheverly, Md., and moved to Fairfax County in the fourth grade. He later graduated from Robert E. Lee High School in the Alexandria portion of Fairfax County. He's a graduate of Virginia Commonwealth University with a degree in information systems, is a fellow of the Sorensen Institute for Political Leadership at the University of Virginia and has served on dozens of commissions and boards, including the Virginia Committee on Juvenile Justice, as deputy chair of the Alexandria Democratic Committee and on the Visit Alexandria Board of Governors. He was first elected to the City Council in a special election in 2007, lost his reelection bid two years later, won back a seat on council in 2012 and was elected vice mayor in 2015 — the same post that Mayor Allison Silberberg held before becoming mayor.
"When I lost in 2009, it was the best thing to ever happen to me in politics. It felt miserable, but I spent a fair amount of time with people around the community dissecting that loss and one of the things that people told me was that every decision that council makes is preordained," he said. "But the reality was that we were having disagreements in private and we were smoothing it all out."
Part of that was the leadership of former Mayor Bill Euille, one of Wilson's political mentors, who preferred to keep meetings rolling at an even clip. Euille has endorsed Wilson, and so has former Mayor Kerry Donley — both of whom lost to Silberberg in 2015. Wilson met Euille in 2001 after graduating from college and in 2003 became his campaign treasurer — a position Wilson maintained until his first campaign for council. He said that Euille taught him of the importance of being present in the community, and that the worst insult he could give someone is, "I just don't see them around."
"One of the things I took from that experience is that the public wants to see their public officials debating, see them disagreeing and are talked through," Wilson said. "In 2013, when I rejoined council, I have tried to ensure that the public knows where we stand, and if there is disagreement, those disagreements are aired so that the public understands what is making us tick and how we approach their public business. So does that mean we sometimes get into real arguments on the dais? Sure, but listen. If I didn't have a passion about these issues, what am I doing here?"
As of March 31, Wilson has raised $97,663, has $63,082 cash on-hand and has spent his money on campaign consultants, campaign literature and advertisements in newspapers and online. Silberberg has so far raised $70,763 and has $40,939 on hand.
After the meeting, Wilson picked up his dry cleaning and then went home to change into door knocking clothes, where his wife Alex was outside beekeeping with her friends, while inside were their children, Eli and Lena. Wilson and his wife met in college, and married in 2001 after graduating.
"We knew it was going to be a bit of a crazy time, but it's a finite period and he's certainly got his passion, so we're all doing what we can to keep everything going until June and then we'll see what happens," Alex said of the mayor's race while wearing a beekeeper's outfit, surrounded by hundreds if not thousands of bees.
Less than a week prior, Wilson announced a weekend goal of knocking on over 1,000 doors before soundly defeating Silberberg at the Alexandria Democratic Committee's unofficial straw poll by 143 votes to 77 votes, but such a result means little in a race that has been historically defined by thousands of votes. Plus, Silberberg lost the straw poll three years ago and then defeated two former mayors in the primary and later won the mayor's race.
"It's always a challenge to run against an incumbent. And she's certainly a formidable candidate. The reason she's an incumbent is because she won. But that's not what I'm being asked about when we knock on doors. I'm asked about where are we going as a city and what's my focus," Wilson said. "We need to focus on our kids and addressing the early childhood education, student enrollment growth, sewers, sidewalks, facilities and development and how we work with developers to essentially advance those possibilities with public/private partnerships."
Wilson then met up with his campaign manager Nate Salzman for door knocking on the city's West End. Salzman, 26, has been on the job a little over a month, and said that his candidate's visibility in the community will set him apart from his opponent.
"We're going to get out and talk to more people. We're going to get more people involved in our campaign. We had a huge weekend of action last Saturday and Sunday where we knocked on over 1,000 doors, had over 30 door knock shifts completed," Salzman said. "So we've got a lot of excitement around the campaign. We've got people on the phones, knocking on doors. It's simple. It's not rocket science."
Wilson said that his weakness is jumping the gun on problem solving.
"I'm a numbers guy, I'm analytical," he said. "And I sometimes forget that there's emotions behind some of these issues and I quickly say, 'OK! Here's what we're going to do. We're going to call this person, do this, do that,' instead of saying, 'OK, that stinks. Let's talk about why this is a problem for you. I'd like to help you work through it.'"
Wilson parked his car and walked out to the corner of Barrister Place and Van Dorn Street, where he took a picture of the road signs and Tweeted, "Liberated from the Council chamber. Now in the Polk precinct knocking on doors."
One of the first people he spoke with was Myla Sisk, who said, "I saw your advertisement on Youtube. What are you going to do for us in the city?"
Wilson has been knocking on doors for over a month.
"This is my fifth campaign, and my first two I didn't knock as much. One of the things I learned from that loss is that you have to ask people for the votes that you want. If you don't ask them then you don't get them," Wilson said.
Wilson said he has no ambitions for an office higher than the mayor of Alexandria.
"I mean I don't want the impact on my family. At least I'm in my bed at night, I see my kids every day. Someone who is running statewide or is on the Hill just can't do that. Also, I don't like fundraising," he said. "I get more done in one week that affects the residents lives in this city on City Council than those folks do in a full session. That's what I want. That's what I enjoy."