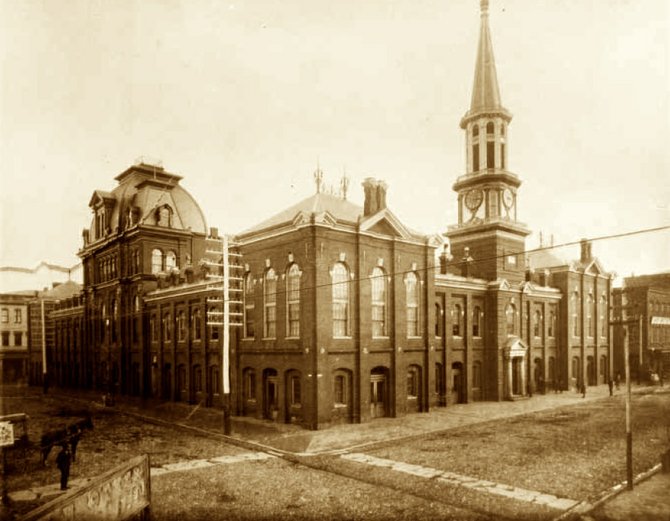 Should city taxpayers fork over $50 million to renovate City Hall? Or should a new $100 million facility be constructed somewhere else, opening the door for a developer to transform the historic building? That's the question that will be confronting City Council in the coming years as elected officials decide whether or not they want to invest in fixing the building.
"Maybe a private developer will pay hundreds of millions of dollars for that site," said Mayor Bill Euille during a recent budget work session. "Those are the things we have to look at, and we would not be doing our fiduciary responsibility if we didn't look at the bigger picture."
Much of the building is currently served by 40-year old mechanical equipment, which city leaders say has been piecemealed together as operations have changed. Last year, budget officials estimated the cost of fixing the HVAC system would be about $18 million. This year, though, that estimate almost doubled to $34 million. Add a list of other structural problems, and city officials could be looking at a $50 million renovation — leading the mayor to publicly speculate about selling the building and relocating the government somewhere else.
"I personally cannot imagine when this building would be gone and be replaced by something else and that City Hall would be somewhere else," said Vice Mayor Allison Silberberg. "Hopefully we can fix what needs to be fixed and keep what is historic."
CITY HALL is one of Alexandria's crown jewels, although a number of earlier buildings were once located there. The first building was a market house constructed in 1750. Then there was the Fairfax County courthouse, which was constructed in 1752. A schoolhouse and town hall were built in 1759, and a brick prison was constructed in 1763. Then there was the addition of the Friendship Volunteer Fire Company in 1774 and the Sun Fire Company in 1775. In 1782, another building was added to serve as the Hustings Court.
The cluster of buildings became confusing and crowded, though, and city leaders of that era wanted one building that would serve as a center of government. So in 1817, Alexandria commissioned architect Benjamin Henry Latrobe to design a three-story brick building with a distinctive clock tower. That building was destroyed by a massive fire on May 18, 1871. So city leaders hired architect Adolf Cluss to build a new City Hall, incorporating Latrobe's design for the clock tower.
In 1961, architects Robert Willgoos and Dwight Chase designed a southern addition that filled in the yard that has long served as Market Square. Then in the 1980s, the firm of Neer and Graef gutted the building and created the interior space that modern-day visitors experience when they visit City Hall.
"The last time City Hall was renovated in 1990, it was really more of a superficial renovation," said Jeremy McPike, director of General Services. "So the prior renovations have really been passing the buck, and a certain point in time you have to pay. And now the bill is due."
Euille said the building would remain in tact, even if the building is sold. Meanwhile, city leaders don't have to make any decisions in the near future. Budget officials have set the funding for 2021.