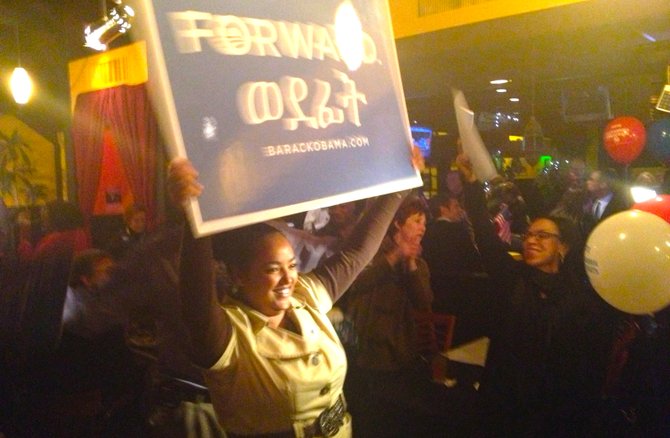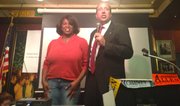 Audio clip
Del Pepper on the Democratic Sweep
Three years ago, "Plunkee the Elephant" helped an independent and a Republican unseat two incumbent Democrats on the Alexandria City Council. Plunkee was the mascot of the Republican campaign in 2009, a strategy that asked voters to "plunk" or "bullet vote" for a slate of candidates challenging the Democratic establishment.
It worked, and Democrats lost two seats.
Now, the pendulum has swung in the other direction. After the stunning loss in May 2009, the all-Democratic members of the lame-duck City Council ended the long tradition of having separate election for local races — a tradition that dates back to the earliest days of city politics. Instead, they abandoned tradition and moved the election for mayor and City Council to November 2012, when record number of Democrats were expected at the polls to vote for incumbent Democratic President Barack Obama.
It worked, and the Republicans lost two seats.
"Unfortunately, we got caught up in a numbers game tonight," said Fannon, who won eight precincts. "The good news is that I had almost three times as many people vote for me today as they did in 2009."
WINNING ELECTION in May 2009 required about 7,000 votes. Winning this year meant City Council candidates had to amass more than 31,000 votes. First-time candidate Allison Silberberg received more votes than any other candidate, setting her up to become the next vice mayor when the new council is sworn into office next year. Silberberg took the prize by amassing a total of almost 37,000 votes — a coalition of Democrats and independent voters who oppose the controversial waterfront plan as well as other recent decisions of the city government. She received the most votes in 12 precincts.
"It's a time that I really want the city to come together, and I hope I can be part of that," said Silberberg, who won 27 precincts. "I'm really dedicated to ensuring that Alexandria remains historic and remarkable for generations to come."
Silberberg is the only candidate to oppose the waterfront plan and win election to the council, setting up a potential six-to-one vote for changing the zoning in a way that would almost triple the allowable density at three sites compared to what's there now. That will undercut a lawsuit currently on its way to the Virginia Supreme Court in which Old Town homeowners were trying to force a supermajority vote in order stop the upzone of three sites slated for redevelopment in the near future.
"Some candidates tried to paint all of our Democrats as the same — they were the same party, they thought the same, they looked the same, they acted the same," said Hardwick. "Even though they are all Democrats, I can almost guarantee you that the debates that will take place about to move the city forward over the next three years will be spirited. And that's the essence of the Democratic Party."
THE ELECTION DRAWS a close on one of the most contentious City Councils in recent years, an elected body that fought bitterly at times and clashed frequently. Democrats were particularly harsh on Councilwoman Alicia Hughes, an independent who later became a Republican. A trio of Democrats unsuccessfully challenged her ability to vote in Alexandria, and former Democratic Committee Chairman Clark Mercer gave a lengthy speech criticizing Hughes during his meeting as chairman. Even in defeat, though, Hughes remained defiant.
"By no stretch of the imagination is there a mandate on Democratic rule in Alexandria," said Hughes, who won seven precincts. "While we may be a little sullen, do not lose heart. Pay attention, and let's make sure we engineer the best comeback anybody has ever seen."
The next council will feature some familiar faces. Incumbents Del Pepper and Paul Smedberg will be returning. And the two former members who lost in 2009 — Tim Lovain and Justin Wilson — are now returning to City Hall. The new council will also feature two new faces, Silberberg in the vice mayor's chair and first-time candidate John Taylor Chapman — a protégé of Mayor Bill Euille who was active in the Alexandria Democratic Committee before leading the Alexandria branch of the NAACP.
"I'm relieved," said Chapman, who won 24 precincts. "The issues that I ran on, while basic issues, are very important issues to our city — affordable housing, quality education and re-engaging citizens in our local government and its processes."