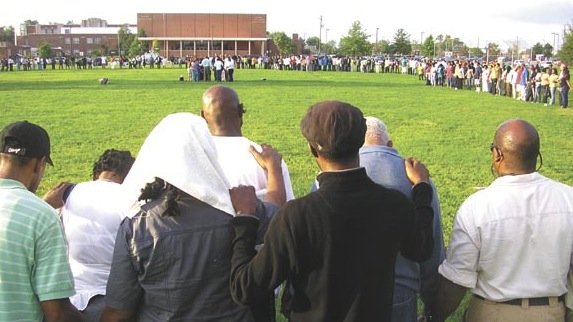 Within hours of upgrading the Lenny Harris missing person case to a homicide investigation, the Prince George's County Police Department announced the arrest of one man Tuesday afternoon, Jan. 31, and say they're still looking for three or four more individuals. Monday night, officers picked up 49-year-old Linwood Johnson of Oxon Hill, Md., for questioning. He eventually confessed to the murder and is now facing first-degree murder charges.
"It appears that the victim and suspect in this case were known to each other, so this was not a complete stranger or random murder," said Corporal Henry Tippett, public information officer for the Prince George's County Police Department. "Robbery appears to the be the motive in the case at this point."
Harris was a prominent civic activist in Alexandria who went missing in September. The Alexandria Police Department immediately initiated a critical missing person case and issued a series of photographs showing a muscular black male who used Harris' credit card on King Street shortly after 1 a.m. the day after he went missing. A few days later, the Alexandria Police Department issued five more photographs of a white Dodge Caravan that was caught on surveillance cameras during an attempt to use Harris' credit card. Prince George's County Police Department officials are also in possession of the firearm used in the murder, although they won't say where it was recovered.
"This individual is being charged with first-degree murder," said Tippett. "Whether he is the actual gunman who pulled the trigger, we are not prepared to release those details yet."
SINCE LAST SUMMER, friends and supporters of Harris have been hoping and praying that he would show up. During a candlelight vigil in September, hundreds arrived and formed a circle in the George Washington Middle School field. Several participants said they expected he would turn up any day, some even wondered if he would show up at the rally and surprise everyone.
Those hopes came crashing down over the weekend, when the Prince George's County Police Department identified a body at the bottom of a 25-foot well as Harris. Responding to an anonymous tip, police officers discovered a dead body in a well and launched an investigation on Thursday, Jan. 26. For the safety of investigators and logistical constraints involving the well, the body was not extracted until Saturday, Jan. 28.
"This is certainly not the outcome that anyone would have expected, and it's very shocking," said Mayor Bill Euille. "When he went missing, the question was who would do something like this and why. Those questions are still what all of us are waiting to get some answers to."
For now, police say they don't have any answers. A spokesman for the Prince George's County police department said that the medical examiner's office has determined that Harris died of a gunshot wound, but it's unclear if he died before or after being placed in the well. It's also unclear if he was shot at a different location and taken to the well or shot at the well.
"We're trying to piece this together," said Corporal Mike Rodriguez. "We don't know what led to the death of Mr. Harris. We do know that he did sustain a gunshot wound and somehow was placed in the well."
HARRIS WAS FIRST reported missing on Sept. 21. That was the day the well-known civic activist seemed to vanish into thin air. News spread quickly through the community. When he didn't show up at an event at the Alexandria jail where he was supposed to be part of a program to inspire inmates the next day, people began wondering what had happened. His wallet was later found on the Woodrow Wilson Bridge. By the end of that week, the Alexandria Police Department was looking for help from the public to track down his whereabouts — issuing a release saying he was last seen driving a 1994 light blue Toyota Corolla.
"I just lost it when I found out he was missing," said Rhonda Taylor, who attended Robert E. Lee Elementary School with Harris in the mid-1960s. "It's surreal. I still don't know what to think."
Harris, 53, was a lifelong Alexandria resident who was well known in the city, where he has devoted his life to organizing members of the African-American community and public-housing residents. He's best known for founding a nonprofit known as Operation H.O.P.E., although he was also part of countless other charitable organizations and causes. He owned a pest-control service known as U Can Trust Pest and Termite Service, and he founded the annual One Love Festival. Last summer, he organized public-housing residents who were upset about concerns raised by residents in north Old Town.
"When he saw me on the street he would tell me to go home or he would call my mother," said Wayne Boggan, a longtime friend. "I've always thought of Lenny Harris as the backbone of Alexandria."
The anonymous tip leading Prince George's fire and police officials initiated a firestorm of speculation in Alexandria. Could this finally be the answer? That speculation was fueled by the participation of Alexandria officials in the investigation. But making an identification would have to wait. Before the team could excavate the well, preparations had to be made to make sure that the surrounding area wasn't damaged by the operation. That meant waiting until Saturday.
"Logistically, it was impossible for them to immediately go in there and remove the body," said Rodriguez. "It took a while."
A MEMORIAL SERVICE is planned for Monday at Greater Mount Cavalry Holy Church in Washington, D.C., where family members will receive guests. No public viewing is scheduled because his body will be cremated. A separate Alexandria memorial service is being planned for Monday, although details have yet to be worked out at press time.
"I think Lenny's legacy will be for people, particularly young people, to become more positive advocates," said Euille, "not only for themselves but for everyone in terms of coming together and making certain that his efforts won't be left in vain."