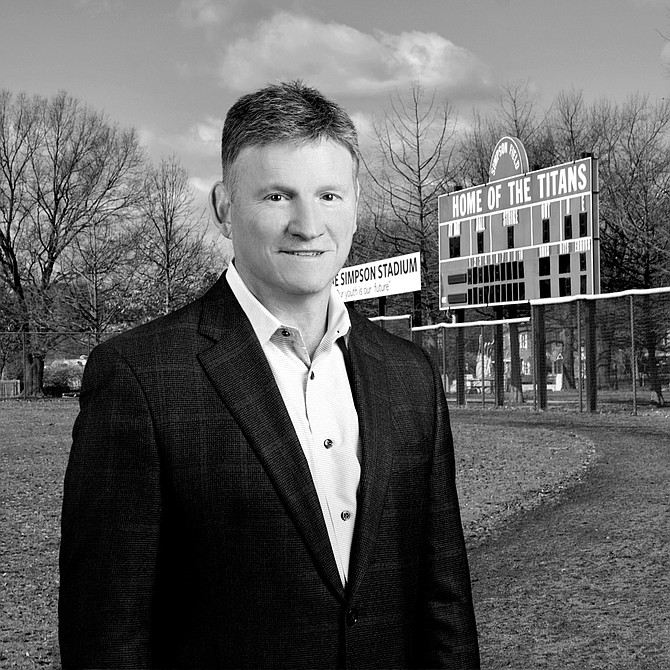 For Donald Simpson Jr., Alexandria is the only place he has ever called home. His family history dates back generations, when his great-grandfather operated a dairy farm that was located near today's Beacon Mall south of the city.
"My grandfather, Clarence Simpson, would ride down in the mornings with my great-grandfather to deliver milk and eggs to the city's fish market," said Simpson in recalling the first of the Simpson family businesses when he was named a Living Legend of Alexandria in 2020. "My grandfather learned about business at a young age. He was the youngest of five brothers who together started Simpson Masonry in 1924."
That masonry company grew into a construction company: Eugene Simpson and Brother Construction.
"It was the flip of a coin that determined the name," Simpson said with a laugh. "Eugene was my grandfather's brother. He won the coin toss so that is how the company got its name."
Simpson's father, the late Donald Simpson Sr., joined the company in the 1950s following his graduation from Virginia Tech and military service in Korea.
A fourth-generation Alexandrian, Simpson began working with his father and grandfather while still a student at what was then T.C. Williams High School, from which he graduated in 1978. He graduated from Virginia Tech with a Bachelor of Science Degree in Building Construction & Engineering.
Prior to his career start with Simpson Development, Simpson worked with Eugene Simpson & Bros. General Contractors over a 6-year period in various capacities including field supervision, scheduling, and project management. Eugene Simpson General Contractors completed over 400 new construction projects in the Metropolitan area prior to the sale of the operating company to Centex General Contracting Companies in 1985.
Simpson currently serves as President of Simpson Development Company, Inc., and Vice President of Simpson Properties, Ltd., a full service Commercial Real Estate Development and Property Management firm headquartered in Alexandria. He has worked with Simpson full-time since 1982 and oversees all of the company's Real Estate Development and new Construction Projects located throughout the Washington area. The firm currently manages over 1 million square feet of commercial office space and develops approximately 100,000 square feet of new development space each year. Simpson also provides asset and facility management services to their current office and retail portfolio.
Simpson is currently serving as Chairman of the INOVA Alexandria Hospital Foundation Board. He is an active member of the Alexandria Rotary Club, the Alexandria Youth Sports Commission, and the Youth IMPACT Foundation. He is a past board member of numerous Alexandria organizations including the Alexandria Chamber of Commerce, the Alexandria Economic Development Partnership, the Missile Defense Advocate Alliance, the Alexandria YMCA, Miracle League of Alexandria and the Center for Alexandria's Children.
His charitable endeavors also include Alexandria City High School Athletic Teams, Alexandria Little League, Colonial District of the Boy Scouts, Senior Services of Alexandria, ALIVE!, Move2Learn powered by RunningBrooke, ACT for Alexandria, Friendship Firehouse, Autism Speaks, Alexandria Seaport Foundation, Alexandria's Sportsman's Club, Alexandria Aces, Boys & Girls Club of Greater Washington, Alexandria Police Youth Camp, and the Scholarship Fund of Alexandria.
Simpson resides in Alexandria with his wife Stacey and their two sons, Cole and Max. He credits his father and grandfather for instilling in him the sense of civic responsibility that is now synonymous with the Simpson family name.
"Our family has always been involved in the community," Simpson said. "Along with stalwarts like [the late] T.J. Fannon and Joe Viar, my father was a great role model for me to learn from. I'm just blessed and thankful that we have the opportunity to support organizations that do so many good things for the city of Alexandria."
Simpson, along with other businesses across the city, will be honored at the 2023 Best in Business Awards reception Oct. 12 at the Westin Alexandria Old Town Hotel. For tickets or more information visit www.thechamberalx.com.