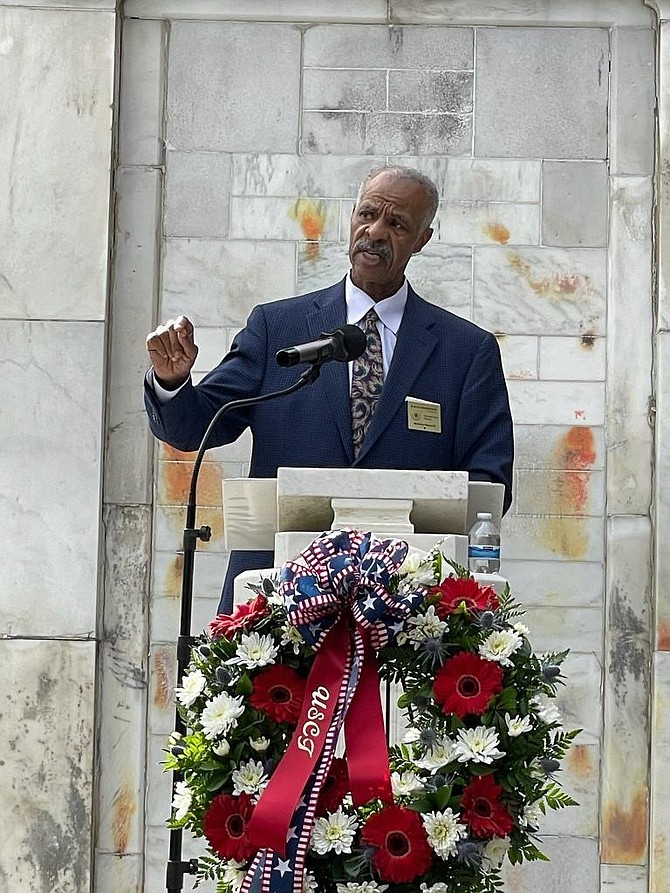 They were Black yet fought alongside their brethren as equals, soldiers determined to see an end to slavery during the Civil War. On Oct. 28, a wreath laying ceremony honoring the soldiers of the United States Colored Troops was held at Alexandria National Ceremony.
"U.S. Colored Troops shared blood to be Americans," said McArthur Myers, Worshipful Grand Historian Universal Lodge #1 and one of the organizers of the event.
African Americans were recruited during the Civil War to serve in the newly created United States Colored Troops. By the end of the war in 1865, the 175 USCT regiments constituted about one-tenth of the manpower of the Union Army.
"The regiments of the USCT became the largest standing army of Black soldiers in the history of the world," Myers said.
The Bureau of Colored Troops was created in 1863 as a special branch of the military for the purpose of implementing President Abraham Lincoln's Emancipation Proclamation, which read "that such persons of suitable condition, will be received into the armed service of the United States to garrison forts, positions, stations, and other places, and to man vessels of all sorts in said service."
The USCT consisted of 135 regiments of infantry soldiers, six regiments of cavalry, one regiment of light artillery and 13 regiments of heavy artillery.
Additionally, 19,000 African Americans served in the United States Navy, and women served in roles such as cooks and nurses. The troops were predominantly African American, but Asian Americans, Native Americans and Pacific Islanders also served under the USCT.
When the war ended in April of 1865, about 20 percent of USCT soldiers had died, a rate about 35 percent higher than that of white Union troops. Many USCT soldiers fought with distinction, with 16 receiving the Medal of Honor and many more receiving other honors.
The graves of 118 USCT soldiers who died during the Civil War are located at Alexandria National Cemetery, one of the original national cemeteries that was established in 1862. Originally interred at the Contrabands and Freedmen Cemetery, a protest and petition in 1864 resulted in the reburial of the USCT troops alongside other fallen soldiers in Alexandria National Cemetery.
The wreath laying was sponsored by the Joint Military Affairs Committee of Magnus Temple Number 3 and Magnus Court 100. In addition to Myers, speakers at the event included Mayor Justin Wilson and keynote speaker Vincent Patton III, Coast Guard Master Chief Petty Officer (ret).
"Black men and women have fought for the ideals of America from the Revolutionary War to the present," Myers said. The USCT affirmed the African American existence as American."