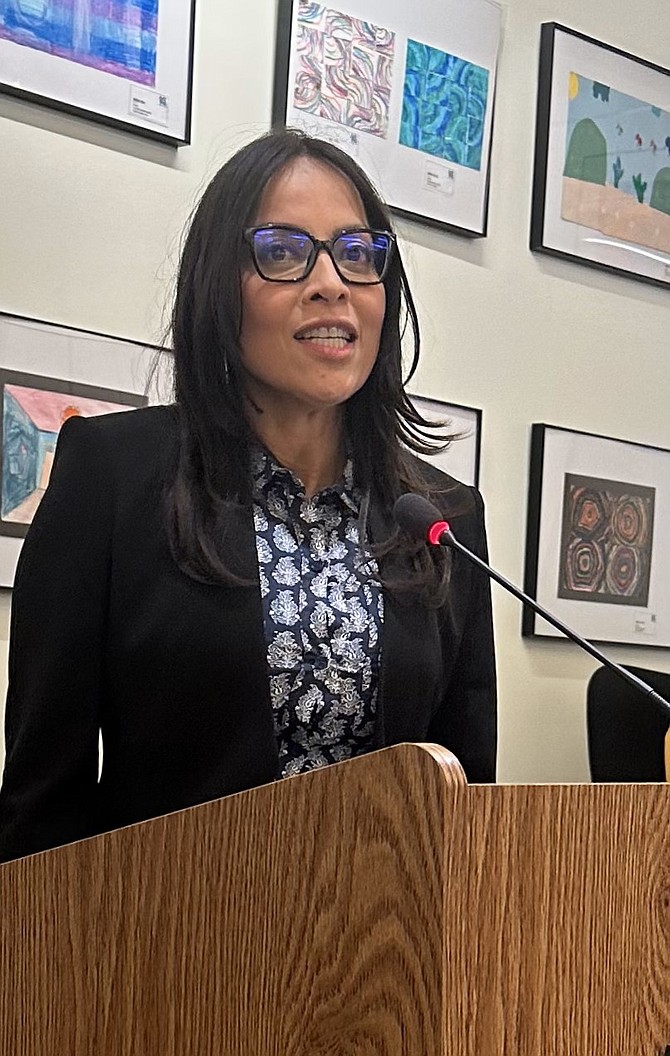 Liza Burrell-Aldana, Principal of Mount Vernon Community School in Del Ray, was celebrated as the Washington Post 2023 Principal of the Year during a May 4 ceremony with the Alexandria City Public School Board and city officials.
Burrell-Aldana was selected from 16 finalists in D.C., Maryland and Virginia and is the first Alexandria educator to win the honors.
"I have to thank the leadership of the school division because it is that support that drives us every single day," Burrell-Aldana said. "It motivates us to do our very best and brings recognition for everybody -- for our students, who are amazing, for our families, and for our leadership. Without you we would not be here."
Burrell-Aldana was named principal of the school in 2017. School Board chair Meagan Alderton praised Burrell-Aldana for her leadership and for making history as a woman of color.
"Liza Burrell-Aldana has made history as the first Alexandria City Public School principal to be named the Washington Post Principal of the Year," Alderton said. "But she has made history in many ways. How powerful it is to see a woman in leadership and to see a Latino woman in leadership honored in this way."
MVCS, an elementary school with grades K-5, is the only fully dual-language school in the ACPS system. More than half of the roughly 860 students are Hispanic with many English language learners from Central America. Since 2017, the English-Spanish dual language immersion school requires that students take half their classes in Spanish and half in English.
Burrell-Aldana, 48, started at MVCS in 2014 as an assistant principal and oversaw the school's development into a dual-language school.
Born in Colombia, Burrell-Aldana was inspired by her parents to become a teacher. She taught in Colombia before earning a scholarship to study for her master's degree at the School for International Training in Brattleboro, Vt.
Upon finishing her studies, she moved to Virginia, teaching first at a private school in Vienna and moving to a public school after she became a U.S. citizen. She recently completed her doctorate at Virginia Tech.
"Dr. Burrell-Aldana has more than 25 years of experience as an educator," said Alderton. "Today, 25 years is a big deal. The profession is really hard and people are struggling to hang on. We are grateful to have Dr. Burrell-Aldana with us."
Nathan Hershberger, a teacher at George Mason Elementary School, was recognized as a finalist for the Washington Post 2023 Teacher of the Year.
"There are so many amazing teachers in this city so for me to get this recognition is really an honor," Hershberger said. "I am still in shock but thankful to ACPS for giving me the opportunity to be the teacher I know I can be."