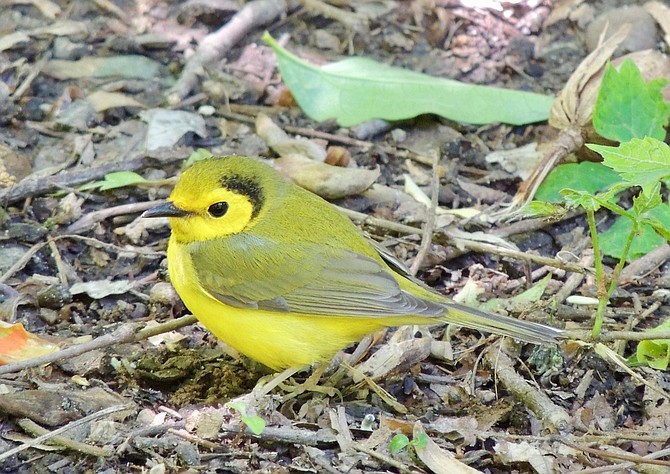 Elizabeth Lyons set out on the path at Monticello Park at 6:30 a.m. on May 4. It was sunny but quite cool when she started. It was her first Monticello Birdathon, and she was determined to see as many birds as possible to raise money for the Stretch the Parks initiative announced May 1. She said the idea is to improve the habitat around the parks by forming partnerships with neighborhoods, conservation groups and other community groups to plant trees, remove invasive species and buy and install bird boxes. 
"Usually I am part of a team that works together and visits many locations across the area," Lyons says, "To do a Birdathon in just one location was new for me." Monticello Park is a 7-acre neighborhood gem in Alexandria near the Arlington border. It features a walking trail, small stream and old growth forest and is well known as a stopover during spring warbler migration.
The "drink your tea" call of the Eastern Towhee is the first to penetrate the early morning air. As usual Lyons hears the birds before she spots them. Soon from deeper in the woods she hears the trilling call of the Wood Thrush. 
Lyons says she was joined by some great birders for part of the day with Andreas Seitzer in the morning for several hours, then Bob Butterworth midday and Matt Felperin In the afternoon. "We called our team Monticello Madness because when the big rush of migrating birds arrive the deluge of activity and song is delightful madness for bird watchers. She says having all of those eyes and ears really helped because both in the number of species and the number of individuals there weren't too many birds. "And we were a bit too early for the warbler migration season."
By the time the day is over she and the team have tallied 52 different species of birds including 7 different warblers. She decides to make one last trip to the top of the park to see if she could see anything flying in from neighboring houses and was rewarded with a flicker as the final bird of the day and bringing the team's grand total to 54.
Lyons decided to try birding again May 11. "I decided to try it again but this time solo, and I wanted to beat the first day's total." After an initial walk of the park she took her thermos of coffee and stool and retreated to the knoll at the top of the park. "I heard a lot of woodpecker chatter and looked up to see an adult Hairy Woodpecker feeding a chick in a tree hole." She says she retreated because "obviously the parents were upset with me being there."
Lyons remembers, "The birds did not disappoint. All together I saw 19 different species of warblers—the full rainbow of colors—the blue-winged, redstart, black-throated green, chestnut-sided." 
She said there were times when there were so many calls and so many birds flying around that "I didn't know what to listen to nor where to look." In addition to the warblers there were scarlet tanagers, rose-breasted grosbeaks and Baltimore orioles!"
Monticello Park is along the migration route for warblers who fly from South and Central America north every spring to their nesting grounds in the northern US and Canada. They are attracted to the park as a stopover on their long journey because of the high tree canopy and the small stream for drinking and for bathing their feathers. 
The MPNature website, established by Bill Young in 2018, has recorded 35 warbler species in the park. Young says if you visit the park regularly during the spring, a birder has a good chance of seeing 20-25 species of warblers. Although the maximum time for spotting warblers is generally between May 7-17, years may differ due to weather, food supply and other variables, and all the species don't come through at the same time.
About midday Lyons finally got a good long glimpse of a Canada warbler who popped out of the tree canopy for a few seconds with its bright yellow throat and its chest adorned with its black necklace.
After about 11 hours Lyons was at exactly 54 species and it was getting dark. "A friend told me there was a Hermit Thrush up the hill. I walked up and found it! Then I walked to the top of the hill to better be able to see the sky and saw a flock of Cedar Waxwings swirling overhead. It was 7 pm, and I was ready to go home. I walked down into the park but just at the bottom heard the familiar call of an Acadian flycatcher. I and another birdwatcher dashed up the hill and spotted it in the dimming light—57 species."
Lyons, President of the Audubon Society of Northern Virginia, says she has always been interested in nature so has bird lists back to the 80s and 90s. "But I really got hooked in Kenya in 1998." Then she started birding more locally after 2013 when her kids had fledged "left the nest." She discovered Monticello Park in 2018.
Lyons started the Stretch the Park Initiative to focus on four local parks including Monticello Park and Four Mile Run Park in Alexandria and Upton Regional Park and Powhatan Springs Skate Park in Arlington. 
Stretch the Park is a community-based conservation effort — to help stretch wildlife friendly habitat out from parks, to engage communities to enjoy and conserve their parks, and to help park authorities meet the needs of wildlife and people, be they birdwatchers, dog walkers, runners, or families. Parks mean many different things to many people. 
For more information see https://www.audubonva.org/stretch-our-parks
Lyons says the donations received from the Birdathon Monticello Madness birding team will go toward supporting projects at Monticello and Four-Mile Run. She says the fundraiser ends June 2 and donations may be made to https://www.audubonva.org/monticello-madness
.