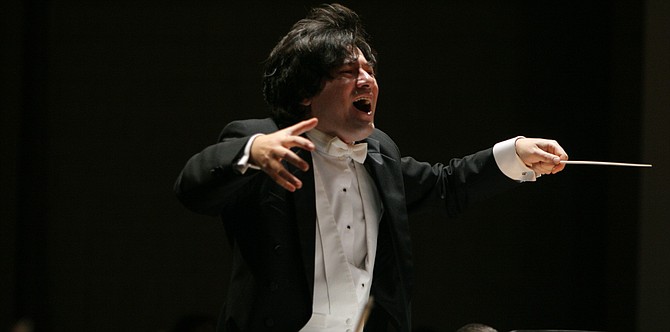 Kim Allen Kluge, a Living Legend of Alexandria and former longtime conductor of the Alexandria Symphony Orchestra, has been named the new Music Director of the Loudoun Symphony Orchestra.
The move signals a return to Northern Virginia for Kluge, who relocated to California with his family following his 2016 retirement from the ASO to work on projects in the film industry.  
"It's so wonderful to be back on the East Coast amongst family and friends," said Kluge. "My wife and composing partner Kathryn and I continue to work with filmmakers who share our passion for creating positive change in the world — but now from our East Coast studio."
Kluge, who held the baton for the ASO for 28 years, was selected by the Loudoun Symphony Association following an extensive search from more than 100 applicants. Four conductor finalists were selected with each preparing a concert for the Loudoun Symphony Orchestra's 2022-2023 season.
"Kim brings a wealth of knowledge and experience," said LSO board president Matt Banner. "His passion for music and community were evident in his finalist concert. Kim's strong desire to collaborate makes for a bright future for the Loudoun Symphony and our entire community."
During Kluge's time with the ASO, he became a leader in the Washington Inter-Arts Movement to create many social justice arts programs and projects including the first El Sistema program in the Washington, DC region as well as the Music Diaries Project, a grassroots inter-arts approach designed to bring greater diversity and inclusiveness to performing arts organizations.
"It's so wonderful to be back on the East Coast amongst family and friends."
— Maestro Kim Allen Kluge
Kluge and his wife Kathryn created the score for Martin Scorcese's movie "Silence," and have aligned themselves with filmmakers who share their passion for using art to build bridges of understanding between people.
"The LSO musicians that I had the honor to conduct on my 'American Stories' concert gave an absolutely transcendent world-class performance and are passionate about making a difference in their community," Kluge said. "They share my mission and belief that music has the power to inspire, transcend, unite communities, and bring positive change to the world. Together we are planning programs and festivals that we hope will unleash the full potential and creativity of the entire region, to bring people together and bring about positive change."
Now in its 32nd season, the Loudoun Symphony Orchestra performs a full season of seven in-person concerts as well as virtual performances. The educational outreach program includes the Loudoun Symphony Youth Orchestra program, which provides performance opportunities for talented students through four ensembles and intensive training through a week-long Summer Orchestral Institute.
Said Kluge, "I've already had so many amazing experiences as Music Director/Conductor of the Loudoun Symphony Association, which is going through a huge growth spurt — adding another orchestra this year to its existing four orchestras."
A valedictorian of Oberlin Conservatory of Music, Kluge pursued doctorates in piano and conducting from the University of Maryland and participated in the Tanglewood Music Center Conducting Program. In 2006, he received the Wammie Award for Best Conductor, given by the Washington Area Music Awards, and in 2015, the Washington Post called Kluge "a passionate advocate for music education."
"Alexandria was my 'first baby' and I miss it so much," said Kluge, who was still a young doctoral student when he was selected to lead what was then an amateur orchestra performing in the old T.C. Williams High School auditorium. In his second year, he professionalized the ASO and over the years attracted guest artists such as Branford Marsalis, Sarah Chang and Midori.
"I'm excited to be back in the DC area to work with my long-standing partners and friends throughout the region," Kluge added. "The LSO will be announcing our season soon—it would be so wonderful to see my Alexandria friends at the concerts and festivals."
www.loudounsymphony.org