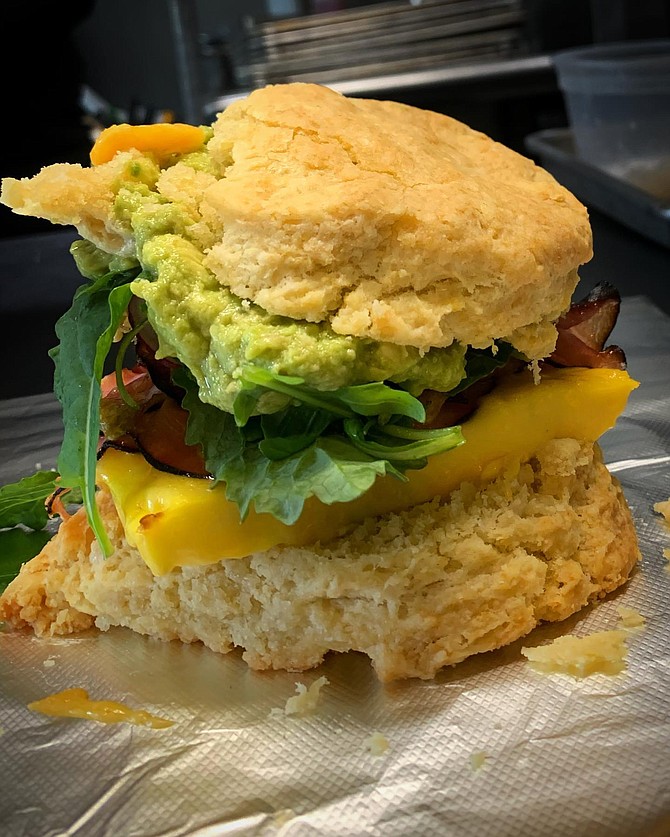 As spring dawns, more and more restaurants are coming to life with new plans and new locations. From reimagined concepts to new restaurants to a shift into Old Town, these local eateries are on the move.
Stomping Ground to Close; Will Reopen as New Concept
Del Ray's beloved biscuit-and-breakfast shop is soon to undergo an evolution. In an open letter to the community posted on Stomping Ground's website, the shop's owner, Nicole Jones, announced that the restaurant will close in April and will reopen as something totally new.
"You would think after all of these (covid-era) efforts I would be happy that Stomping Ground survived the pandemic. But that's all we did, we survived. We didn't flourish. We didn't grow. We got hard. We lost the magic that made our 1400 square feet a place you wanted to come every day. Everything feels a little less bright," she said. "I still have the same team, and for the most part the same customers, although we see less and less of our old regulars. Earlier this year, as we fought our newest battle; the raw cost of our ingredients, I knew I had to do something. While watching the price of flour, dairy and eggs, the soul of our recipes, skyrocket, I watched my staff become more complacent every day. Without the community, Stomping Ground is not the third space it once was and working there feels more and more like just another job."
The new concept has yet to be unveiled, but Jones says to expect something completely different from what's there now. Does this mean bidding farewell to Stomping Ground's famous biscuits? Time will tell.
Elaine's Modern Mediterranean to Open on Queen Street
The location formerly home to longtime favorite Bilbo Baggins now has a new resident moving in. Elaine's Modern Mediterranean is slated to open in the coming weeks at 208 Queen Street. The grand opening is scheduled for March 27, and the menu sports many Mediterranean favorites just waiting to be tasted. From beef pie bites to kebobs and skewers, from moussaka to this columnist's favorite dish, koshari, Elaine's has a veritable tasting menu of options to try. 
Zen Press Moves to King Street
After a move from its former home on Route 1, Zen Press has found a new residence at 806 King Street in Old Town. While it offers juices and juice cleanses, it also offers a diverse menu of breakfast and brunch foods ranging from avocado toast to zen rolls, from elote burrata to low-carb pad Thai. Looking for something on the sweeter side? You could do worse than Zen Press' acai bowl or its "PB Goodness Bowl." Wash your meal down with some refreshing juice and feel the health take hold.
Hope Nelson is the author of "Classic Restaurants of Alexandria" and owns the Kitchen Recessionista blog, located at www.kitchenrecessionista.com. Email her any time at
hope@kitchenrecessionista.com.