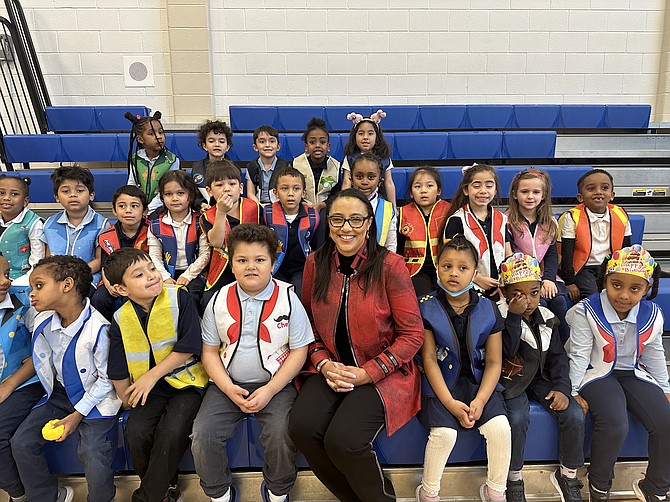 Students at Patrick Henry Elementary School greeted and thanked workers from bus drivers to custodians to first responders as part of the second annual Essential Workers Appreciation Week celebration event March 14 at the elementary school.
"All of our essential workers play vital roles that enable ACPS to deliver quality and equity-focused education for all of our students," said ACPS Interim Superintendent Dr. Melanie Kay-Wyatt. "Our essential workers are truly extraordinary and serve as an inspiration to all of our students."
A banner signed by Patrick Henry students was on display to show appreciation for essential workers as kindergarten students dressed in special vests representing a variety of essential worker professions.
"I love the kids," said bus driver Aneesah Ali. "You have to love driving in order to drive children and I have had as many as 85 at one time. I love my job."
Added Pat Morgan, a custodian at Samuel Tucker Elementary School, "I love dealing with the kids. And if it were not for the kids, we wouldn't have our jobs."
The City of Alexandria issued a proclamation in 2022 to designate the third week of March to celebrate the city's essential workers.
"We started this event last year and are keeping it a tradition," said Julia Burgos, ACPS chief of school and community relations. "Yesterday marked the three-year anniversary when we closed schools. We had so many people that served as essential workers, not just the typical essential workers that you would normally think, like fire, the police, the health care workers, but our school staff that also participated and joined in the effort during the pandemic."
Kay-Wyatt was joined by Patrick Henry K-8 School Principal Ingrid Bynum, ACPS School Board members and student representatives, Alexandria City Council members, Life Enrichment Center President Kevin Turpin and representatives from the Alexandria PTA Council in thanking the teachers, healthcare professionals, firefighters, police officers, bus drivers, custodians, building engineers and other professionals attending the event.
"We had bus drivers that were temperature screeners, while building engineers and cafeteria workers prepared food for our families to make sure students ate even though they were not in school," Burgos added. "And of course let's not forget teachers. They are also essential workers and our nurses that helped with vaccine distribution. So many of our school staff played a role during the pandemic and people don't typically see them as essential workers. We want to celebrate with not only our typical essential workers but also the essential workers here in our schools as well."