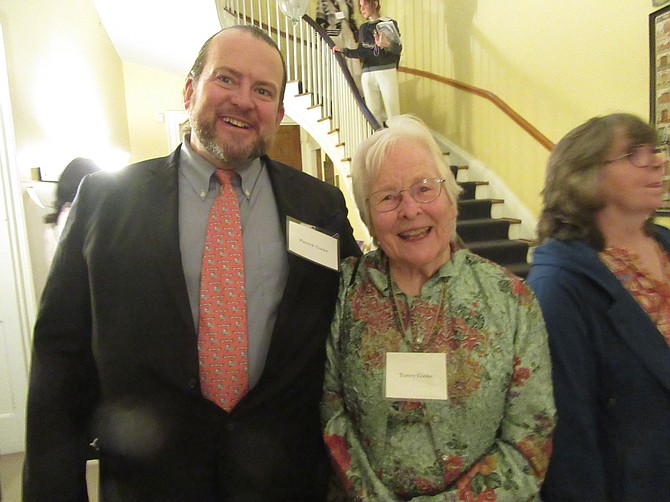 The Stitch Bank now has 275 types of embroidery stitches known across the globe, thanks to the recent addition of 25, reports the Stitch Bank's manager, the Royal School of Needlework, a 150-year-old institution based in London, England.
At Woodlawn's 60th annual needlework show, visitors can closely study thousands of intricate, meticulously sewn stitches by experts called "needle artists," embroidery stitches and more. The show has 410 judged entries, plus another 100 not judged. There's crewel, drawn thread, needlepoint, counted cross stitch, needle-made lace, fine-hand sewing, smocking, stumpwork, beadwork and more – a stunning display on two floors of the mansion. "It's probably the largest judged needlework show in the U.S. and includes artists from all over the world," commented Shawn Halifax, Woodlawn's Executive Director. 
The show was organized around the theme, "Craft as Comfort: Joy in Needlework," by Nelly's Needlers, a group founded in 1975, dedicated to preserving Woodlawn and named in honor of Eleanor "Nelly" Parke Custis Lewis. George and Martha Washington reared Nelly, Martha's granddaughter, at Mount Vernon Estate. Washington gave the Woodlawn property to Nelly and her husband, George's nephew Major Lawrence Lewis as a wedding gift. Nelly learned needlework from her grandmother. One of Nelly's pieces, a fireplace screen finished in 1825, is displayed.
One of the show's co-chairs, Deb Kempton, Riverside Estates, explained the theme: "If you are really busy and need to take a step back, you can sit down and rhythmically stitch," she said. "It resets everything. Doing this very intricate work requires focus. It helps unplug and re-center yourself." Like Nelly, Kempton learned needlework from her grandmother when she spent summers on a South Dakota farm 50 years ago and since then has stitched hundreds of pieces. Another needler at the opening, a former college professor who could not give her name because of her security clearance, agreed. "It's my meditation," she said. The other co-chair is Diane Clark. 
Founder's Daughter, Grandson
Halifax recognized two special guests who traveled from Ridgefield, Connecticut, Torrey Cooke and her son Patrick. Torrey's mother, Emma "Pinkey" Matheson, was a co-founder of the show in 1963. Why did the Cookes come? "It's in my genes," quipped Patrick. The Matheson family once lived at River Farm, now the headquarters of the American Horticultural Society and a Mount Vernon-area institution. The other show co-founder was Adelaide Bolté, whose baptismal rug made for St. Luke's Episcopal Church is on display.
Mount Vernon Supervisor Dan Storck noted that his wife, Deb, does stitchery, and that the needlers are "keeping history alive through their craft." Applauding the show as "quite an event," he presented a proclamation from the Fairfax County Board of Supervisors. Halifax and the proclamation both note that several women enslaved by the Lewises sewed to make and mend clothes, but also, women like Sukey, Eliza and Polly stitched decorative items too. "Adelaide Bolté and Pinkey Matheson crafted a lasting community at Woodlawn – a place where people of all skill levels and all ages come together to find joy and comfort in craft," says the Board's proclamation.
Over 500 Art Works
The pieces displayed include bookmarks, samplers, clothing and many decorative works of art. One jaw-dropping entry was an antique Camelback couch with a canvaswork fox hunt scene, an artistic creation that took Nancy Buckley 30 years to stitch. Pieces for sale in the printed program have prices ranging from $50 to the couch at $30,000. 
Two Mount Vernon-area adolescents Gwyneth B., 10, and Cairstin B., 14, took classes at Woodlawn and displayed their works. Gwyneth explained that she used eight kinds of stitches in her pin cushion, a 10-hour project. Cairstin stitched a counted thread, cross stitch bookmark depicting Hermione Granger, a fictional character from the Harry Potter book series. Cairstin described her brick stitches to people admiring her entry.
The show had a panel of three judges, needle arts experts, who judged entries by age and type of item. The rules required that the work be done by a living person, stitched with a hand-held, threaded needle and "appropriately finished." The age categories were 18 years or older, 70 years or older, 17 years or younger. The latter group had three subdivisions -- nine and under, 10 to 13 and 14 to 17.
Volunteers helped answer questions and by the show's end will have made for sale 3,500 chewy ginger cookies with warm spices using Martha Washington's recipe. Nelly's Needlers has over 50 members, who meet monthly, including a Stitch-and-Chat gathering at which they talk as they stitch. Woodlawn's shop sells some of their pieces.
Event sponsors included four Northern Virginia businesses: In Stitches, Artistic Artifacts, Total Framing and the Hampton Inn and Suites. All proceeds help support Woodlawn and the Pope-Leighey House next door and their educational programs.
In keeping with the show's theme of promoting a healthy well-being, Marlena Salgado-Felix's "Stitching Meditation" offers some cheer: "A stitchery a day keeps the blues away." 
Forthcoming Events, More Information
The show at Woodlawn is open to the public until March 31 every day except Tuesdays. Reservations are not required. Admission is $15.00. Nelly's Café, open from 11:30 a.m. to 2 p.m., offers seated dining and quiches, sandwiches and desserts
Woodlawn hosts special tours of the exhibition on Wednesdays and Sundays at 2:30 p.m. at which guides will relate stories behind many of the pieces and Woodlawn's history. 
Programs, https://www.woodlawnpopeleighey.org/2023-annual-needlework-show-programs#onsite
Nelly's Needlers, http://www.woodlawnpopeleighey.org/nellys-needlers