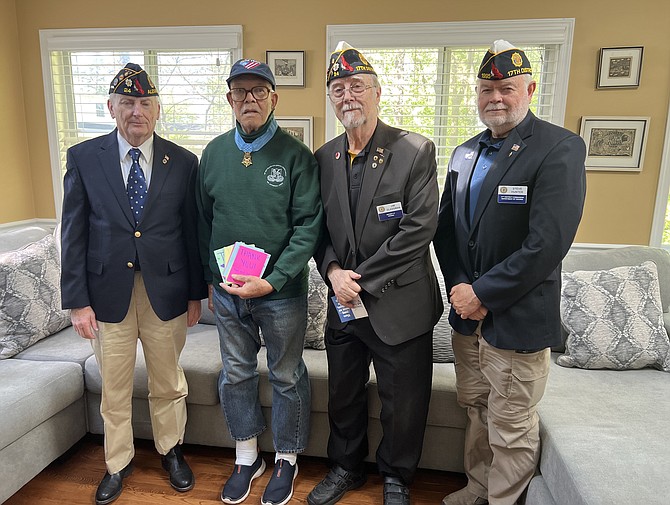 Col. Paris Davis (ret.), the nation's most recent Medal of Honor recipient, was presented with a collection of congratulatory cards from an elementary school in New Jersey during a visit by representatives of Virginia District 17 of the American Legion April 18 at Davis's Alexandria home.
"These cards are very special," said Davis, who received the Congressional Medal of Honor from President Joe Biden at a White House ceremony March 3.
A representative at the New Jersey school reached out to the American Legion to find a way to get the cards to Davis. The students wrote notes of congratulations and thanks for the heroic actions taken by Davis as a member of the Special Forces in Vietnam in June of 1965.
"The first thing I did was take a deep breath to make sure what they were telling me was true," said Davis in recalling the phone call informing him of the Medal of Honor. "The President was very gracious -- he had read a lot about me and said he could not understand what had happened in the delay. I said that makes two of us."
Davis, one of the first African Americans to lead a Special Forces team in combat, was first nominated for the military's highest honor in 1965 but that paperwork was lost, as was a subsequent submission 1969.
The Medal of Honor nomination languished until January of 2021, when then Acting Secretary of Defense Christopher Miller ordered an expedited review of the lost nomination. The announcement came in November of 2022 that the nomination had been approved to recognize Davis for his actions on June 18, 1965, when he saved multiple wounded teammates in a brutal 19-hour hand to hand battle with a Viet Cong battalion.
"There were 12 on our team but only six of us are still alive today," said Davis. "One, Ron Deese, was able to attend the ceremony at the White House. He came all the way from Alaska."
Davis, who recently celebrated his 84th birthday, settled in Alexandria following his tours at the Pentagon.
"I made a career out of it," said Davis. "It was not just a job – I really liked it. The Army allowed me to get a couple of master's and a PhD and I had a good time. I bought a house, had some kids – this was a good area to call home."
Davis will be honored in a special ceremony June 17 at the Rocky Versace Vietnam Veterans Memorial Plaza In Del Ray. The event is free and open to the public. For more information email Kevin Rue at FoRV59@gmail.com.