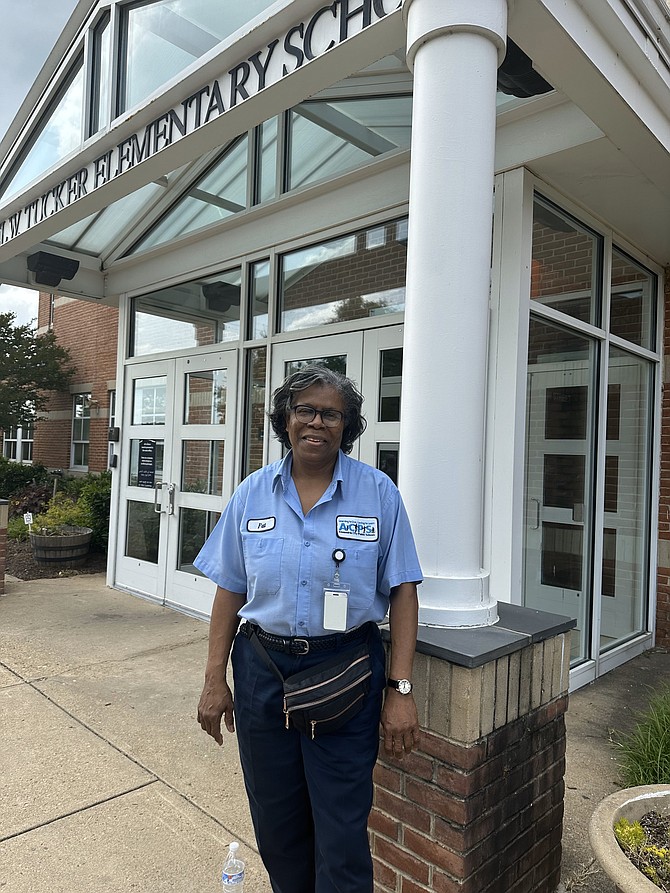 Patricia Ann Morgan, the daytime custodian at Samuel Tucker Elementary School, has spent most of her life walking the halls of Alexandria City Public Schools. A lifelong Alexandrian, she began as a student at Robert E. Lee and Douglas MacArthur Elementary Schools, went on to Francis C. Hammond Middle School and graduated from T.C. Williams High School.
"I was born at the old Alexandria Hospital on Duke Street," said Morgan when asked about her Alexandria roots. "I have great memories of my time growing up. Our house was next to T.C. Williams. We moved there in 1962 and the school opened in 1965. I was able to play volleyball and do track when I was a student."
Morgan is celebrating 42 years as a custodian with ACPS, having started in 1981 following a brief time in the cafeteria at the Bureau of Engraving and Printing in Washington.
"I started working for ACPS on Sept. 27, 1981," Morgan recalled during an interview at Samuel Tucker. "My first school was T.C. under John Porter, then I moved to William Ramsey. I started at Tucker in 2010 and have been here ever since."
As morning custodian, Morgan is at the school by 6 a.m. and ends her day at 2:30 p.m.
"My duties include opening the building at 6 a.m., then meet with the principals to touch base on what's going on for the day," said Morgan. "Then I go set up for breakfast in the cafeteria, helps the kids coming through to get breakfast, then clean up and set up for lunch. After lunch is recess, then we clean up the cafeteria and get ready for Campagna to come in at 2 p.m. It's a big rush but then we get the kitchen ready for the next morning, check all the bathrooms then my day is over."
Known as "Miss Pat" to the students, Morgan said she is motivated by the smiles of the kids in the school.
"What motivates me is the children," said Morgan. "I love working with the children and I love doing what I do. When I lost my daughter last year that brought me closer to what I am doing with the kids here."
Morgan lost her only daughter Raven, a 1999 graduate of T.C. Williams, to COVID last year. Her husband Ronnie Morgan died at a VA hospital in 2015. They were married for 42 years.  
"The pandemic was sad, especially for the kids," Morgan said. "There was no sound in the building, no kids running up and down the hall, no smiles, no voices of children. There was one to talk to but staff that was here and we were always cleaning and doing things. No one could come in or out but they did come to get the meals to take home."
Morgan said she has enjoyed her experiences with ACPS and has no plans to slow down.
"My experience has all been good," Morgan said. "I have worked under wonderful supervisors and had good trainers who trained me. And I worked under a lot of administrators and they were all great."
Morgan has four grandchildren – three boys and one girl – who she sees often although they live with their father in Maryland.
"Coming to work every day, this is my family," Morgan said. "We are all like family here."
Morgan has a strong faith and says that "my best friend is Jesus."
"I wake up every morning and say my prayers, then head to Tucker," said Morgan, who plans to keep working. "I know I won't stop working. I will keep moving, doing something."