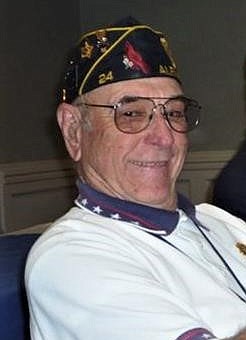 Gadsby's Tavern stands today as the cornerstone of Historic Alexandria and showcases the city's historic significance dating back to the Founding Fathers of our nation.
But at the turn of the 20th century, it was a dilapidated building slated for imminent demolition until a group of World War I veterans from American Legion Post 24 stepped in to purchase the Gadsby's Tavern buildings as a memorial to the war dead and to establish a home for Post 24.
Photo by Steven Halperson
As veterans of WWII returned home, they took up the mantle of preserving Gadsby's Tavern with a young Warden Foley fast becoming a leader among his fellow veterans. Through the decades he did considerable maintenance on the site using his engineering prowess and was there to open the building for historic tours.
In 1972, when significant Federal funding became available, Gadsby's Tavern and the City Hotel buildings and furnishings were offered to the City of Alexandria as a gift from American Legion Post 24, with Foley and fellow WWII veteran Bill McNamara having led the efforts at preservation for a quarter century.
On Dec. 12, 2022, Foley died peacefully at his Alexandria home. He was 95.
"There is something about WWII Veterans … their drive, optimism, persistence, inspiration to keep going, and above all their patriotism," said Henry Dorton, a past commander of American Legion Post 24 in Alexandria. "And Warden Foley was no exception. He continued to serve his community, state and nation for three-quarters of a century after his military service in the Pacific."
Harry Warden Foley was born Jan. 25, 1927, in Berryville, Va. He spent his Navy service in the Pacific Theater on the Marianas Islands and with the Seabees on Saipan.
Known affectionately as Mr. Fix-it and Mr. Young Man, Foley was a life member for 75 years of the American Legion Post 24 in Alexandria, a charter member of VFW Post 9760 in Berryville, and a life member of Moose Lodge 948, in Charles Town, W.Va. He served as a Commander of Post 24 and was serving on the Post 24 Executive Board at the time of his death.
In 2015, Foley was presented with the Distinguished Patriot Award by the Alexandria Chamber of Commerce in their Salute to Veterans program. Along with McNamara, Foley was named a Living Legend of Alexandria in 2016 for his efforts in preserving Gadsby's Tavern, a meeting place for patriots of the American Revolution including George Washington and Thomas Jefferson. 
"What a sad day for America," said friend Bob Sussan. "Warden Foley was a true patriot, from his military service to his service to the community and Veterans Service Organizations, Warden always gave of himself. He was a mentor to so many and assisted organizations without the need for praise. Rest assured that Warden's life was dedicated to his family, community, and country."
Foley is survived by his wife of 58 years, Harriett Foley; children Glenn Foley, Wayne Foley, and Beth Steffen (Tim); and grandchildren Daniel Foley (Katie), Bryker Hicks, and Jenna Foley. He is also survived by a host of nieces and nephews and his family of fellow veterans.
A memorial was held Dec. 15 at Jefferson Funeral Chapel with interment Dec. 16 at Green Hill Cemetery in Berryville. Contributions may be made to The American Legion Post 24, P.O. Box 402, Alexandria, VA 22313; Capital Caring Health, 3180 Fairview Park Drive Suite 500, Falls Church, VA 22042; or VFW Post 9760, 425 S Buckmarsh Street, Berryville, VA 22611.
"Warden can never be replaced," said Dorton. "God Bless American patriots like Warden Foley."