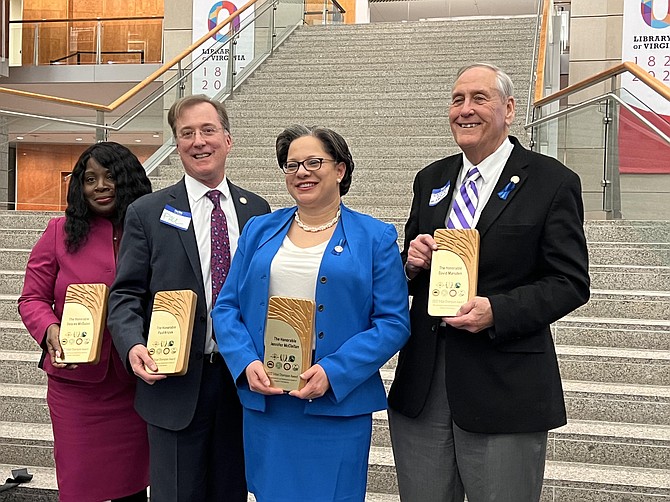 Here in Richmond, we are in the midst of the second full week of session. In a short session, this is the week where things really kick into high gear. While much of last week was waiting for committee assignments for our bills and prepping testimony, this afternoon alone, I have three of my bills scheduled for hearings at the same time! 
As I've mentioned before, one of my bills this year, HB 2004, seeks to require state agencies to consult with tribal nations when evaluating certain permits and reviews with potential impacts on environmental, cultural, or historic resources or that would have tribal implications. This is the Virginia tribes' legislative priority.
Last week, on the evening of Jan. 18, Virginia's federally recognized tribal nations hosted their inaugural reception at the Library of Virginia, which, by the way, is celebrating its 200th anniversary this year. At the reception, I was recognized as a 2022 Tribal Champion with Senator McClellan, Senator Marsden, and Delegate McQuinn. Virginia's tribal chiefs, as well as the Secretary of the Commonwealth Kay Cole James were in attendance. I'd like to thank the Secretary for her attendance at this historic event, as well as her remarks which reinforced her commitment to fulfilling her statutory duty to serve as the Governor's liaison to the Virginia Indian tribes.
Receiving this recognition was a great honor for me, and I do not take it lightly. I accepted the honor on behalf of my constituents who recognize that indigenous tribes are often relegated to Virginia's colonial past, rather than seen as essential citizens of today. I thank the Tribal leaders, the Honorables Chief Frank Adams of the Upper Mattaponi, Chief Anne Richardson of the Rappahannock Indian Tribe, Chief Keith Anderson of the Nansemond Indian Nation, Chief Stephen Adkins of the Chickahominy Indian Tribe, Chief Kenneth Branham of the Monacan Indian Nation, and Chief Jerry Stewart of the Chickahominy Indian Tribe Eastern Division. I am grateful to play my very small role here in the General  Assembly to support and advance their agenda and be their partner, especially as we move forward in enacting a tribal consultation law which is critical to how sovereign governments respect each other.
My entire career has been dedicated to supporting America's Indigenous people, from working for Congressman Jim Moran who fought for Congressman Wittman's legislation, the Thomasina Jordan Act (that granted federal recognition to six of Virginia's tribes), to working with the philanthropist Olympic Gold Medalist Billy Mills (Oglala Lakota) for the past 33 years. I am proud that our charitable organization, Running Strong for American Indian Youth, donated to the opening of the Mantle, the Virginia Indian monument here on the Capitol grounds, where Billy Mills came and spoke at the ceremonial groundbreaking back in 2018.
Native people have lived on this land for thousands of years, and they are still here today. Their citizens have suffered untold hardships, discrimination, and loss of land, language, and livelihoods. And yet, they have endured. 13,000 Native Americans died in World War I fighting for the United States, and at the time, they were not even considered US citizens. The sacrifice, patriotism, and culture of Virginia's tribes inspires all of us and are woven into the fabric of our great nation.  
I pledge that as long as the good people of Mount Vernon, once the home of the Dogue and Piscataway Indians, keep electing me to return to the General Assembly, I will be a strong supporter of Virginia's tribal nations and will tirelessly fight for their priorities and respect for their sovereignty.