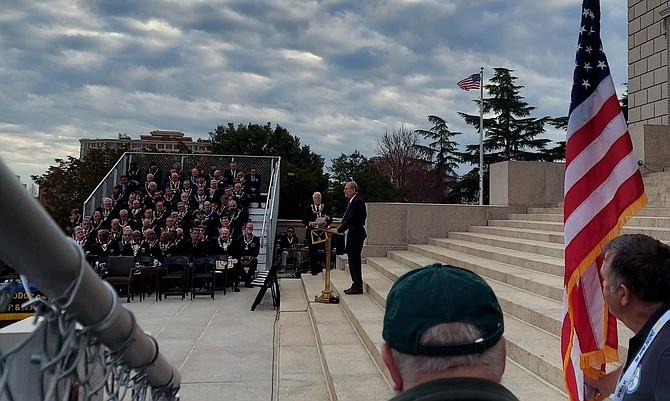 Thousands of Freemasons from around the world gathered at the George Washington Masonic National Memorial Feb. 20 for a rededication ceremony of the laying of the cornerstone 100 years ago and to celebrate the Memorial's next century of service.
Former Governor Jim Gilmore was the featured speaker at the rededication, which was attended by dignitaries, politicians and local Masons.
"It was a great day for the city and a great day for America," said Most Worshipful Prince Hall Grand Lodge of Virginia Grand Historian McArthur Myers. "Masons from everywhere gathered together representing all of humanity."
The Memorial is a National Historic Landmark representing Freemasonry's tribute to George Washington.
The original celebration of the cornerstone was a national Masonic event. Over 10,000 Freemasons attended the Memorial's cornerstone laying in 1923. In 2023, Masons gathered to witness the rededication of the cornerstone following participation in the city's George Washington Birthday Parade, the oldest and largest in the nation.
The rededication ceremony was sponsored by the Grand Lodge, A.F. & A.M., of the Commonwealth of Virginia, the Conference of Grand Masters of North America, and the George Washington National Masonic Memorial.
"I am privileged and honored to have been able to be a part of this ceremony," said Myers, a lifelong resident of Alexandria who led the Pledge of Allegiance at the rededication. "It is inspiring to witness Masons coming together in tribute to George Washington, our nation's foremost Freemason."
www.gwmemorial.org