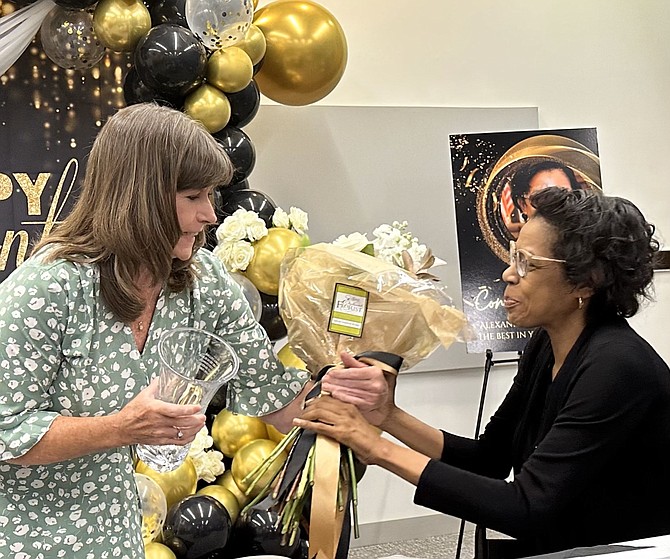 A familiar face around City Hall has left the building for the last time as deputy City Manager Debra Collins retired effective July 1 following nearly 20 years of service.
"Today is bittersweet," said Collins at a reception in her honor held Aug. 17 at the Redella S. "Del" Pepper Community Resource Center in the West End. "It is bittersweet that we are all together and I get to smell the flowers when so many others have not had a chance to be celebrated when they can enjoy it. But it is also bittersweet because I am not ready to go."
Undisclosed health challenges accelerated the retirement of Collins, who was hired by then City Manager Phil Sunderland in 2003.
"This retirement was unexpected," said Collins. "We all have challenges and most of us think it is temporary and that we will get through it. But it is not fair to Jim [Parajon] and folks who were part of my team not being able to be 100 percent. The city deserves 110 percent and at the moment I can't give you that."
Alexandria City Manager James Parajon announced the retirement of Collins earlier this summer.
"This is both an amazing afternoon but also a problematic one," Parajon said at the reception. "We get to celebrate Debra but it's also sad to see her leave."
Parajon highlighted the accomplishments of Collins over nearly 20 years with the city.  
"Debra clearly has tremendous talents and she put those to use for people that needed her help," Parajon said.
Collins joined the City in September 2003, as the Director of Alexandria's Department of Human Services. She came to Alexandria after serving as the Second Deputy Commissioner for the Erie County Department of Social Services in Buffalo, N.Y. for eight years. Prior to that role, she spent several years in the nonprofit sector, focused on at-risk youth services, re-housing assistance, and transitional housing for people affected by domestic violence and substance use disorders.
During her career in Alexandria, Collins became Assistant City Manager after spearheading the consolidation of three City agencies, including the Department of Human Services, into the Department of Community and Human Services. Later, she became a Deputy City Manager, responsible for the oversight of the City's public safety agencies, including the Alexandria Police Department, Alexandria Fire Department, Department of Emergency Communications, DCHS, the Department of Human Resources, the Office of Human Rights, and the Department of Recreation, Parks, and Cultural Activities.
She served as the City Liaison to the Health Department, Commonwealth's Attorney, Court Service Unit, the Alexandria Library, and the Sheriff's Office. She was also responsible for all City grant funding to nonprofits and functioned as the City's lead staff to the Alexandria City Public Schools.
"Basically she did everything," Parajon said.
Collins' significant accomplishments include the recent consolidation and co-location of all DCHS into one facility in Alexandria's West End to meet the needs of the community and the reinstatement of the City Schools Staff Group. Collins also worked, in partnership with ACT for Alexandria, to create the Center for Alexandria's Children, an advocacy and education center for families, and the Alexandria Council of Human Service Organizations. Additionally, Collins was instrumental in the creation of ACT for Alexandria's Spring for Alexandria, an annual day of service, and Spring2ACTion, an annual day of giving in support of the City's nonprofit organizations.
"I had the privilege of working with Debra for nearly her entire 20 years in the city," said former City Manager Mark Jinks. "Sometimes we were the last two people in the office at night. That led to a lot of good conversations about what was going on in the city. Debra has the best ear of anyone I have ever met in public service for understanding what was going on in departments, what employees were thinking."
Interim Deputy City Managers Kendel Taylor and Jean Kelleher will continue in their acting roles while a national executive search for a new Deputy City Manager takes place. 
"This is a journey," Collins told well-wishers. "Don't feel bad for me. We are always a sum total of our life experiences and I am still part of the fight. The perspective I am gaining now I am hoping I can use to help others in the future."
Jinks added, "A lot of things Debra did have never been written about, the community doesn't know about. But they benefit from it immensely. Because of her things got done. Mission accomplished. Thank you, Debra."