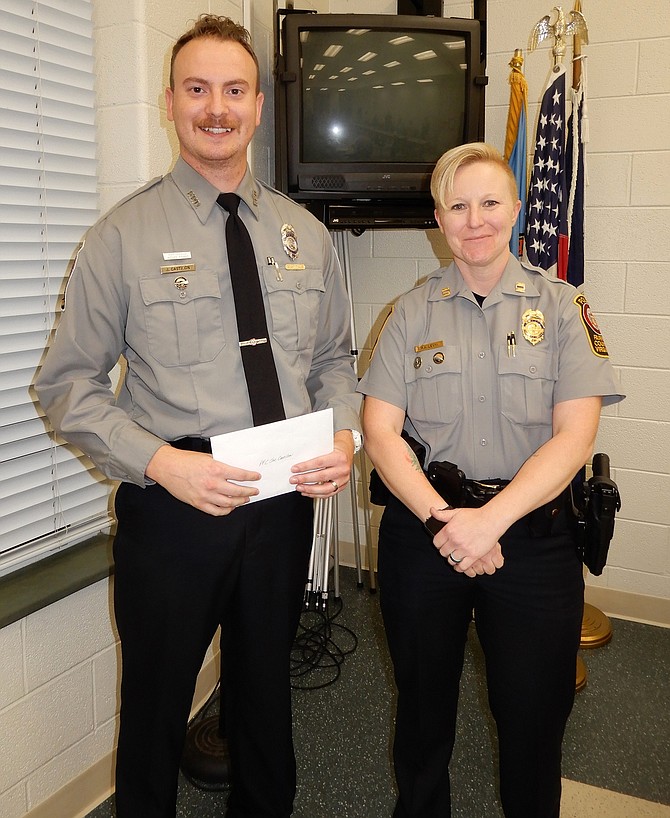 With his wife and father in attendance, PFC Joseph Castilon was named the Sully District Police Station's Officer of the Quarter for June, July and August. He was honored at the Oct. 12 meeting of the station's Citizens Advisory Committee.
Sgt. Kenneth Bridgeman nominated him, explaining why Castilon deserved this award. He said it stemmed from the officer's actions on Aug. 17, after police 
from the Sully District Station were dispatched for a report of a hit-and-run crash in Centreville. 
The driver, later identified as Suspect 1, crashed into two vehicles before leaving the area without providing his insurance or any identifying information to the male driving the vehicle he struck. However, that driver managed to get a license-plate number from Suspect 1's vehicle. 
The tag information was relayed to responding units. and Castilon began searching the surrounding area for the suspect's vehicle. When it was located in a community nearby, the vehicle was in the middle of the road and on fire. Arriving on scene, Castilon assessed everything unfolding there. 
Bridgeman wrote that another officer, PFC Serina Kan, was already at the scene and was using her fire extinguisher to try to put out the fire. Castilon grabbed his own fire extinguisher and began to help her. He also realized that the vehicle had begun rolling backward down the street, "escalating the danger and urgency of the situation." 
"Castilon quickly realized that the driver was still inside and would likely not survive if he didn't act immediately," wrote Bridgeman. "Despite the obvious danger to himself, he approached the vehicle and smashed the driver's-side window with his expandable baton. 
"With the assistance of a citizen, Castilon was able to get the door open, and he pulled Suspect 1 from the burning vehicle. The cabin of the vehicle was filled with noxious smoke, which would have certainly taken Suspect 1's life, if not for PFC Castilon's actions."    
Fire and rescue units arrived on the scene and treated Suspect 1 for his injuries. "While he was sitting in the ambulance, Suspect 1 disclosed he was experiencing a mental-health crisis," wrote Bridgeman. "He was transported to the hospital where he received treatment and was mentally evaluated by their professional staff." Meanwhile, because of his own proximity to the flames, Castilon had to be evaluated himself for smoke inhalation. 
"As a result of the bravery and selflessness displayed by Castilon in acting to save a community member's life, Suspect 1 was able to survive a life-threatening situation and receive the psychological treatment he so desperately needed," wrote Bridgeman. "Castilon's actions are deserving of praise and recognition." 
When Capt. Rachel Levy, the Sully District Station's commander, honored Castilon at the CAC meeting, she told the audience, "PFC Castilon inhaled a lot of smoke that day, putting his own life at risk to save this person. It's with great pride that I present the Officer of the Quarter award to him."