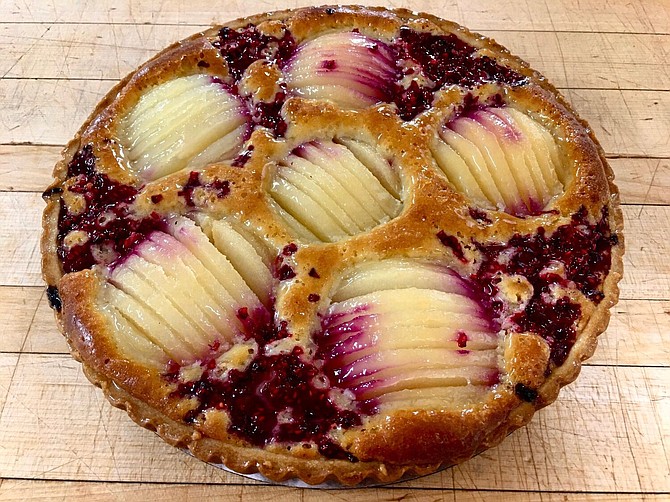 Everyone likes to pretend that Thanksgiving is about the turkey and dressing, but let's face it: We're all really there for the dessert. Pie, to be specific. Whether it's pumpkin or pecan, apple or French silk or something totally off the grid, the pie is the Thanksgiving dinner's final sendoff, the sweet treat that often serves as prelude to a food coma. Take the holiday off from dessert prep and let some of Alexandria's best bakers pick up the heavy lifting. (And go on – have seconds.)
Maribeth's Bakery, 3103 Colvin St.
Even a casual patron of the Old Town Farmers Market on Saturday mornings will know about Maribeth's. The festive, brightly colored market tent shades a wealth of baked goods from the winter sun: Sandwich bread, cookies, toaster pastries, "cinnablobs" … the list goes on and on. But lo! What is that there on the display table alongside all the rest? Why, it's pie! A plethora of pies, to be exact, with more options than could ever possibly grace your Thanksgiving tableau. Apple-cranberry lattice. Fuji apple frangipane. Those classics, sweet potato and pumpkin. And so much more. Not able to make it to the Saturday morning market? No problem. Maribeth's also delivers – visit www.mbbakeryonthego.com/ for all the details. 
Buzz Bakeshop, 901 Slaters Lane
Looking for a classic flavor or hankering to try something new? Buzz has you covered either way with its preorder pies on offer. Pick up a Dutch apple pie or pecan pie, or venture further afield with a decadent buttermilk pie or French silk pie. And if you need something for Thanksgiving morning, Buzz has you covered there too: Bacon or veggie quiches are ready to pop into the oven (and if you take credit, we won't tell). Preorder your pies at http://buzzbakeshopordering.squarespace.com. 
Firehook, 430 S. Washington St.
At Firehook, you can pick up your pies as well as a cup of coffee and maybe a lunch treat for your troubles. The longtime bakery has all the favorites – from pumpkin to pecan to two kinds of apple pies (classic and honeycrisp, if you must know) – as well as some unexpected choices, such as a passionfruit meringue tart or a key lime tart. Have a guest who – gasp! – doesn't care for pie? Give them a sad look, certainly, but also give them a bite of pumpkin cheesecake instead, or a cake, such as strawberries and cream or tres leches.
Hope Nelson is the author of "Classic Restaurants of Alexandria" and owns the Kitchen Recessionista blog, located at www.kitchenrecessionista.com. Email her any time at
hope@kitchenrecessionista.com
.