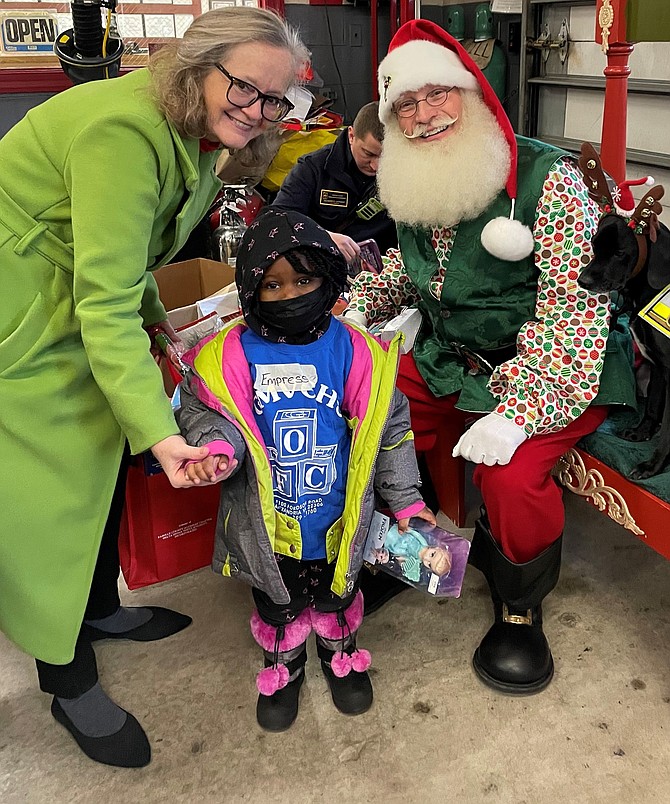 Fairfax County Fire and Rescue, in partnership with Firefighters and Friends to the Rescue, was back in full force as it held its annual toy distribution day Dec. 12 at Penn Daw Fire Station 11.
"This was definitely one of our larger toy distributions," said Deputy Chief Willie Bailey, founder of the toy drive 23 years ago. "We tried to bring some normalcy back to the annual event by having the children attend and included a visit with Santa Claus."
Following two scaled down distribution days due to the pandemic in 2020 and 2021, Station 11 was once again filled with the sights and sounds of Gum Springs Head Start preschool children selecting toys from the 3,200 collected for distribution to families in need throughout the county.
"We distributed over 3,200 new toys and over $2,800 in gift cards," Bailey said. "We assisted over 60 schools, shelters, and nonprofits from Fairfax County and Alexandria. We also had over 240 preschool and kindergarteners personally pick up gifts and visit with Santa."
On hand to assist the kids in the selection of toys were Sen. George Barker, Del. Elizabeth Bennett-Parker, Supervisor Dan Storck and School Board member Karen Corbett Sanders.
"We believe the need was much greater this year because of the economy," Bailey added. "We had hoped to provide some relief to the families by taking this one thing off their plate so they could concentrate on food, utilities and other things. Numerous volunteers were saying that seeing the smiles on the kids' faces made this day all worthwhile."
Joining the adult volunteers were twins Madden Lee Savittiere and Maks Allen Savittiere, who have been supporting the toy drive for over 7 years, and Alli Holtman and her brother, who have been assisting for over 8 years.
"The need was much greater this year because of the economy." 
— Toy drive founder Deputy Chief Willie Bailey
"It brings tears to my eyes when these young people show up," Bailey said. "They carry bags almost bigger than they are. But their parents say they want the children to learn how to give and that they learn more in this one day being here than the one day missing school."
Representatives from local organizations provided information on the ages and needs of children to the volunteers, who then packed up bags full of gifts collected by the firefighters and provided by sponsors.
Sponsors include: Apple Federal Credit Union; Ken & Kelly Savittiere Foundation; Chadwick's Restaurant (Old Town); Union Street Public House Restaurant (Bruce Witucki); Progressive Firefighters of Fairfax; Local 2068; Fire & Rescue Retirement Association; Nationwide Credit Corporation; Jack Taylor's Alexandria Toyota; Interstate Van Lines; Modern Technology Solutions; Energesco Solutions LLC (William Bennett); Medocracy, Inc.; Promax Realtors, Springfield; The Movement Studios; Fairfax Education Association; Five Guys (Sam Chamberlain); Fransmart; Caring Angels therapy Dogs; FCAC Delta Sigma Theta Sorority; Mount Vernon Gazette; Michael & Sons Services, Inc.; Democratic Women of Clifton and Northern Virginia; Walmart (Store #2258 — Richmond Hwy.); Kelly's Irish Times Restaurant; Rotary Club of Tysons Corner; FRD Logistics Distribution Center; Communities of Trust; Fairfax County Police Department; Primo Family Restaurant; Eileen and Bernard Cabral; Accenture Federal Services; SEIU – 512. 
"The support of our sponsors was certainly needed this year because we had a bigger demand for help than usual," Bailey added. "But thanks to the generosity of so many the children will all be receiving their holiday gifts."