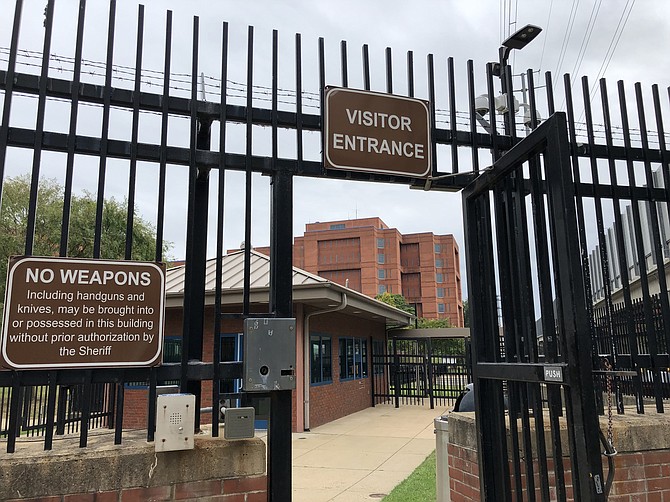 People who were locked up in the Alexandria jail are not staying there for free, and taxpayers are paying only part of the bill.
From telephone calls and emails to commissary items and money transfers, sheriffs and regional jail directors across Virginia have a wide variety of fees they assess to people who are incarcerated. That's creating a sense of alarm among people who are concerned about consumer exploitation of the most captive of markets. Now members of the General Assembly are about to consider a set of recommendations to crack down on predatory contracts with third-party vendors who are making millions of dollars from some of the most marginalized people.
"The amount of money that it should cost to be in jail shouldn't be exorbitant, and it shouldn't be such a burden that it's going to put people in a more difficult position than they already are when they come in here," said Alexandria Sheriff Sean Casey. "It's a matter of figuring out what's a fair cost for something while you are in jail."
Earlier, the General Assembly set up a work group to look at the fines and fees that are assessed to people who are incarcerated. Now that group is making recommendations to be considered next year, and lawmakers will be considering them in the upcoming session of the legislature. According to a draft version of a forthcoming report, recommendations include making telephone call free for up to 120 minutes a day, eliminating fines and fees associated with sending and receiving emails and prohibiting the practice of sheriffs charging inmates up to $3 a day to defray the cost of incarceration, a controversial practice known as "pay to stay."
"To charge them an exorbitant fee is simply unchristian." said state Sen. Joe Morrissey (D-16), who introduced the legislation creating the work group. "You have a monopoly over that individual. They're incarcerated, so it's not like they can go out and get their own provider."
THE COST OF MAKING telephone calls is one of the most pressing burdens for people who are incarcerated. According to a 2018 report from the Prison Policy Initiative, the average cost of a 15-minute phone call in Virginia is $4.51 and can be as much as $14.65. Here in Alexandria, Sheriff Casey says people who are incarcerated are currently charged 20 cents a minute. Critics say technology has outpaced these anachronistic charges, and the only reason jails continue with this outdated system is that they are getting a share of the revenue.
"One in three families goes into debt trying to stay in contact with an incarcerated loved one," said Shawn Weneta, a policy strategist at the ACLU of Virginia. "We should be facilitating communication between families and incarcerated people, and we can do it so cheaply."
Contracts for telecommunications services offer one of the most lucrative ways to make money off of people behind bars, and in recent years they've become increasingly controversial. A news outlet known as "The Appeal" recently reported on a Fairfax County telecommunications contract with a company known as Smart Communications that charged people $3 for a 30-minute video call, 50 cents an email and $1 per electronic image. The contract included language promising members of the sheriff's office cruises from "Tampa Bay to the Caribbean."
"Complimentary Caribbean cruises are not complementary. These so-called 'training summit cruises' are paid for through a mark-up in the jail contract," Del. Patrick Hope (D-47) told The Appeal. "It may be legal, but it's a loophole in the law that should be closed."
FOLLOWING THE MONEY isn't easy, and members of the work group say they had a difficult time getting sheriffs and regional jail directors to hand over relevant data and information. When they finally got their hands on a small percentage of what they were looking for, the documents were heavily redacted. For members of the work group, trying to determine a way to make sure people behind bars are not being bilked requires much more data and information from the Virginia Board of Local and Regional Jails, which oversaw the process of collecting and sharing the documents.
"It's frustrating that we didn't get all the data we needed and more importantly members of the work group didn't have access to that data," said Del. Amanda Batten (R-96), a member of the work group and chairwoman of the relevant subcommittee in the House of Delegates. "The state has a responsibility to people who are in the care of the state to make sure that they are not overpaying for services and goods that are essential to their wellbeing."
To get a sense of the kind of money jails are making from commissions on third-party contracts, the work group turned to a dataset released by the State Compensation Board known as the Jail Costs Report. That document outlines the revenue sheriffs and regional jails receive as commissions, and Alexandria has one of the highest commission revenue per person per day in Virginia -- more than $10 per person per day. Only two other jails had higher commission revenue than Alexandria, the Culpeper jail and Albemarle-Charlottesville jail.
"All that money has to go directly back to our inmates," said Casey, who says during the pandemic all the inmates received a free 30-minute phone call every week. "We bought everybody radios. We bought everybody more puzzle books. We bought everybody candy bars and different food and sundry items. We even gave people $5 in their account every single week so they would have money to either do more phone time or they could buy more stuff off the commissary list."
THE CYCLE OF revenues and expenditures is about to receive more scrutiny as members of the General Assembly prepare to consider the recommendations of the work group, which are aimed at easing the burden on people who are incarcerated. Even if money raised from these contracts is spent on inmates, the problem is that some people might be prevented from making a call or sending an email in the first place.
"That should not be the job of a sheriff to raise money from inmates in order to buy them a mattress," said Morrissey. "The General Assembly and the state of Virginia should be providing the jailers with the money to buy that mattress."