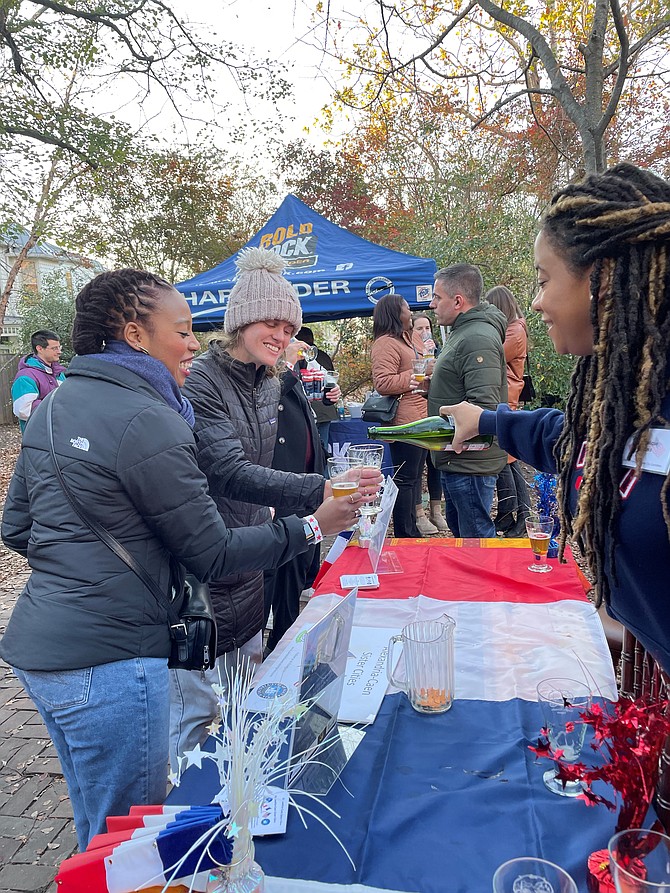 "We are so excited to host the return of the Cider Festival after taking two years off because of COVID."
— Gretchen Bulova, Director of the Office of Historic Alexandria
Chilly temperatures were no deterrent to crowds gathering at The Lloyd House for the Nov. 19 return of the city's annual Cider Festival in celebration of Virginia Cider Week.
Hosted by the Office of Historic Alexandria in partnership with the Virginia Association of Cider Makers, the festival featured cider tastings, live entertainment and information on the history of cider in the City of Alexandria.
"We are so excited to host the return of the Cider Festival after taking two years off because of COVID," said Gretchen Bulova, Director of the Office of Historic Alexandria. "We are featuring nine Virginia cideries as well as some cider from France through our Sister City in Caen."
Angelique Moss, chair of Alexandria-Caen Sister City Committee, was on hand serving Valdela Chevre Cidre Fermier.
"This is a cider from the Brittany region of France," Moss said. "I am representing our Sister City in France and showcasing French culture and cuisine. And Caen is known for their cider."
The festival included offerings from Albemarle Cider Works, Big Fish, Bryant's Cider, Lost Boy Cider, Muse Orchard, Potter's Craft Cider, Winchester Cider Works, and Bold Rock Distillery.
Cider was a popular beverage in 18th and early 19th century Alexandria and offered at area taverns. Thomas Jefferson cultivated 18 varieties of apples in his orchard at Monticello and today there are over 30 different apple varieties grown specifically for cider production throughout Virginia.
"All of our apples are harvested in the Blue Ridge Mountains within 30 miles of the distillery," said Ashley Collins of Bold Rock distillery in Nellysford, Va. "We opened exactly 10 years ago and are now in 35 states across the country so it has been a great expansion for us."
Cider is fermented like wine, not brewed like beer. One of the most common misconceptions is that hard cider is made in a single style rather than the many different styles that are produced. Virginia Cider Week was established by the Virginia General Assembly in 2012 to recognize this growing segment of Virginia's economy.
"The proceeds from this event benefit the Office of Historic Alexandria," added Bulova. "In 2019, proceeds helped fund the conservation of the historic hose reel at Friendship Firehouse so this will help continue the preservation of Alexandria's history. We have had a great day."