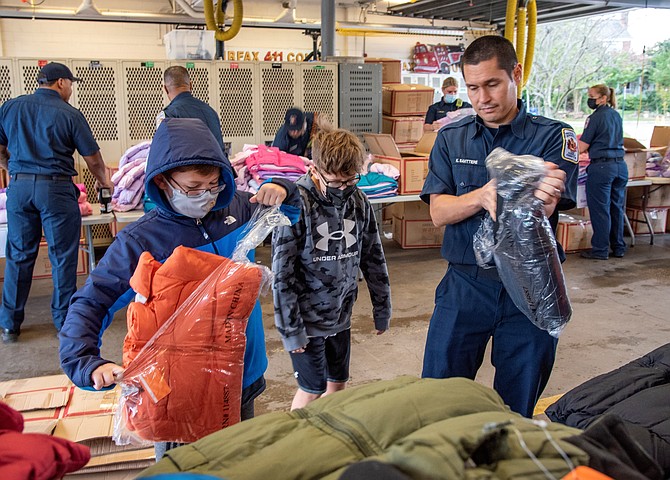 First responders from throughout Northern Virginia came together Oct. 25 
to help distribute more than 3,000 new coats destined for children in need as part of the Firefighters and Friends to the Rescue annual coat drive.
"A new coat means so much to a child," said Del Ray resident Willie Bailey, founder of the nonprofit Firefighters and Friends to the Rescue. "It provides a child both physical and emotional warmth. It helps a student attend school, socialize with their peers and play outside with pride. And it reminds them that there are those in their community that care about their well-being and future."
Coats are obtained through the national nonprofit Operation Warm with local volunteers sorting and distributing to those in need throughout the region.
"Though today's event was held in Fairfax County we were able to also help schools in Alexandria City, Prince George's County, and a few groups in Prince William County," Bailey said.  "It takes a village to raise a child and today the village showed up in full force."
An additional 1,000 coats will be distributed Saturday, Oct. 30, at Charles Houston Recreation Center.
"We will be partnering with the Alexandria Redevelopment Housing Authority to put on another coat distribution for the local children and families," Bailey said. "Along with the coat giveaway we will also have free books and other fun activities for the kids."
Due to the scope of the distribution at Fire Station 11, only adult representatives were on hand to collect coats for area schools and nonprofits, something Mount Vernon District Supervisor Dan Storck said he missed.
"It's a sad thing for us this year and last year that we don't have the kids coming through to see them try on the coats," said Storck, who was a volunteer at the event. "That gives all of us a chance to connect with them and really see the joy and the excitement in their eyes when they try on that coat and find the color that they want. We have to do that vicariously this year."
"It takes a village to raise a child and today the village showed up in full force."
— Willie Bailey, Firefighters and Friends to the Rescue founder
Sponsors of the coat drive include: Operation Warm; Fairfax County Fire & Rescue Department; Ken & Kelly Savittiere Family Fund; Apple Federal Credit Union; Progressive Firefighters of Fairfax; Fire & Rescue Retirement Asso.; Local 2068; Medocracy, Inc.; PROMAX Management, Inc; Nationwide Credit Corporation; Fairfax County Police Department; SEIU-512; Communities of Trust; Primo Family Restaurant
"People may not realize it but this has been going on for decades and we are very thankful," Storck said. "It's not just coats. It's the backpacks and the holiday gifts -- they do it all for those most in need in our community."
The pandemic has fueled the need for more financial support, something Bailey hopes will come from the Alexandria community.
"A huge shout out to the nonprofit Operation Warm but as the number of families and children in need continues to grow, we need more to sustain this effort," Bailey said. "As always, teamwork makes the dream work and we need more people to join our team to keep kids warm each winter."
To donate, visit https://secure.givelively.org/donate/operation-warm-inc/join-firefighter-friends-to-the-rescue-and-fairfax-county-fire-rescue-department-to-give-coats-to-kids-in-need