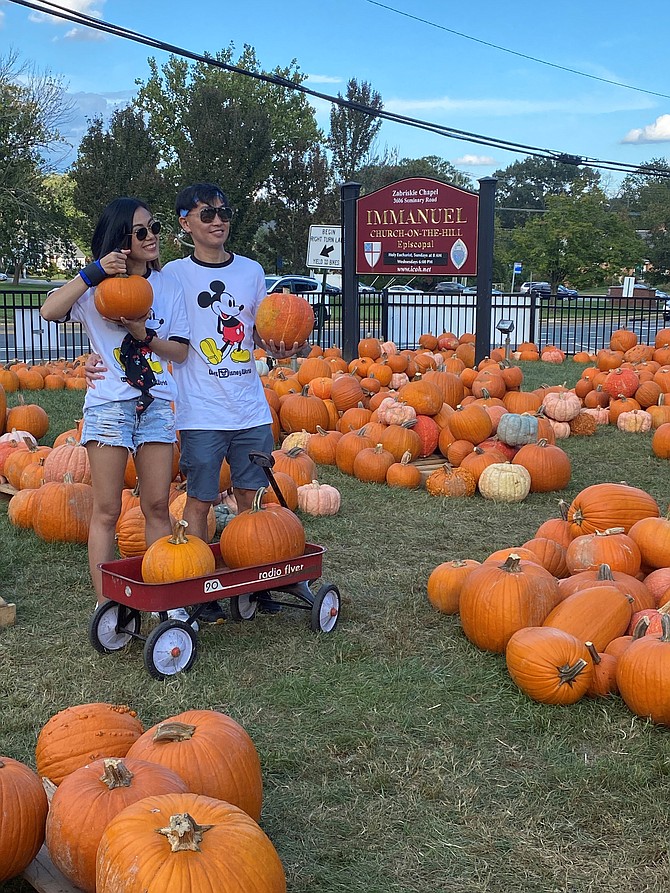 Charlie Brown and the gang would be impressed. In what has been a tradition for more than a quarter century, the legendary pumpkin patch sponsored by Immanuel Church-on-the-Hill opened for business Oct. 3 with thousands of pumpkins now ready for sale to benefit local and international charities.
"The funds raised really make a difference to the charities that we support." Pumpkin patch volunteer Richard Glassco
"This is our first time at the pumpkin patch," said Fairfax resident Chatchaya Pansiri, who was visiting with Warawat Prachongkarn. "We have passed by many times but only this year decided to stop in ourselves. It is amazing."
Now in its 28th year, the Pumpkin Patch fundraiser features pumpkins sustainably grown on a Navajo Indian Reservation near Farmington, N.M., and trucked across the country for sale in Alexandria.
The pumpkin patch offers all sizes of pumpkins, from small hand-held "spookies" to very large pumpkins for jack-o-lanterns; prices start at $1 and go up based on size. Also for sale are gourds, home-made soups and baked goods, and autumn-Halloween-themed crafts.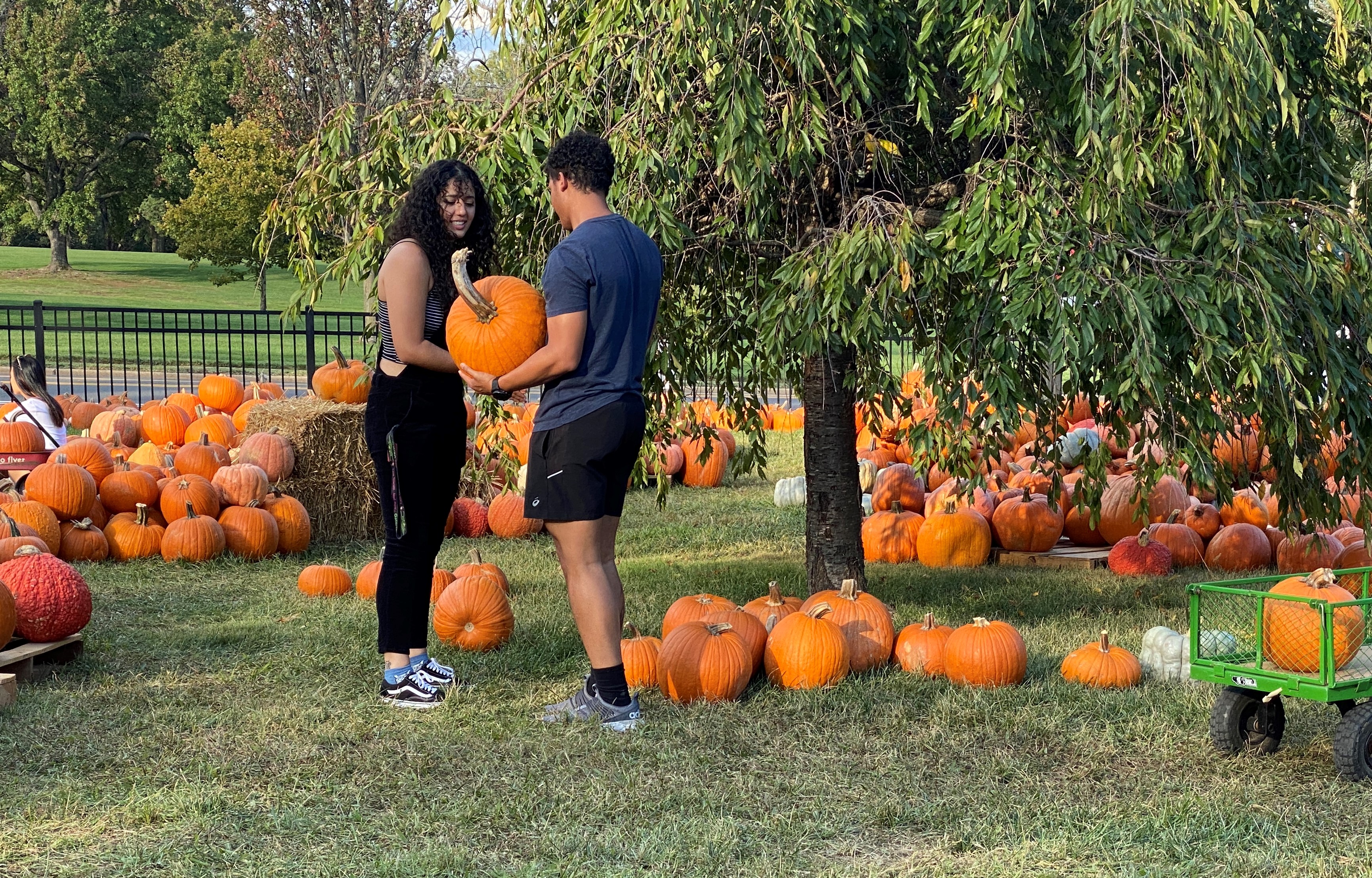 All net profits from the pumpkin patch support the church's outreach activities at the community, regional and international levels.
"We are enormously grateful for the support of the community," said church member Jamie Conrad. "In the face of the pandemic, we had our best year ever last year. Clearly, people were looking for a little normality and some semblance of a seasonal event during the grim lockdown."
Last year, over 25 charities received support ranging from Alexandria charities working with homelessness and education, to regional anti-poverty programs, to international work including a children's ministry in Haiti, nurses training in the Democratic Republic of the Congo, and a hospital in Gaza.
"The situation is better now than a year ago, but with the resurgence of the Delta variant, I expect people will still welcome the return of the Patch," Conrad added. "We certainly can put the proceeds to good use: we confronted unprecedented need last year with COVID-19, and this year we're already contributing significantly to Afghan refugee resettlement."
Local charities benefitting from the sale include ALIVE!, Carpenter's Shelter, Inova Alexandria Hospital, Senior Services of Alexandria, Christ House and Community Lodgings. 
The church works with Pumpkin Patch Fundraisers in North Carolina, a small company which consigns pumpkins to churches and nonprofit organizations throughout the country. In its first year of sales in 1993, Immanuel Church-on-the-Hill received a shipment of about one quarter of a truckload of pumpkins. In recent years, the church has received four semi-trailer truckloads.
"I have been doing this for as long as the church has held the pumpkin patch," said Richard Glassco, one of the many volunteers who staff the patch for 10 hours each day until Halloween. "The funds raised really make a difference to the charities that we support so I hope people will come out and support us."
The Immanuel Church-on-the-Hill Pumpkin Patch is located at 3606 Seminary Road and open seven days a week through Oct. 31. Hours are noon-6 p.m. Monday through Friday and 10 a.m.-6 p.m. on weekends and the Oct. 11 Federal holiday. Admission is free. www.immanuel-on-the-hill.org
When & Where
The Immanuel Church-on-the-Hill Pumpkin Patch is located at 3606 Seminary Road and open seven days a week through Oct. 31. Hours are noon-6 p.m. Monday through Friday and 10 a.m.-6 p.m. on weekends and the Oct. 11 Federal holiday. Admission is free. www.immanuel-on-the-hill.org