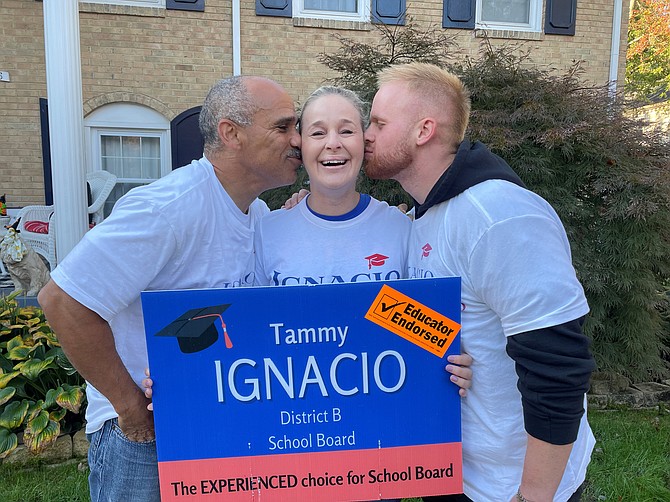 <48HD>Head of the Class
New members to join three incumbents on ACPS School Board.
"We have a lot of work to do."
— School Board member-elect Kelly Carmichael Booz
By Jeanne Theismann
Gazette Packet
With the national spotlight on education, a topic that helped propel longshot Republican candidate Glenn Youngkin to victory over Democratic rival Terry McAuliffe in Virginia's gubernatorial race, Alexandria residents elected nine representatives to the Alexandria City Public Schools Board Nov. 2, with three incumbents holding on to their seats.
Former City Councilman Willie Bailey will join incumbents Jacinta Greene and Michelle Reif in representing District A, with newcomers Kelly Carmichael Booz, Tammy Ignacio and Ashley Simpson Baird winning election in the crowded field for District B. Only three candidates were vying for election in District C, including incumbent board chair Meagan Alderton. Joining her are Abdel Elnoubi and Christopher Harris.
"I am so excited to continue to serve and advocate for the students and staff of ACPS," said Ignacio, who recently retired as the lead ACPS administrator for special education following a 30-year career in education.
"We have a lot of work to do."
— School Board member-elect Kelly Carmichael Booz
School board representatives are elected for three-year terms in three districts, each with three seats up for grabs. Five candidates ran in District A, seven in District B and three in District C, thus guaranteeing each of the District C candidates a seat on the board. Only Alderton, Greene and Reif from the current board sought reelection.
"I am humbled and honored to get to work for our students in Alexandria," said Booz. "We have a lot of work to do as we continue to recover from the disruptive year and a half and focus on learning and our socio-emotional recovery."
The Alexandria City School Board is a nine-member elected body that adopts policy for the daily operation of schools and sees that school laws are properly explained, enforced, and observed.
"I am both humbled and honored to be elected to represent District A on the Alexandria City School Board," Bailey said. "I would like to express my heartfelt thanks to those who placed their confidence and trust in me. I will work my hardest to fulfill your expectations and lift up our kids and families who need us most."