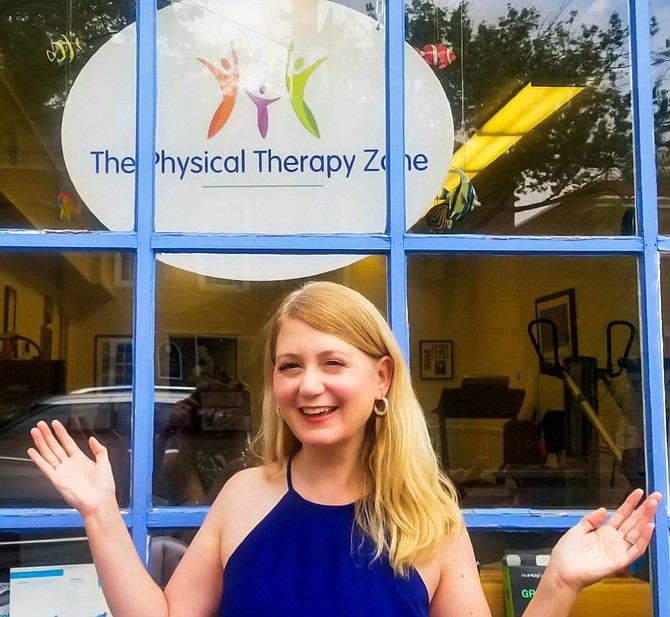 Everyone loves a good success story, especially during the pandemic. Lori Alexander's grand opening of her expanded Physical Therapy Zone on Saturday, May 8 offered an opportunity for just such a celebration. "We just knocked a hole in the wall and expanded into the suite next door." This allowed her to socially distance her patients and to create more space for the one-on-one therapy offered.
Alexander and her two therapists routinely saw 60 patients a week at the beginning of 2020 until the first week of March, when patients started cancelling due to the pandemic.
"We went from 60 a week down to 39, to 19 the last week in March. In April it stayed at about 14-16 a week. "The lowest I went was 5. I can't believe it was so slow."
But she said some patients really had to continue therapy. They had hip replacements and needed rehabilitation. She was never completely down to zero. However, Alexander wasn't able to continue paying her therapists and finally she had to let her technician go as well. "It was just me. I was doing everything."
Alexander found that all of a sudden she had a lot of time on her hands. Instead of 7 a.m. to 5 p.m. six days a week, she moved her few clients to the same day to save electricity and heat bills. Then in June, the numbers started going back up and in July climbed even higher. People started feeling comfortable. The last week in August the patient numbers were up to 50.
She thinks the client numbers grew because she spent her spare time hiring a company to help her redo her "really basic website. All this time I had this limited website and when I built the really beautiful new website, all of a sudden BOOM." She thinks it also helped that with a small office and individual treatment the patients felt safe enough to come. It also added to the safety factor that she got vaccinated back in December in the first wave of 1(a) eligible and would only hire vaccinated therapists.
Alexander says, "We do strive very hard to give quality one-on-one care, which is difficult for people who are juggling patients." Alexander has been in business for over 20 years and says she learned "to do it the old-fashioned way — working with one patient at a time." She worked for five years at the Mayo Clinic in Rochester, Minnesota, and "the first thing I learned was the need to put patient care first."
Alexander says that the PPE loan really helped her with her rent. And, in addition, if you were a Medicare provider, Medicare gave businesses like hers financial assistance to stay open until their patients came back. At the time, she says, Medicare was saving money because patients weren't going to the doctor or having surgeries.
But there were unanticipated challenges along the way like when the toilet wouldn't work and she finally had to hire a plumber to take a video to diagnose the problem. They discovered the sewer pipe had completely burst under her building and all "the stuff" was leaking out.
"It was a hazard. I had to get the City involved." Alexander had to move down the street for a couple of months as they dug up the entire floor. Her phone got disconnected and she lost some patients.
Still, the former electrical engineering major had come a long way from her textile town of Lowell, Mass., where everyone, including her grandmother, worked in the mills. "I was the first in my family to go to college." But she switched majors when Raytheon laid off workers and Alexander was advised that she wouldn't be able to get a job when she got out. So she headed to Boston University where she graduated in physical therapy.
Now she has hired back physical therapists and her business expanded to 119 patients just last week. "I've never had this many patients since I opened the business in 2011."

"I grew up in severe poverty so having my own business is something I could never have imagined."