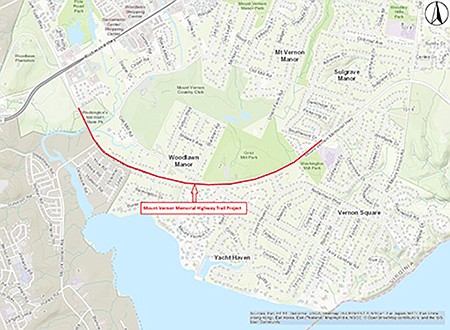 In a step to prepare for an upcoming $6.5 million Mount Vernon Memorial Highway Trail Project on the south end of the Mount Vernon bike trail, a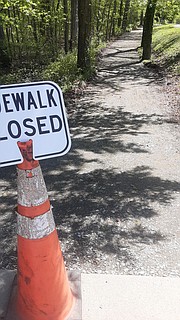 portion has been blocked off to bicyclists while crews resurface a portion of the trail between the Mount Vernon Plantation and Richmond Highway.
In the fall, crews from the Fairfax County Department of Transportation will embark on the bigger project to complete the missing segments within the Fairfax County portion of the Potomac Heritage National Scenic Trail. The project is located adjacent to the north side of Mount Vernon Memorial Highway, between George Washington's Gristmill entrance and Southwood Drive. Once complete, the Potomac Heritage National Scenic Trail will provide a continuous facility, separated from the roadway, for pedestrians and bicyclists from Richmond Highway to the Mount Vernon Estates. The project consists of the construction of approximately 6,200 linear feet of 10-foot-wide shared use path. The project also proposes a pedestrian bridge adjacent to the existing Mount Vernon Memorial Highway bridge, spanning Dogue Creek. Architectural treatments are incorporated in the design of the pedestrian bridge. The treatments are selected to match the character of the historic George Washington's Gristmill.
Parts of the project that will interest cyclists and pedestrians include a trail separated from the roadway along Mount Vernon Memorial Highway between Grist Mill Road and Patton Boulevard; relocation of the trail between Peartree Landing and Southwood Drive; and a pedestrian-actuated Rectangular Rapid Flashing Beacon is proposed for the pedestrian crossing on Mount Vernon Memorial Highway at Southwood Drive.
According to Robin P. Geiger, Head of Communications at the Fairfax County Department of Transportation, the project is currently in land acquisition phase. The construction of the project is expected to begin in October 2021. The project is anticipated to be completed by Winter 2022.