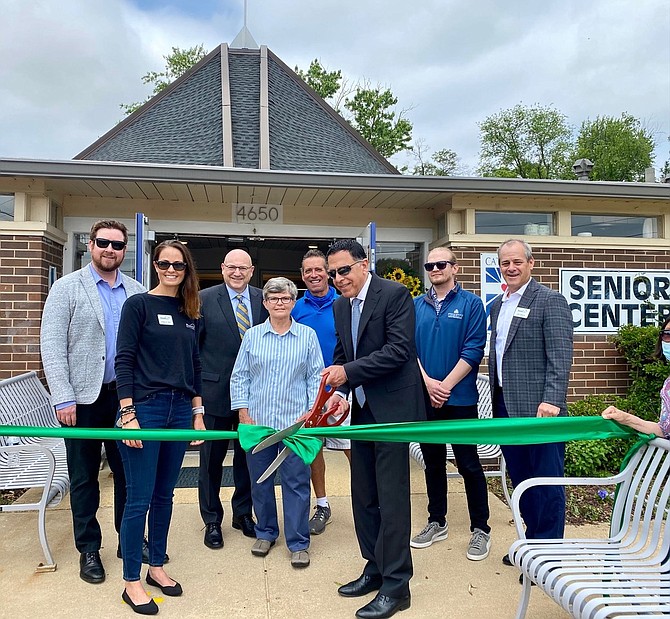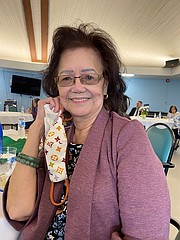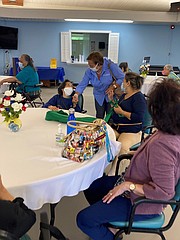 St. Martin de Porres Senior Center wasn't quite open officially for regular activities, but it didn't stop the regulars from showing up for the ribbon cutting to celebrate the recent renovation on May 25. Senior citizens pushing walkers and chatting with friends returned to the Center to celebrate the renovation after more than a year of closure due to the pandemic, to catch up with each other and to share lunch.
Gloria Velasco, an 84-year-old regular at the Center, says she had been so lonely at home during COVID. She had been coming to St. Martin's for 20 years and has been showing up there every Friday to pray the rosary even though it hasn't officially opened.
"Life is very uncertain now," Velasco said. "You need to see people."
The Center received a major upgrade during closure from a $44,000 grant provided by HomeAid Northern Virginia. HomeAid is a nonprofit that partners with local social service organizations (in this case Catholic Charities of the diocese of Arlington) to build and renovate facilities by utilizing the expertise, labor and resources of local homebuilders. This renovation grant allowed Catholic Charities to spend their funds on services for those at the Center.
The Center will offer wellness programming, hot, nutritious daily meals and social services when it reopens in coordination with the City of Alexandria's Division of Aging and Adult Services. The Center is located in a 1950s structure and has provided services to seniors for the past 45 years.
During the pandemic, the staff and volunteers delivered meals and social services remotely to those isolated at home as "a senior center without walls." They conducted weekly wellness calls, delivered household supplies, food and activity kits, and helped schedule COVID-19 vaccinations. Anne Coyne, Senior Center program director Catholic Charities of the Diocese of Arlington says, "We can't wait to get everyone back together again — in a responsible fashion — in our brighter, modernized and much improved space."
Kristyn Burr, Executive Director and CEO of HomeAid Northern Virginia, says they began construction early last year. "If there was a light in the darkness, it was that the center was closed due to COVID during the construction."
The Center hadn't been renovated since the 1950s and it needed a lot of interior work, Burr said. "The rooms had walls partitioned with curtains, and we replaced them with walls which had windows and doors." Everything had been painted "the same blah beige but they chose a really nice blue for repainting — very zen." HomeAid Northern Virginia also created more office space and a separate room for medical care.
Burr said HomeAid has 15 projects under construction, more than ever. "I don't turn down very many projects." HomeAid pairs with a professional builder who will maximize their relationship with subcontractors to donate service, time, and expertise. "Generally 80-100% of the cost of the project is donated," Burr said.
If there is a gap, fundraising covers the extra. "We have four major fundraising events a year with very generous donors and great Board Members who sponsor their own events.
"We couldn't exist without people. HANV is people based." She explains non-profits don't have a lot of choice of where they are located in facilities, and construction is really expensive. So if HomeAid can help improve their building, they have more to spend on services for people who are often living in poverty.
"And it feels so much better to have nice surroundings. Nonprofits are used to doing so much with so little. We get to help in the process of rebuilding lives."