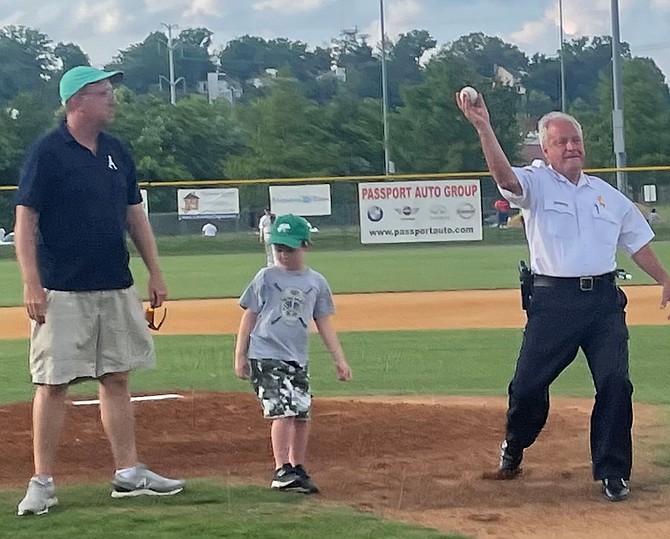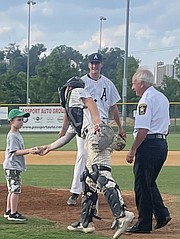 The Alexandria Aces took on the Gaithersburg Giants June 8 in the opening game at Frank Mann Field, losing to their Cal Ripken Collegiate Baseball League rivals 10-7.
Sheriff Dana Lawhorne threw out the ceremonial first pitch with his grandson Ryan Kaskela and team owner Frank Fannon joining him on the mound.
Pitcher Chris Knight from George Washington University opened the game with Matt Stone, a catcher at Georgetown, behind the plate. The team roster consists of more than 40 elite college baseball players from across the country.
The Aces opened the 2021 season with a 3-1 road win the previous night over the South County Braves. They go on the road again to take on the Silver-Spring-Takoma Thunderbolts June 11 and Bethesda Big Train June 12. The team returns to Frank Mann Field June 13 in a rematch against the Braves.
As part of the Cal Ripken League, the Aces are an affiliate of Major League Baseball and professional scouts regularly attend games to recruit players for the MLB draft. Eight Cal Ripken League alumni, including Gio Diaz of the Washington Nationals, signed free agent contracts with MLB teams in 2020.
"The Aces had a successful opening night," Fannon said. "We look forward to continuing to provide a fun-filled family entertainment option for all Alexandrians this summer at Frank Mann Field."
All Aces home games are played at Frank Mann Field behind Cora Kelly Elementary School. Admission is $5 and tickets are available at the gate.
"The Alexandria Aces are a 501 (c)(3) and we are collecting used baseball equipment to be donated at any home game," Fannon added. "We are also providing summer baseball camp scholarships to Alexandria's youth in need so contributions are always welcome."
Donations to the Alexandria Aces may be made at: Alexandria Aces, P.O. Box 1219, Alexandria, VA 22313, or online at http://www.alexandriaaces.org/