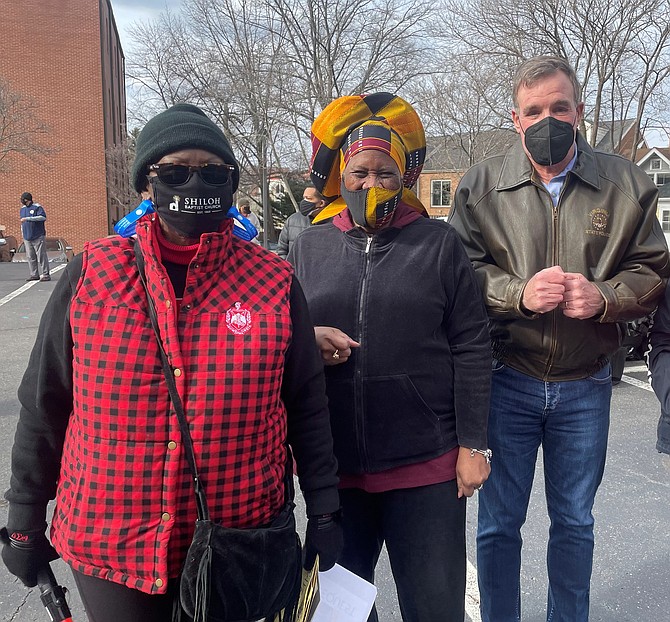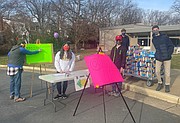 U.S. Sen. Mark Warner (D-Va.) joined volunteers at Shiloh Baptist Church in Old Town for a free food distribution as part of the annual MLK Day of Service Jan. 18.
"I am here to honor Dr. King's legacy," Warner said. "In the midst of the pandemic and the violence of Jan. 6, I couldn't think of anything better to do than to be here to help my fellow Virginians and fellow Americans who are in need of assistance."
More than 500 bags of food were distributed during the socially distanced, drive-thru event. This included meat, fresh fruits, and vegetables provided by the Share Food Network.
"Every year we do something for the Martin Luther King Day of Service," said Dr. Taft Quincey Heatley, senior pastor of Shiloh Baptist Church. "Due to the pandemic, we felt the need to address the need for food. Food shortage is still an issue in the Alexandria community. The pandemic has caused many to lose their jobs – people are unemployed or underemployed so if we can give them a week or two of food, this is what we wanted to do."
Alexandria's Agudas Achim Congregation held a MLK Day of Service in partnership with Food for Others.
"We are collecting power packs for Food for Others that will feed children over the weekend," said coordinator Samara Weinstein. "There are so many food insecure children in this area so for MLK Day we are doing a day of service. We are expecting over 700 bags, which means we will be able to feed over 700 kids."
Shiloh Baptist Church holds a monthly food distribution for the community.
"Dr. King was all about service," said Heatley. "Today especially is a perfect day to do this."