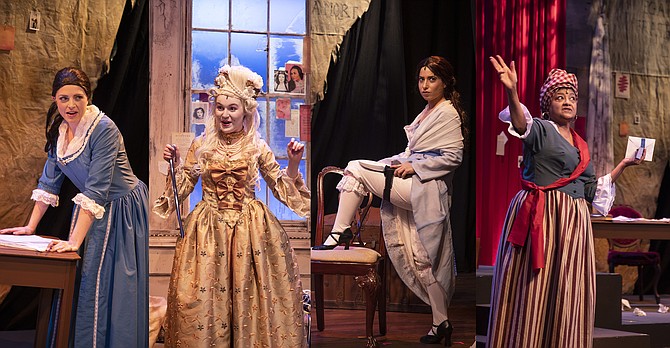 The Little Theatre of Alexandria is presenting a live, in-person showing of "The Revolutionists," written by Lauren Gunderson, from Feb. 27 to March 20, 2021. Come watch as four sassy women lose their heads in this irreverent, girl-powered comedy set during the French Revolution's Reign of Terror. (Three of the characters actually lived.) Playwright Olympe de Gouges, assassin Charlotte Corday, former queen (and fan of ribbons) Marie Antoinette, and Haitian rebel Marianne Angelle hang out, murder Marat, and try to beat back the extremist insanity in 1793 Paris. This grand comedy is about violence and legacy, art and activism, feminism and terrorism, compatriots and chosen sisters, and how we actually go about changing the world.
According to Director Jennifer Lyman: "The Revolutionists is funny, fresh, modern, and has something to say. It is not comedy for laughs alone, but uses comedy to discuss important subjects: feminism, equality, freedom, legacy, art, violence, and loyalty. It focuses on women trying to make their world a better place, featuring three real women who were executed by guillotine in Paris: Olympe de Gouges, a playwright; Charlotte Corday, the assassin of Jean-Paul Marat; and Marie Antoinette, Queen of France."
She added: "It highlights the similarities between their Revolutionary France and our current America: distrust of the government, wealth inequality, racism, sexism, and extremism. It sounds too serious to be funny, but it is both."
Lynn O'Connell, Co-Producer, added: "LTA has done a fabulous job, thanks to Safety Officers Stacey Becker and Ken Brown as well as President Russell Wyland and in partnership with the Alexandria Health Department, in preparing the theatre for safe, live performances with masking, sanitizing procedures, a brand-new ventilation system, and social distancing/small audiences. I feel much safer at LTA than I do at my local grocery store." The other co-producer is Kevin O'Dowd.
O'Connell added: "If it can be done safely, I think it is imperative that LTA offer our community the opportunity for live theatre – both main stage performances and through our education program. As psychologists note, live in-person theatre helps both the performers and the audience cultivate skills needed to sustain the health and well-being of individuals and communities. Definitely needed in 2021."
As far as challenges go, Melanie Kurstin, who plays the role of Charlotte Corday, said: "Just the sheer fact that, up until February, all our rehearsals have been over Zoom. This certainly has never been the way of things, but it is also amazing how quickly we have learned to adapt in order to make this work and bring live theater to audiences in many formats. I am extremely grateful for the entire team being so prepared in knowing how to stage this show in a way that would be safe for not only the actors, but the audience as well."
She added: "I would hope this play inspires the audience to delve deeper into history beyond what may have been taught from school textbooks. I hope it inspires them to have meaningful conversations about equality, privilege, and how there is still so much work to be done."
Justine Summers, who plays the role of Olympe, said: "This experience has been very different, so far. For me, a huge part of participating in theatre is the interpersonal interaction, reacting to people on stage. So, this has been a challenge, but I think one that we've met with gusto."
She added: "I've really enjoyed learning how nuanced these women's positions were. Especially with Olympe, I was so fascinated by everything she accomplished as a single woman in the 18th century."
Sophie de Waal, who plays the role of Marie Antoinette, said: "After the show I want the audience to walk away thinking about these four women. Lauren Gunderson created four incredible characters, based in history, who all made a large impact on the world. These are very different women who lived extremely different lives, but what they share is their bravery. They demonstrate how powerful and informative it can be when you actually listen to one another, which is a very important lesson to learn especially in the world we live in today."
Dayalini Pocock, who plays the role of Marianne Angelle, said she wants the audience to consider inequality among gender, among classes of society, and how it affected different people in different ways. "Rebellious women fighting for equality have been around long before the Suffragettes," she said.
The Little Theatre of Alexandria is presenting "The Revolutionists" from Feb. 27 to March 20, 2021. Tickets are $24 per person, with a discount of $3 for Wednesday and Thursday performances. The venue is located at 600 Wolfe Street, Alexandria, VA 22314. Call the box office at 703-683-0496 or visit the website: http://thelittletheatre.com/