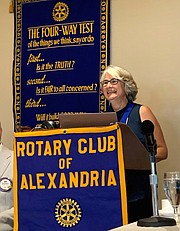 After more than a year of virtual meetings, the Rotary Club of Alexandria gathered in person to formally install Pam De Candio as the 93rd club president at the organization's July 27 meeting at Belle Haven Country Club.
"This club has come to mean a lot to me personally," said De Candio, who first joined the organization in 2011. "I have made great friends and we are able to do good works in the community. It's a very special organization."
A resident of Del Ray, De Candio is senior vice president of commercial lending at John Marshall Bank. She graduated from Fort Hunt High School and continued her studies at George Washington University and Georgetown University.
Sergeant-at-arms Peter Knetemann administered the oath of office to De Candio as outgoing president John Moorman officially turned over the reins of the organization.
"This has been a challenging year but still we were able to accomplish a lot," said Moorman, who led the club's weekly meetings and special events via Zoom. "I had a lot of help and a lot of good advice from a great board. I relied heavily on people that were smarter than me and made wise decisions that were always for the best of the club."
Moorman turned over his gavel and presented De Candio with a 1935 edition of The Rotary Way by Rotary founder Paul Harris.
"Pam is going to be a great president," Moorman added. "The club is in good hands and we will keep accomplishing great things."
In addition to her service as a Rotarian, De Candio has served on the Boards of the Alexandria Chamber of Commerce, Alexandria Police Foundation, American Youth Philharmonic Orchestra, Alexandria Symphony Orchestra and Art on the Avenue.
De Candio is the fifth woman to lead the Alexandria club, founded in 1928, following Katherine Morrison in 1999, Loretta Sebastian Willis in 2003, Gayle Spurr in 2010 and Joan Renner in 2015.
"So many people have been giving me good advice as I take on this task," De Candio said. "This club is filled with special people with amazing talents and a willingness to help you when you call. I could not be in a better place."