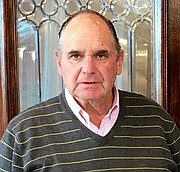 Len Shapiro, the Pulitzer Prize-nominated sportswriter, editor and columnist for more than 40 years for the Washington Post, will be the featured speaker for the April 21st meeting of the Alexandria Sportsman's Club.
Shapiro worked for the Washington Post from 1969 until his retirement in 2010. He covered high school and college sports before being assigned as the beat reporter for the Washington Redskins.
In 1979, he was named assistant sports editor responsible for the day-to-day operation of the sports department. In 1983, he was named deputy sports editor, then sports editor from 1986 to 1991 before he returned to full time reporting and writing. Over the last 20 years of his career, he was the national NFL correspondent, covered professional golf and also wrote a weekly column focusing on sports media.
Shapiro covered every Super Bowl from 1972 until 2012, over 100 major championships of golf since 1991, numerous World Series, NBA and NHL playoff games, major boxing matches and postseason bowl games, Final Fours and covered four Olympics, including the Miracle on Ice U.S. hockey team in 1980 at Lake Placid.
Shapiro is the author of seven books, including biographies of NFL Hall of Famer Sam Huff (Tough Stuff), the late Georgetown basketball coach John Thompson (Big Man on Campus) and an expose on illegal recruiting in college sports (Athletes For Sale). Numerous honors include nominations for the Pulitzer Prize in 1974 and 1996.
Shapiro is currently editor and publisher of Country Zest and Style Magazine based in Middleburg, Va. He will share behind-the-scenes insight into the biggest stories he has covered over the years.
The ASC webinar meeting will be held April 21 at 7 p.m. Participation in the meeting is free and open to the public but pre-registration is required. For more information or to register, visit https://alexandriavasports.org/.