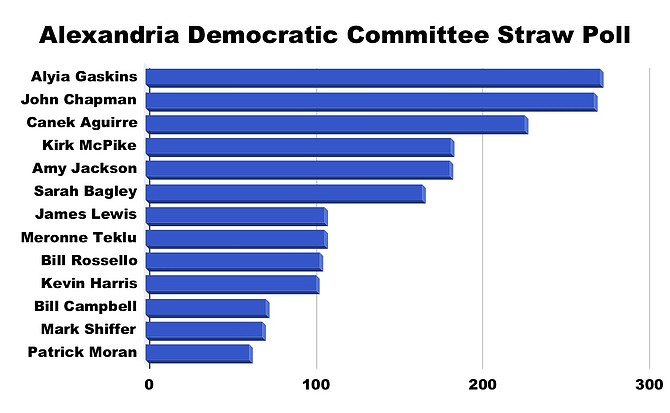 Recent years have seen a dramatic shift in city politics. Three years ago, the incumbent mayor was unseated in an election where two incumbent City Council members were turned out of office. Now three of the six seats on the council are open, and 13 candidates are running for six seats. All of the candidates spoke this week to members of the Alexandria Democratic Committee, which conducted a straw poll that shows an unofficial pecking order heading into the spring campaign season.
Alyia Gaskins is a senior program officer at Melville Charitable Trust. She has professional experience working in public health and urban planning. Raised by a single mother, Gaskins says her experience in a struggling family informs her outlook on food insecurity and housing instability. If elected, she says she will focus on neighborhood engagement, housing, transportation, small business and child success.
"I'm running to bring a desperately needed public health perspective," said Gaskins. "I know firsthand that health is more than health care."
John Taylor Chapman is one of the three incumbent City Council members running for reelection. As the longest serving member of the council, Chapman says he wants to build on his experience handling problems with sewage and student capacity. As Alexandria comes out of the pandemic, Chapman says he wants to expand access to early childhood education and out-of-school opportunities.
"We all know they've experienced learning loss and hardships," said Chapman. "So we need to do what we can to try to get them caught back up."
Canek Aguirre is one of three incumbent City Council members running for reelection. As the child of immigrants from Mexico, Aguirre is the first Hispanic member of the City Council. He led the city's Census efforts, which he says have helped secure millions of dollars over the next decade for the city's roads, schools, businesses and families. During the pandemic, he's focused on keeping non-English speaking communities safe.
"I knew language access was going to be a huge issue and made multilingual resources and outreach a priority in our city," said Aguirre. "When you see those signs in different languages across the city or happen to use one of those hand-washing stations, that was because of me."
Kirk McPike is the chief of staff to Congressman Mark Takano (D-Calif.). He's a member of the city's Budget and Fiscal Affairs Advisory Committee, and a former chairman of the Alexandria Economic Opportunities Commission. If elected, he says he'll work on housing affordability, address flooding and end classroom overcrowding.
"We need to get past the obstacles that lay directly ahead of us," said McPike. "I will work every day to improve communication and transparency between the city and its residents so that you feel listened to, heard and understood on the issues that matter most to you."
Amy Jackson is one of the three incumbent City Council members running for reelection. She says she learned the value of resilience as the daughter of a divorced single mother, a perspective she says now informs her decisions as a member of the City Council. If elected to a second term, she says, she wants to improve infrastructure, implement broadband technology and promote the Eco City Alexandria effort.
"The last year has been tough for everyone, but we have seen the education crisis, which is a child-care crisis," said Jackson. "And it is because women are expected to care for their families, having to choose between their careers and their families, and most cannot care for their families if they don't have their jobs."
Sarah Bagley is executive director of Chisom Housing Group, a nonprofit organization that preserves at-risk affordable housing. She moved to the D.C. region to attend law school and start a career as a lawyer, although she now builds social-service programs for residents of low-income housing communities. She says her experience as a lawyer and affordable-housing advocate will be useful as a member of the City Council.
"I helped build programming that addresses food insecurity, workforce development, childcare challenges, transportation barriers and language and technology barriers," said Bagley. "My experience as a trial lawyer prepares me to ask critical questions, to look for positions based in fact and to advocate for those in need of strong voices to represent their interest."
James Lewis is director of policy and advocacy at the American Society for Clinical Pathology, and he previously served as communications director for U.S. Rep. Robin Kelly (D-Ill.) and U.S. Rep. Barbara Lee (D-Calif.). He's currently a member of the Alexandria Traffic and Parking Board, where he says he's worked block by block to solve issues ranging from pedestrian safety to traffic congestion.
"I want to be your infrastructure councilman," said Lewis. "I want to be the guy you call when there's a problem and is willing to work with you and your neighbors to come up with the solution."
Meronne Teklu is a management consultant at Deloitte, where she works with Fortune 500 companies to design long-term solutions and solve technology problems. The daughter of immigrants from Ethiopia, she was raised in a working-class family. She's been an organizer for Black Lives Matter, and she's worked with a nonprofit that works with students who are immigrants and first-generation Americans. If elected, she says she would focus on youth, technology and investing in minority-owned small businesses.
"I believe that I will bring a fresh, data-driven perspective," said Teklu. "I'm running for City Council to amplify and elevate the voices of our marginalized and underserved communities."
Bill Rossello is a management consultant and business executive who is currently a business owner. He says he wants to restore accountability and integrity at City Hall to make residents and neighborhoods the central focus of city government. He wants to accelerate school construction without co-locating housing on school campuses.
"I'm running because I think it's time for a change," said Rossello. "We need to promote responsible development and more sensible approaches to affordable housing, ones that preserve and enhance quality of life across the city and don't lead to more flooding traffic congestion and school overcrowding."
Kevin Harris is a business owner and community organizer who served as president of the citywide association of public-housing residents. He worked with his church to organize the distribution of food and mentor the previously incarcerated, and he advocated in support of city firefighters to collectively bargain. If elected, he says he'll work to increase equity for communities that are typically forgotten.
"I promise that when I hear about inequity or have the opportunity to make the lives of Alexandrians better, I will lead on that," said Harris. "I don't just talk about equity. I'm there on the ground working for it."
Bill Campbell is a former School Board member who has a professional background in mechanical engineering and paralegal studies. He's served on a number of boards and commissions and strategic planning committees, a range of experience he says will be valuable to the City Council. During his six years on the School Board, he said, he worked to eradicate bias in school policies and increase diversity in the city's gifted programs.
"We have significantly improved the relationship between the School Board and the City Council," said Campbell. "If I am elected to the Alexandria City Council, I will immediately bring a level of experience, a level of respect and a level of influence."
Mark Shiffer is a technology executive specializing in artificial intelligence with a background in math, computer science and computational neuroscience. He says he wants to bring honesty, integrity and competence to City Council. He is opposed to allowing housing on school grounds, and he is a vocal critic of the bike lanes on Seminary Road.
"With Seminary Road, the city outright lied to residents saying the changes were about safety," said Shiffer. "Current policies prioritize developers and Jeff Bezos over our residents."
Patrick Moran is CEO of Tactical Land Care and son of former Mayor and Congressman Jim Moran (D-8). He says his time as a small-business owner has shown him firsthand the "stormwater crisis" that the city is facing. As chairman of the Alexandria Citizens Corps Council, Moran spearheaded the Resilient ALX Charter on disaster planning and emergency response.

"I believe that Alexandria can be the greatest small city in the world," said Moran. "It's a lofty notion and an exciting one, and one that might lead you to scratch your head at times. But the reality is we have something special here."