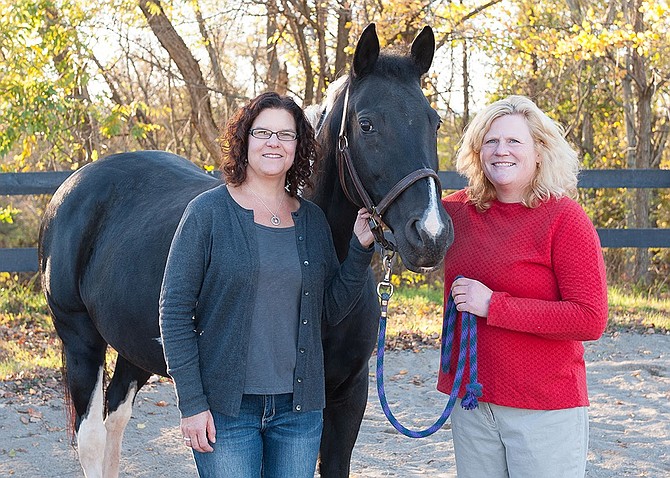 "I saw these kids coming from foster homes and oftentimes reading their charts, the amount of trauma and neglect [they had experienced] was horrifying. Where do you even start?"
Dr. Ioana Marcus, LPC, Gestalt Equine Psychotherapist already had quite a few letters after her name when she took a course in trauma-focused Equine Assisted Psychotherapy (EAP) and volunteered at a trauma-focused equine-assisted psychotherapy program in Texas.
Marcus, who lives in Arlington, says that after just a few months of seeing the childrens' progress, she was blown away. And that sent her on a path to integrate equine-assisted psychotherapy into her psychotherapy practice. Since then, she marvels, she has "seen that process over and over. Where traditional therapy can make kids and adults shut down, [working with horses] provides opportunities to engage differently."
For equine-assisted psychotherapy clients, riding is generally not part of the session, instead, the client spends time interacting with the horse, guided by a licensed psychotherapist. Marcus is as much an expert on horses and equine-assisted psychotherapy as she is a traditional psychotherapist. She uses equine-assisted psychotherapy the way she might use music or art therapy.
"Clients can sometimes be resistant to the [traditional] therapeutic relationship," says Marcus, "but they can develop a different relationship with the horses." Understanding why and how equine-assisted psychotherapy works requires a bit of understanding about horses. According to Marcus, unlike dogs who accept and love us unconditionally, horses are prey animals, always scanning for potential threats in their environment.
If a threat is encountered, it may trigger a flight response, making their behavior similar to a person's trauma response. By watching the way the horses behave on their own and interact with other horses, clients can both relate and connect to the horse in areas of vulnerability.
That makes sense, but what was surprising was the way Marcus says horses respond to the emotional state of humans. "If we come incongruent, whether with guarded emotions or anger, even if we try to hide it, [the horse] picks up on that energy through our heart rate and other physiological senses and the horse takes it as a threat to their own survival and well being."

As co-therapists, their response and feedback, according to Marcus, are not biased by human perceptions and cognitions. "Horses who are more versed [as equine therapists], are more intentional in their responses, and [instead of running away] may challenge and support the client to get to that vulnerability."
How do they do it? "They might nudge, or lean into the client trying to get the client to be more honest. At the same time, their touch can be soothing and calming. Numerous studies have supported positive physiological responses in humans when horses are present, such as reduced cortisol levels and increased heart rate variability."
Working with horses adds its own set of complexities. "Horses have their own feelings, they thrive, like we do, when they can give us consent," according to Marcus. Which is to say that the horse is not just a prop. If the horse is in a bad mood, Marcus doesn't push the horse to participate in a session. But, she may use the horse's mood as a starting point for conversation.
"It's really meaningful work," she says, "I leave sessions with a sense of gratitude."
Dr. Marcus' private practice, Equibliss, has an office in Reston. Her co-therapist horses reside in Nokesville, Va. Her practice is focused on working with clients with eating disorders, trauma, anxiety and depression and the developmental trauma that can come with adoption. She is an associate professor of counseling with Marymount University.
Equine Assisted Psychotherapy
There are also equine assisted therapy programs in the area that offer equine assisted psychotherapy including:
• SPIRIT OPEN EQUESTRIAN (Herndon). The program has a contract with Fairfax County which refers youth to Spirit for equine assisted psychotherapy with Jocelyn Jones, LPC (McLean). Jones works with adult and children private clients, as well. Jones sees clients some of whom have difficulty addressing their anger, have low distress tolerance and suffer from anxiety.
Jones, like Marcus, stresses the impact of the multi-sensory experience which she says, "can distract the mind, making it easier to talk about traumatic or distressing experiences." In a specific example, it was the shared experience of listening to the very loud chewing of the horse that cracked the window to building a trusting relationship between the horse, a client and ultimately Jones. In other cases, it's the tactile experience of petting the horse or the active experience of grooming the horse that opens the lines of communication. The role of the horse is adapted based on the need of the client.
• BRIDLE PATHS (Leesburg). Bridle Paths has a program for military service personnel as well as opportunities for individuals who have experienced trauma. Licensed therapist, Beth Ratchford LCSW, MA, EAGALA Certified Mental Health Specialist and Dr. Jacqueline Cleland, Psy.D., PLLC work closely with Katie Fallon, founder and executive director of Bridle Paths. "I've seen clients move forward in their addiction recovery, get clarity about relational boundaries, be able to connect with a painful part of their story, in a way they couldn't before … all because of the work with the horses," says Ratchford of her work with clients who have experienced trauma.

• NORTHERN VIRGINIA THERAPEUTIC RIDING (Clifton): NVTRP offers Equine Assisted Activities and Therapy services where clients work with a horse, a mental health professional and an equine specialist. These sessions are unmounted, meaning that clients don't ride the horse. NVTRP has several community partnerships working with youth at risk and military service personnel. Goals may include working with the horses to work on mental health issues, increasing confidence, problem solving and team building.

Additional Reading on Equine Assisted Psychotherapy can be found on Dr. Ioana Marcus' website.