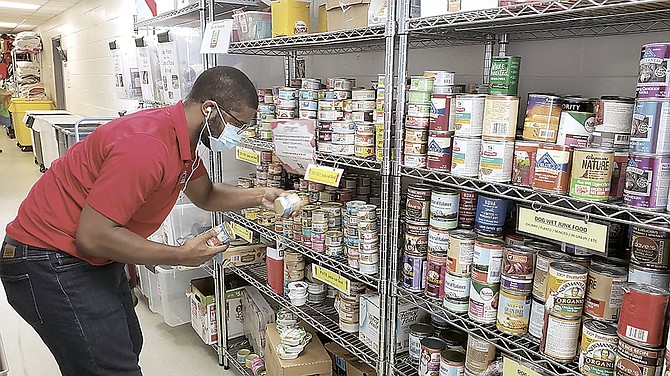 The Animal Welfare League of Alexandria has received a 2020 Mars Petcare "Better Cities for Pets" grant for $10,000. Funded by Mars Petcare and administered by the Humane Society of the United States, the "Better Cities for Pets" grant program provides funding to animal care facilities across the country to improve the quality of life for animals in those constituencies. Funds from this grant will allow the AWLA to assist pet owners in the community to address urgent or chronic veterinary concerns in situations in which funding is limited.
"The AWLA already goes above and beyond to help animals in our facility," said Director of Community Programs Joanna Fortin, "and we want to be able to extend that same level of care to animals throughout the community. This generous grant from Mars Petcare will mean we can help cherished pets receive much-needed care, regardless of owners' income level."
Developed in fall 2019, the AWLA's Community Programs department was created to provide just this kind of assistance. As the pandemic affected budgets across the region, Fortin and her team have been able to provide pet food and supplies to pet owners in need through the Pet Pantry, which has donated more than 7,000 pounds of goods across the community since April. The Pet Pantry complements other AWLA programs aimed at pet wellness, including accessible spay/neuter vouchers for low-income families, Pet Care Fairs and Drive-Up clinics to provide no- and low-cost vaccinations and AniMeals for pets of senior citizens on fixed incomes.
"Every pet deserves to be healthy and safe, and every pet owner deserves the resources needed to care for their pets. Our community programs team strives every day to make that possible for animals across Alexandria," said Executive Director Stella Hanly. "As a nonprofit, we don't always have the funds to help everyone, but this grant will give us the opportunity to help more pet owners in need, and help those pets stay in homes where they are loved."
Recipients of assistance from this grant must meet requirements laid out by Mars Petcare, the Humane Society of the United States and the AWLA. For more information about financial support for critical veterinary care, email CommunityPrograms@AlexandriaAnimals.org.