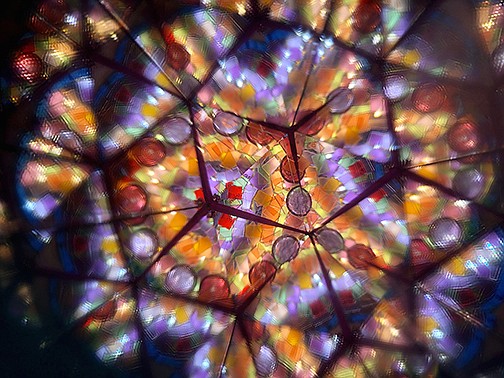 As a toddler, Anila Angjeli was given a small device that displayed endless mesmerizing symmetric geometries when seen through light. She was delighted and curious about how it worked. She pulled it apart, spilling out the tiny bits of colored glass. As you might guess, she wanted to put it back together so she could continue enjoying the colorful visual displays. It wasn't until she was an adult that Angjeli, founder of ALine Architecture, has finally gotten to make her kaleidoscope.
A kaleidoscope is an optical device consisting of mirrors that reflect images of bits of colored glass in a symmetrical geometric design. The design of the geometric reflection changes endlessly by rotating the chamber containing the glass fragments. The name is derived from the Greek words kalos ("beautiful"), eïdos ("form"), and skopeïn ("to view"). Kaleidoscope describes the symmetry from so many perspectives: mathematics, geometry, science, nature, arts, architecture, design, and why not, music. Says Angjeli, "This is why we love it and are hooked to it, and why Kaleidoscope is the mind's eye-candy of this Halloween Season."
This Halloween, ALine will give away 20 Kaleidoscope kits to kids in the Milway Meadows community, Mount Vernon, where Angjeli lives with her husband, two sons and mother-in-law and where she serves on the Board of Directors of Milway Meadows Civic Association.
If you'd like to build a kaleidoscope yourself or help your child in this learning process, ALine can provide you with the kit of parts and instructions on how to assemble it. Note that mirrors have sharp edges and should be handled with care and that some crafting skills are required.
The Kaleidoscope Project is made possible by ALine Architecture architects, K. Toto, M. Flieger, and A. Angjeli. Mirrors were cut by Precise Glass, http://preciseglass.com/. For more information about ALine's community art projects, see https://www.aline-architecture.com/social-1. For information on how you can help support the community art project, email anila@aline-architecture.com.